The Aldi Cookie Dough That's Causing Instagram To Rush To The Store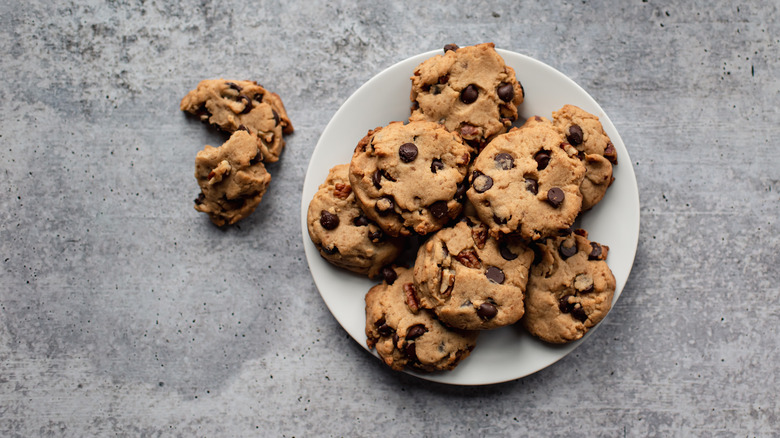 Cavan-Images/Shutterstock
The taste of fall comes in many different flavors. While you may be someone that enjoys a classic pumpkin spice latte or fresh apple cider, nothing quite hits as good as freshly baked cookies when the leaves are falling outside. When it comes to making cookies, the cookie dough is where it's at. Sometimes the cookie dough can even be better than the cookies themselves! Of course, eating raw cookie dough can pose a number of health problems due to its usual ingredients of uncooked or undercooked eggs. According to the CDC, outbreaks of E.Coli and salmonella have been reported among those who consumed raw batter or dough, leading to food poisoning and illness.
Thankfully, Aldi has your back. Just in time for the changing season and those cookie dough cravings, you can now eat all of the raw cookie dough without the threat thanks to the grocer's newest snacking edition.
Aldi adds gourmet edible cookie dough
Per an Instagram post by @aldifavoritefinds, The Cookie Dough Café's gourmet edible cookie dough has made its victorious return to Aldi shelves for a limited time only. Cookie dough lovers can now head to the refrigerated section at their local Aldi to find edible chocolate chip cookie dough cups to fulfill those cravings. Due to previous popular demand as an annual AldiFinds item, the women-owned company's cookie dough four-packs made their way back to the grocery store on August 25th for a whopping $4.99. 
The edible cookie dough cups are made with real butter, cane sugar, and mini chocolate chips, making it the perfect fall snack for any time of the day without the concern of consuming raw eggs. "These go great with a cup of milk on the side. Not too sweet," said one Instagram commenter. "It's delish! It's way better than Ben and Jerry's and doesn't have a weird after taste," said another commenter. 
Due to its popular demand, some Aldi locations may already be sold out of the delicious treat. A commenter wrote, "These are always an AldiFinds item about once a year. For the majority of AldiFinds items, that means they are in the store for one week or until they sell out. My stores still have some from last week but other stores may have sold out in a few days." Locate your local Aldi and hope there's still some stocked at your local store.