Trader Joe's New Fall Ice Cream Is Just What Instagram Was Craving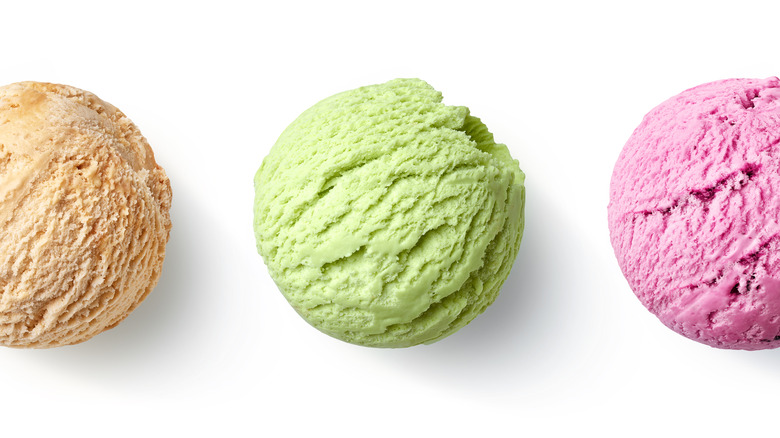 baibaz/Shutterstock
As the sultry and sweltering days of summer give way to cooler autumn temperatures, a scoop of ice cream may be the furthest thing from your mind. Ice cream producers, however, are luring pumpkin lovers with tempting flavors — tempting enough to make you put down that pumpkin spice latte and grab a cone, instead. 
According to the company website, Baskin-Robbins is appealing to pumpkin addicts with its pumpkin cheesecake ice cream that features both pumpkin and cheesecake-flavored ice cream layered with "cinnamon cream cheese swirls and ginger snap cookie pieces." The seasonal Jeni's flavor currently up for grabs is their pumpkin cake roll ice cream, an offering that Jeni's describes as "sweet heirloom pumpkin ice cream swirled with spiced sweet cream cheese and cake." Dairy Queen's pumpkin pie Blizzard has made its perennial return to a crowd of happy fans. Even Van Leeuwen's fall lineup has a pumpkin offering with its pumpkin cinnamon roll, although a recent press release also mentions a host of other flavors including the Thanksgiving dinner-ish Sweet Potato Marshmallow. Clearly, fall tastes a lot like pumpkin.
Trader Joe's, however, disagrees. According to their latest ice cream offering, fall has a different flavor altogether.
This Salted Maple Ice Cream boasts a sweet, salty ribbon
When Instagram user traderjoeslist posted a picture of Trader Joe's latest ice cream release — Salted Maple — comments poured in. One happy responder said, "It's incredible. It's heavenly. I want to marry it," while another exclaimed, "I need to make a TJ run for this ice cream!" Some were lukewarm on the idea, saying the sugar content and calorie count were too high. And one said that the banana pudding flavor was so bad, they'll never try another one. So what did the original poster think of this ice cream? In a video review, she called it "the best ice cream ever," explaining that it has a "nice creamy flavor" and "is maply, sweet" and "way better than the banana pudding."
So what does everyone else think? The Daily Waffle enjoyed the maple flavor, but said they'd add more salt and "some toasted walnuts for texture and bitterness to cut the maple." What's Good At Trader Joe's agreed that it needed some crunch, but heaped praise upon the maply taste, the hint of sea salt, and the "small vein of concentrated maple/salt concoction that chugged it into another gear." While this Trader Joe's ice cream has mixed reviews, it could possibly solve one common autumn problem. It just might give your palate a break from pumpkin spice overload.