The Sweet Birthday Cake Buddy Valastro Made For Gigi Hadid's Daughter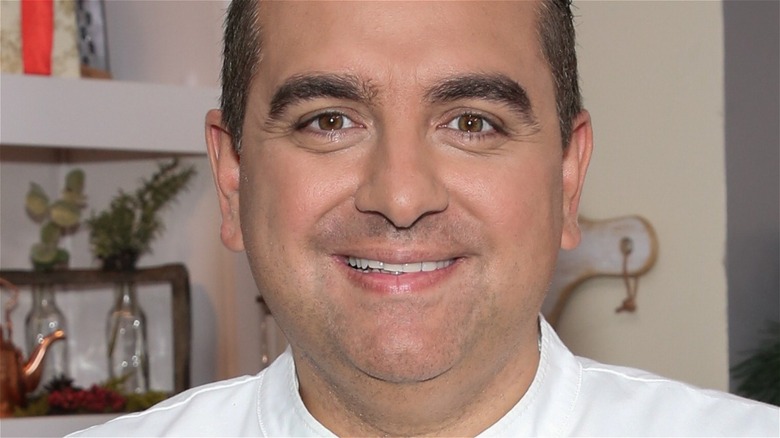 Paul Archuleta/Getty
Who knew that one of Cake Boss Buddy Valastro's biggest fans might be a supermodel? Gigi Hadid hasn't been quiet on social media in the past few years about her admiration for Valastro and his extravagant cakes. She was thrilled when she was gifted a cake made by Valastro designed in the likeness of an everything bagel for her 25th birthday in April 2020, telling her Instagram followers she has watched his show for more than 10 years.
"I CRIED REAL TEARS! BUDDY!" she wrote to Valastro in the caption. "It means more to me than you know, and when we hopefully meet some day you will truly know that there almost isn't an episode I've missed. 10/10 would be a Carlo's intern whenever needed," Hadid wrote. Valastro reposted the pic on his own Instagram with the caption, "it meant 'everything' to us making your day extra sweet."
Hadid went as far as to call the day in June 2021 when she met Buddy Valastro and donned a matching chefs' jacket the "Best. Day. Ever" (via Instagram). But it seems that was just the beginning of his edible birthday gifts.
Buddy Valastro made Gigi Hadid's daughter a Peppa Pig cake
Apparently, Gigi Hadid has also asked Buddy Valastro to make cakes for her loved ones. According to People, in January 2021, Hadid commissioned an elaborate soccer-themed cake from Valastro for her then-boyfriend Zayn Malik featuring a jersey from the Bradford City Football Club. Given what a big fan Hadid is of Buddy Valastro and his cake creations, it's no surprise she reached out to him to make a cake for her daughter's second birthday.
Per Page Six, Hadid took to Instagram to post a story featuring a pic of the cake, which appears to be three tiers or more and decorated with several "Peppa Pig" characters, a house, a sun, clouds, trees, a big pink bow, and Hadid's daughter's name, Khai, in big white lettering. "Our angel girl turned 2 today" Hadid captioned the post, tagging her now ex and Khai's father @zayn and @carlosbakery. Sounds like Hadid's friendship with Valastro only continues to grow even sweeter.