The Real Story Behind Ina Garten's Viral Cosmopolitan Recipe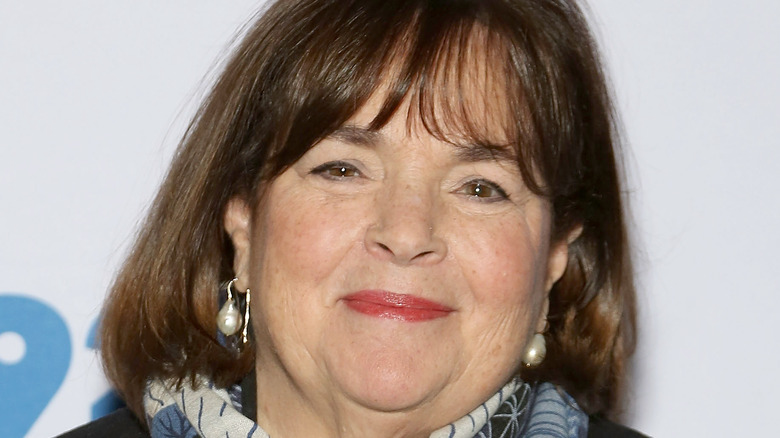 Manny Carabel/Getty Images
Food television enthusiasts most likely know of Ina Garten through her shows, the long-running "Barefoot Contessa," and her newer show, "Be My Guest with Ina Garten." And those who live in the Hamptons might have first learned of Garten through her bakery and shop there called Barefoot Contessa, which inspired her first series. But in 2020, Garten became nearly inescapable thanks to a recipe she posted on Instagram — even to those who don't usually watch her show.
In the midst of the first wave of the COVID-19 pandemic in the U.S., Garten posted a video that went viral. Garten tends to maintain a sophisticated air, but the lunches and dinner parties she throws on her show usually have some sort of signature cocktail to pair with the food. But in her Instagram viral video, which has more than 3.2 million views and 300,000+ likes, Garten trades sophistication for humor, serving up a gigantic Cosmopolitan for one in a novelty-sized martini glass. The video was so popular, Garten even crashed "TODAY with Hoda and Jenna" to present them with their own giant Cosmos. Now, Garten has finally shared more about the story behind her viral video's creation, in a conversation with reporter Julia Moskin at the New York Times Food Festival.
Garten shared the inspiration behind her jumbo Cosmo
Mashed attended the New York Times Food Festival event "How Ina Garten Does It," where Ina Garten finally revealed the inspiration behind her giant Cosmopolitan recipe that went viral on Instagram. "It was April 1st, right after the pandemic had started," Garten told reporter Julia Moskin. "And I actually was thinking I would do an April Fool's thing, but I thought, 'Nobody really feels like a joke right now.'" Thankfully, she still decided to hang on to the novelty-sized martini glasses she had in her basement. And a few weeks later, she decided that it was finally time to try to lighten the mood.
"I thought, 'Oh, maybe I'll make a drink in that glass,' and it was literally like a whole bottle of vodka and half a bottle of cranberry juice." Moskin said, "It's a meme!" and Garten replied, "It was crazy. And I set up the camera all by myself in the kitchen." After filming, she sent it to a Hollywood producer friend, and he told her to post it right away. The rest is history. "I had no idea," Garten said, before joking, "I think it's going to be in my obituary!"