Popeyes Celebrates Fall By Bringing Back This Beloved Savory Item
The return of fall means fast-food restaurants everywhere are breaking out their seasonal menus. Fans eagerly look forward to Starbucks' fall menu becoming available, IHOP's 'scary' menu draws in Halloween aficionados, and many restaurants like Dairy Queen are celebrating fall in unexpected ways. One fast-food stop that might not come to mind as having a seasonal menu perfect for the cooler weather is Popeyes. However, the chicken-based, fast-food chain actually has one of the best fall deals around.
A catalyst of the infamous chicken wars, Popeyes has been a serious contender for the top sandwich since they unveiled their chicken sandwich in 2019 and turned the poultry world upside down. According to The Dispatch, the winner of the best chicken sandwich is Popeyes, even when taking into account regional chains. However, the fight is not over, and the chicken wars continue to rage on. The fast-food chain's chicken recipe isn't confined to being sandwiched between two buns, and one fan-favorite chicken meal is making a temporary comeback.
A fried chicken box with all the fixings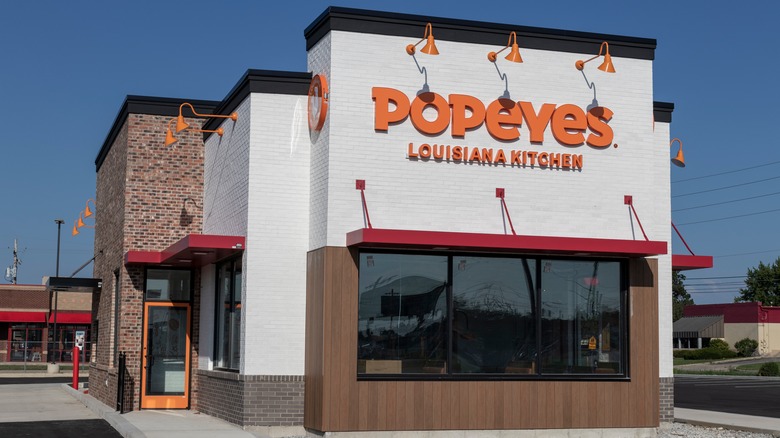 Jonathan Weiss/Shutterstock
Popeyes is ringing in the start of fall with the return of its $6 Big Box. According to QSR, the loaded but affordable box comes with two pieces of crispy marinated chicken that are hand-battered and fried. The lengthy preparation and cooking process is part of what helps make Popeyes chicken so delicious. 
The protein-heavy box also comes with your choice of two sides with southern-style options like homestyle mac and cheese, coleslaw, cajun fries, and red beans and rice. The box is topped off with a buttermilk biscuit. A hearty but not-so-heart-healthy box, Popeyes is aware that its food is not considered healthy and will never change its menu to be considered so. Although, sometimes it's more important to have a meal that's healthy for the soul.
While already a deal at only $6 for a hearty lunch or dinner, Popeyes is running a special where if you order the limited-edition box through Popeyes.com or their app, the meal only costs you $5.