Mistakes Everyone Makes When Eating On A Cruise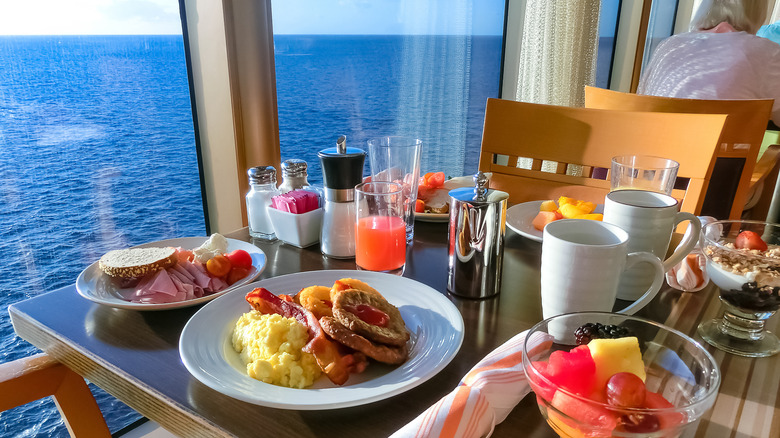 Solarisys/Shutterstock
If you're anything like us, food is among the most exciting things about going on a cruise. You have plenty of dining options, from buffet meals and room service breakfasts to the main dining room and high-end specialty restaurants. This is enough to keep even the most hardened foodies happy between ports.
But, before you pack your bags and set sail, it's good to get acquainted with some common mistakes most people make when eating on a cruise. Dining on a cruise ship isn't the same as eating at a typical restaurant, so you might not know what to expect.
Whether you're a first-time cruiser or a frequent passenger, there are rules (both written and unwritten) to get your head around that can seem baffling at first. Once you learn what not to do, it'll all be smooth sailing. Then, you can relax and enjoy your vacation, especially one of the most enjoyable aspects — the meals. 
Not making reservations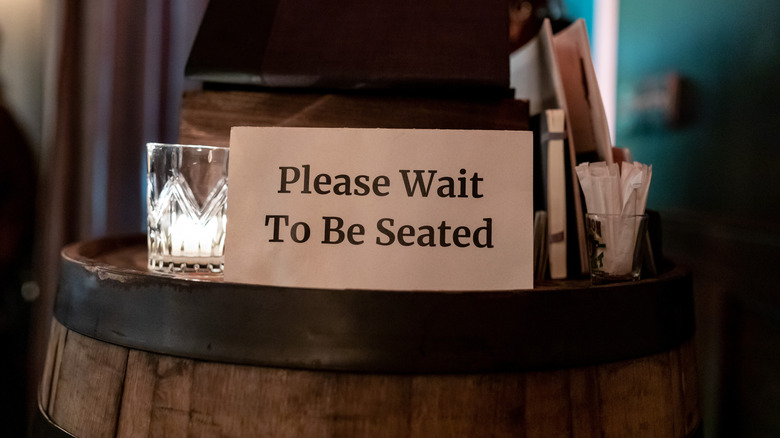 Bandersnatch/Shutterstock
When you book open dining, you can rock up to the main dining room whenever you want, but it doesn't mean you're guaranteed a seat right away. If you choose to eat at peak dinner time, you might end up waiting 30 minutes to an hour. You don't want to risk missing a show or getting hangry and falling out with your party, so it's wise to make reservations ahead of time.
Most cruise lines have online reservation systems that let you book tables in the main dining room before you embark on your cruise. However, the specifics vary, so you should check with your chosen line. Royal Caribbean, for instance, has an app with which you can make reservations for specialty restaurants and My Time dining (Royal Caribbean's name for its open dining option). You can also book tables once you get onboard. We'd recommend doing this on the first day, as prime slots fill up quickly.
If you don't want to make reservations and aren't keen on carrying emergency granola bars in your pockets in case of long waits to be seated, consider traditional dining. When you pick traditional dining, you have a set evening dining time and you'll always be seated at the same table with the same group of fellow diners. While some don't find this flexible enough, it's great for those who prefer the stability of a fixed reservation and people eager to make friends.
Eating in the main dining room on the first night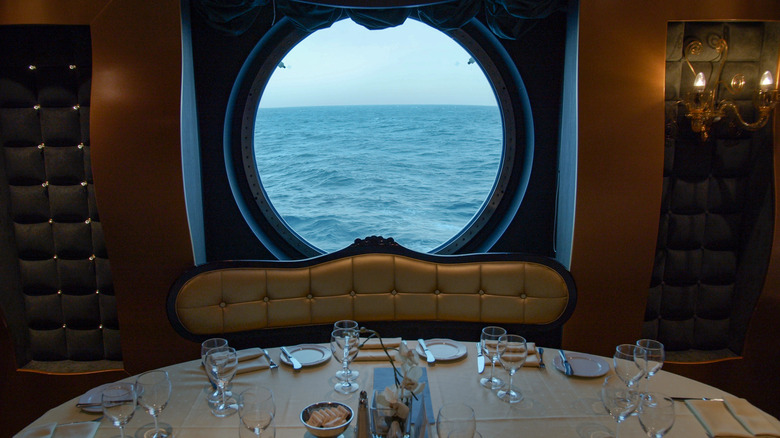 aerophoto/Shutterstock
For some regular cruise-goers, it's a tradition to eat in the main dining room on the first night. This might hark back to when diners could expect the main dining room to serve the best dishes of the voyage on the night of embarkation. However, these premium dishes are now usually reserved for formal night. Therefore, there's no solid reason to eat in the main dining room on the first night of your cruise, yet many people still do.
So, what's the result? Specialty restaurants are often left struggling for customers on the first night. As such, it's easier to get prime reservations, even at the last minute, so if there's a specialty restaurant you want to try, it's a great opportunity to do so.
On top of this, some cruise lines offer great deals at specialty restaurants on the first night to boost customer numbers. For instance, Royal Caribbean offers buy one, get one free meals on the night of embarkation at most of its specialty restaurants.
Assuming you won't pay extra for any meal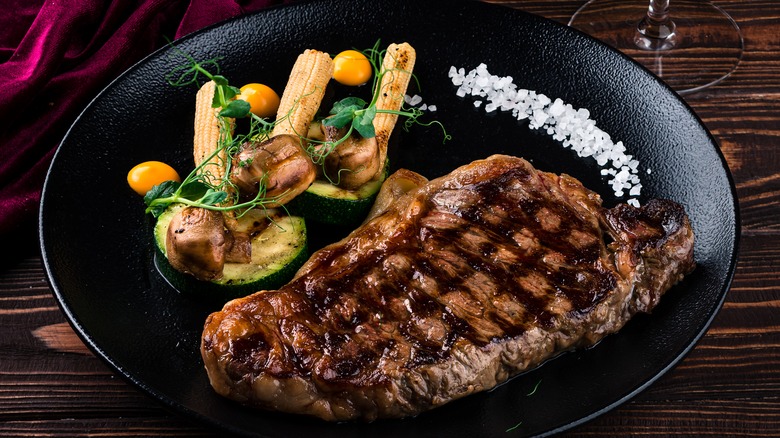 smspsy/Shutterstock
Once upon a glorious time, everything in the main dining room was included in the cost of your cruise. However, with the rising price of ingredients, you should no longer expect that all dishes on the menu are free.
As Ilana Schattauer from Life Well Cruised points out, some dishes in the main dining room now come at an extra cost. These are usually meals that contain prime ingredients, such as lobster or certain cuts of steak. So, if you have expensive taste, prepare to incur extra charges at mealtimes. You can also visit specialty restaurants onboard cruise ships that you'll need to pay to dine at. 
That said, you'll still be able to sample almost everything on the main dining room menu without being charged for it. Therefore, it's the perfect opportunity to try dishes that you might not normally order. While we don't condone ordering so much food it goes to waste, servers on cruise ships are highly accommodating. Want to order an extra entrée for the table or double up on dessert? This usually won't be a problem.
Not asking to see your table when you arrive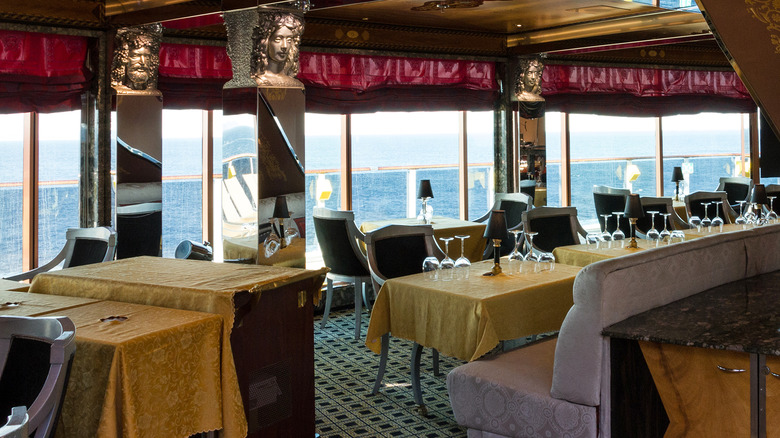 Travel Faery/Shutterstock
Choosing traditional dining means you'll have the same table every day with no worries about fighting for reservations or waiting for a spot to open up. But, here's the kicker: If you have a subpar table that's right next to the bathrooms or a bustling waiter's station, you're stuck with it for the whole voyage.
However, it's possible to ask to see your table before dinner on the first day of your cruise. Find the maître d' around mid-afternoon on the day of embarkation and ask nicely to see your assigned table. On any good cruise ship, this won't be a problem. If your table is to your liking, great. You now know exactly where it is and how to find it when dinnertime rolls around. If there's something you don't like about it, you can ask to be moved elsewhere. You can even request a table by the window or in another favorite spot, although this might not always be possible.
Not knowing the dress code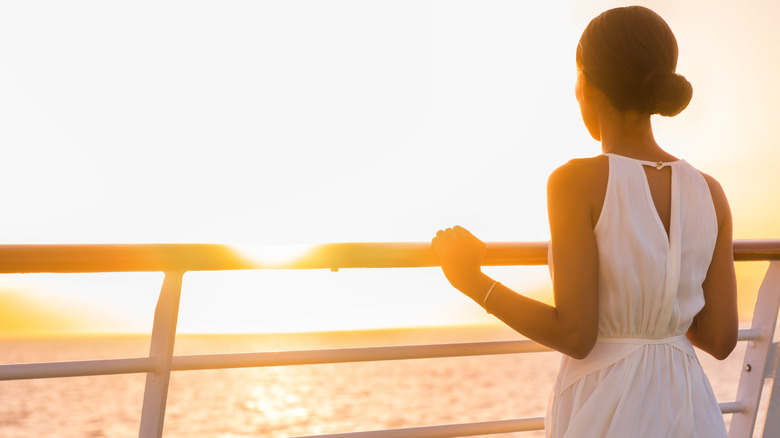 Maridav/Shutterstock
You don't want to show up at the dining room only for someone to ask you to return to your cabin and change because you aren't wearing the correct attire. All cruise lines have their own dress codes, so you should learn yours before you go to make sure your wardrobe matches up.
While some lines expect you to dress smarter than others (Cunard, for instance, is one of the most traditional), there's plenty of leeway. On an average night, it's fine to wear a nice t-shirt and jeans, as long as they aren't distressed. Just avoid wearing anything extremely casual for dinner, such as shorts or pool wear. And, for goodness' sake, put your shoes on — diners who turn up barefoot or in flip-flops will usually be turned away.
Even on formal nights, the dress code may be more casual than you think. Gowns, jackets, and ties aren't necessary, although it's fine to go this dressy if you want to. Instead, think dress shirts and other collared shirts, slacks, blouses, cocktail dresses, and sundresses.
Not informing the cruise line of allergies or dietary restrictions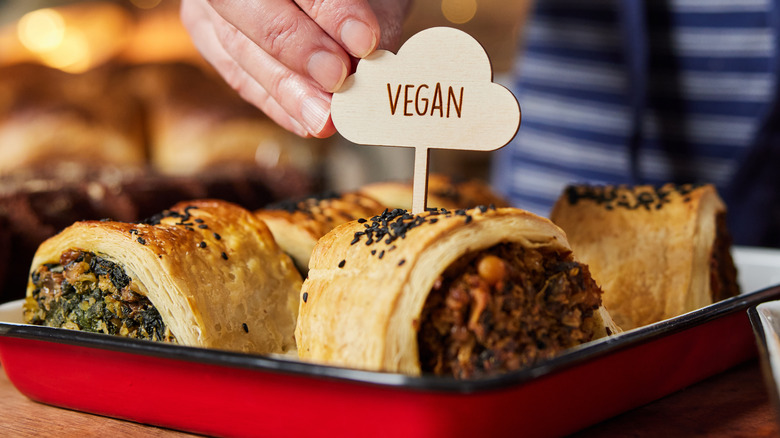 Daisy Daisy/Shutterstock
Cruise lines are extremely flexible with catering for allergies or dietary requirements, but you need to tell them in advance. Whether you're vegan, allergic to shellfish, or you keep kosher, this won't be an issue when you give fair warning. However, if you show up to the dining room on the first night without having let anyone know, you might have more of a struggle.
Luckily, it's ridiculously easy to inform your cruise line of dietary requirements — there's usually a clearly marked place to do so when booking online. If you missed it, just give your line a call or write an email and a member of staff will put a note on your booking.
What's great about having a particular dietary requirement is that you'll often get special dishes made for you off-menu. Good chefs are excited to try new things and work within confined parameters, so you may end up with extra-special dishes that make you the envy of your tablemates.
Only asking for food that's on the menu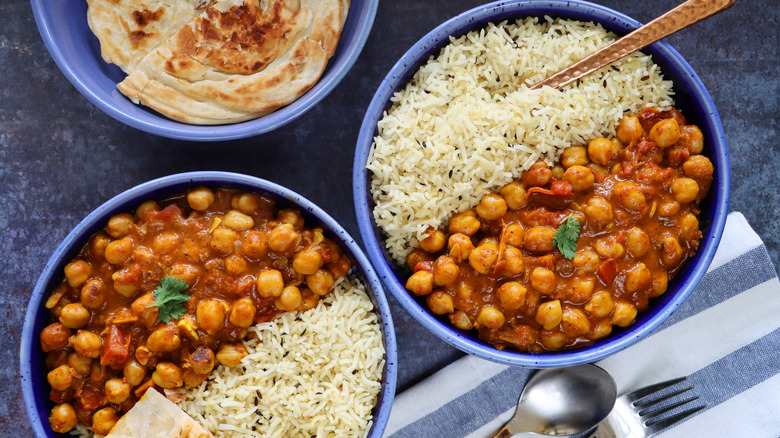 Mtreasure/Getty Images
It might not occur to you to ask for dishes that aren't on your ship's menu, but you'll be limiting yourself if you don't do so. Cruise lines don't exactly have secret menus, but there are many dishes that you can order off-menu. So, if you don't find anything that takes your fancy, don't be afraid to ask. There are plenty of options, but they vary between cruise lines. 
For instance, Carnival tends to have Indian chefs in its kitchens and will cook you authentic Indian curries on request (just note that they may be spicy). Some cruise lines will cater to even more specific whims. On Regent Seven Seas Cruises, chefs can cook you any dish you desire, as long as they have the ingredients onboard. Just provide them with the recipe and some advance notice, and they'll do the rest. This is especially great news for picky eaters or anyone who often isn't satisfied with the menu items on offer.
Not taking advantage of free room service breakfast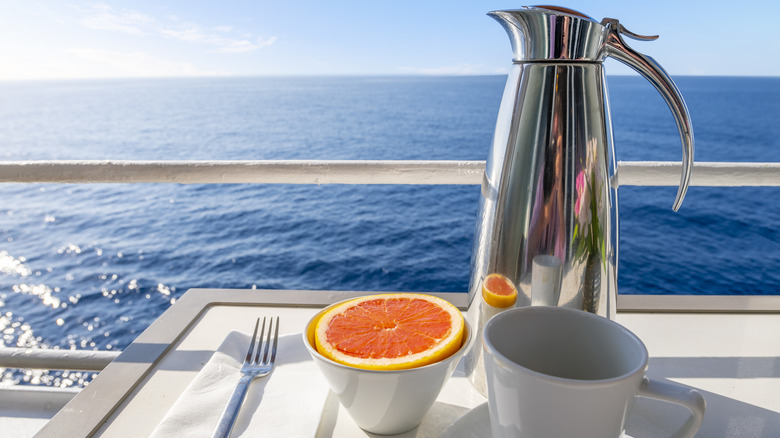 Kirk Fisher/Getty Images
Many people avoid getting room service on cruises because of the delivery fees. While it's true that you'll get charged for having food delivered to your room under most circumstances, there is a hack that lets you get free room service breakfast. Most cruise lines will deliver continental breakfast to your room free of charge. 
So, if you're happy to dine on items such as toast, pastries, fruit, cereal, and yogurt, you can get away with enjoying them from the comfort of your cabin or out on your balcony at no extra charge. The good news? Coffee and tea are also included under the continental breakfast umbrella, so you won't have to go without your caffeine fix. If you decide you want a more substantial breakfast later in the morning, there's nothing stopping you from hitting up the buffet or dining room, as well. For anyone traveling with children, it's a great way to keep the kids happy until you're up and ready to start your day.
Only ordering familiar food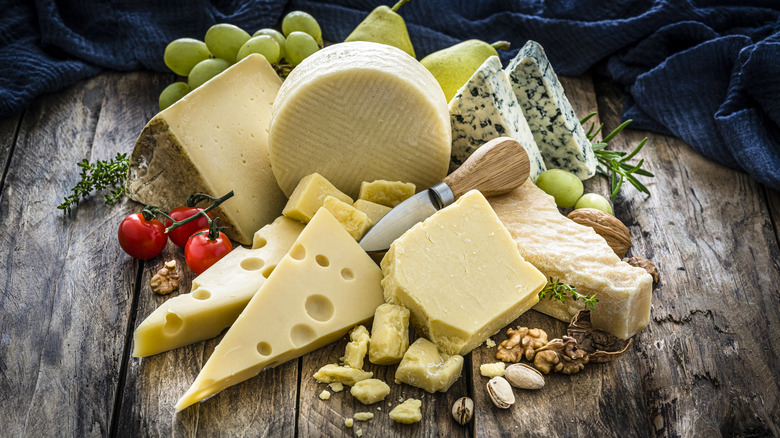 Fcafotodigital/Getty Images
Most of us know what we like and there's nothing wrong with that, but with so much free food (well, technically, you've already paid for it) available, it seems a shame not to try something new. You might be tempted to opt for your usual favorite pasta dish at dinner or breakfast classics, such as eggs benedict, but why not take this opportunity to mix things up? 
Maybe you want to try a spicier curry than you'd usually opt for or a particularly pungent cheese. A cruise is the perfect chance to do that without ending up out of pocket. You can even order an extra starter as a side to have a taste of something new or an additional entree for the table so that everyone can try a bite. 
The great thing is, if you order something and don't like it, you can ask for something else. Of course, food waste isn't ideal, but the likelihood is that if you like the idea of a dish enough to give it a shot, you'll probably enjoy it enough to eat it. And, if not, you might have someone at your table who'll be happy to take care of it for you.
Letting dinnertime run into showtime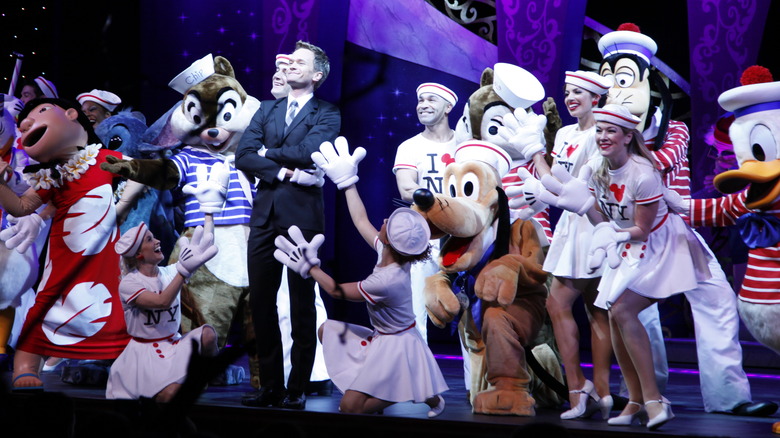 Handout/Getty Images
It might seem like we believe otherwise, but there is more to cruising than the food, including a variety of awesome after-dinner shows. However, if you have your heart set on going to a particular show, it's important not to let dinnertime run into showtime. It's all too easy to show up to the dining room late and either miss the start time of your show altogether or turn up just in time to get the worst seats in the house because all the good ones were already taken. This can be a particular problem if you have open dining, rather than a fixed dining slot, as you might end up having to wait for a table.
One way to avoid missing a show is through careful planning. Make sure to book a table well in advance, with ample time to enjoy your meal at a leisurely pace before showtime. Or, if you can't book your desired timeslot, show up to the dining room earlier than you need to, factoring in a wait of 30 to 60 minutes. After all, it's better to build in a buffer and end up with more time than you need. Once you're seated, if you're still feeling pressed for time, politely let your server know that you have a show to get to. They'll do their best to speed up your dinner, but other diners will be in the same situation, so you shouldn't expect miracles.
Not stocking up on snacks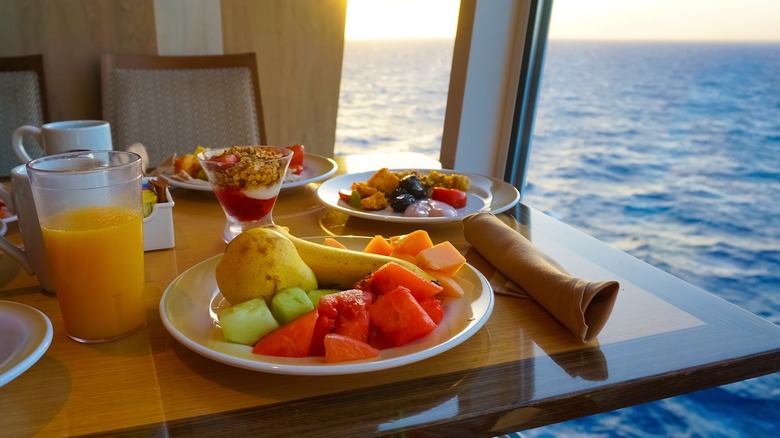 Solarisys/Shutterstock
It's completely possible to find food any time of day or night on a cruise ship. However, you might not always be able to get exactly what you want, when you want it. By the time afternoon comes around, you can usually find cookies and slices of pizza in abundance, but more nutritious snacks aren't readily available. 
Of course, there's nothing wrong with snacking on indulgent items, if you feel like it, but sometimes all you want is a banana or a box of raisins after a hearty breakfast and lunch. The solution? Take advantage of the breakfast buffet to stock up on healthier snacks. Load up on fruit and granola bars and stash them away for later. If you have a mini-fridge in your cabin, you could even store perishables, such as yogurt. Armed with these snacks, you'll never go hungry — or regret eating a plate full of cookies right before dinner.
Not buying a drink package ahead of time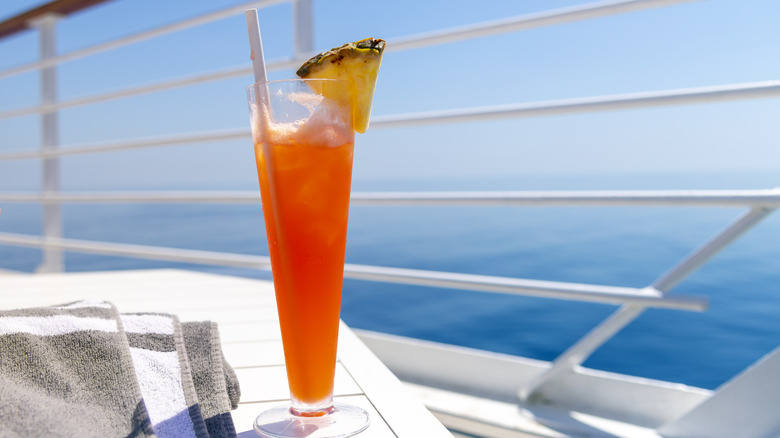 Kirk Fisher/Getty Images
One thing that sometimes surprises first-time cruisers is that drinks are almost never included. You might assume you'll pay extra for alcoholic drinks, but even soft drinks, such as soda and juice, usually come with an extra fee. One way to potentially save money is to buy a drink package. Every cruise line has its own drink packages, and they vary in price depending on a range of factors. There are always different prices for the types of drinks included. For instance, you can buy soft drink packages at one end of the price spectrum and packages that include all top-shelf alcohol at the other. Drink packages are worth it for some cruisers and not for others — it all depends on how much and what you drink.
However, if you decide a drink package is worth it for you, it's always a mistake not to buy it ahead of time. Most cruise lines offer a discount for buying your drink package before you set sail. In some cases, this involves booking your cruise with drinks included, which works out cheaper than buying a drink package when you get onboard or buying drinks separately. Even in rare cases when booking in advance doesn't save you money, it does save you time. There's usually a long queue to sign up for drink packages on the day of embarkation.
Only eating in the main dining room at dinner time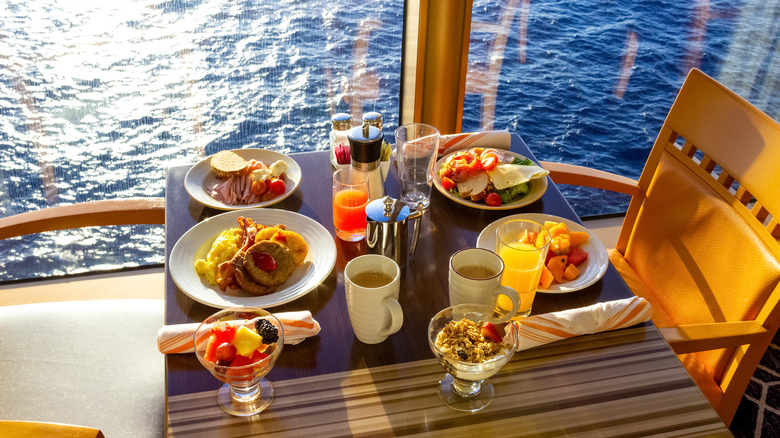 Solarisys/Shutterstock
You might end up in the main dining room for dinner on most nights of your cruise, but many people forget that they can usually also eat breakfast and lunch in the dining room. Breakfast is almost always on offer in the dining room, but lunch may not be served every day, depending on the ship's schedule and the cruise line. While it might often suit you to grab a quick buffet breakfast or a relaxed cafe lunch, you'd be remiss not to get breakfast and lunch from the main dining room at least once or twice on your cruise. 
Dining room breakfasts are much more leisurely affairs than buffet breakfasts. You can find a range of options, but they tend to include classics, such as American pancakes, omelets, and French toast. Lunches follow a similar pattern to dinner, with appetizers, entrees, and desserts available. You don't have to order all three if you prefer a lighter lunch, but it's a great choice if you like a big lunch followed by a smaller dinner, or if you just want to go all-out on vacation.