The Starbucks Loaded Egg Sandwich Hack Is The Ideal Way To Start The Day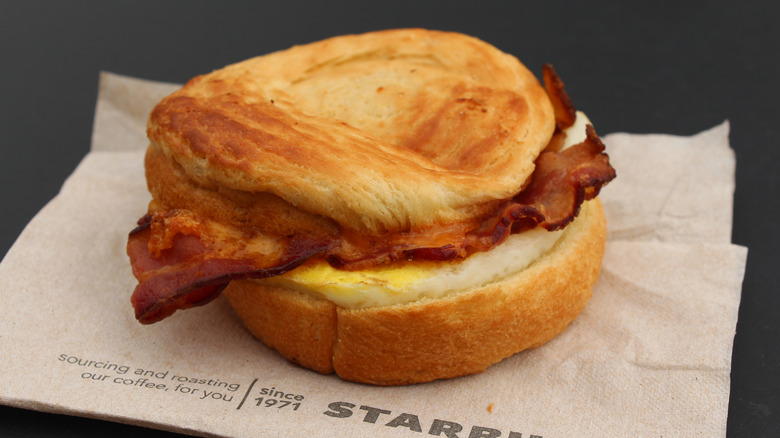 Deutschlandreform/Shutterstock
Most Starbucks aficionados head to the coffee joint in the morning for just that: their daily cup of joe. Starbucks is, of course, known for its signature and seasonal coffee beverages, including caramel macchiatos, white chocolate mochas, and cinnamon dolce lattes. Plus, who can forget the classic Starbucks Pumpkin Spice Latte? Whether you love it or hate it, you certainly know about it.
However, Starbucks is also a destination for quick, convenient breakfast foods, from flaky pastries to more substantial options like a bacon, sausage, and egg wrap and an egg white sandwich with spinach and feta.
TikToker @angelycaleeanne — presumably a Starbucks employee, as she wears a Starbucks apron in the video — shared their favorite loaded egg sandwich hack featuring a grilled cheese sandwich, bacon egg bites, and a side of avocado spread for dipping. Let's just say this sandwich hack from the Starbucks breakfast menu is an ideal way to get your morning going.
TikToker says this Starbucks breakfast sandwich hack is 'delish'
In the TikTok video, @angelycaleeanne grills up one of Starbucks' grilled cheese sandwiches –- which currently come served on sourdough bread –- cuts two of the bacon egg bites in half, and adds them into the sandwich in between the two slices of bread so they're right up against the cheesy goodness. The creator then dips the whole sandwich into the avocado spread before taking a bite. "D*mn, that's delish," they wrote in the overlay at the end of the post.
Followers took to the comments to share their thoughts on this loaded egg sandwich hack. "Omg that looks so good," one person wrote, while another had their budget in mind when considering this multifaceted creation: "Loo[k]s so delish but that's probably a $15 [breakfast] sandwich."
TikToker @angelycaleeanne isn't alone in creating Starbucks breakfast sandwich hacks to feature on the social media platform. Another user recommends that if you order the double-smoked bacon, cheddar, and egg sandwich, you should ask the staff to put the bacon on top and remove the top bun when the sandwich is placed in the oven, which should make the bacon "nice and crispy."