Copycat Starbucks Pumpkin Bread Recipe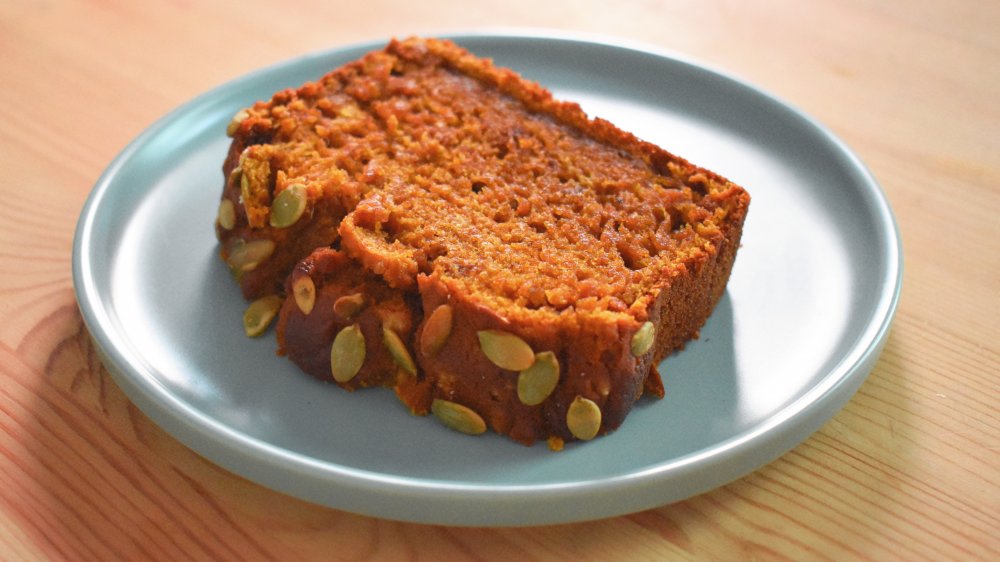 In recent years, Starbucks has become practically synonymous with seasonal fall treats. The chain's signature Pumpkin Spice Lattes seem to come out earlier every year, and with them, a slew of other pumpkin-flavored delights that fans can't wait to get their hands on. From classic pumpkin scones to the recently-added Pumpkin Cream Cold Brew, unless you absolutely hate pumpkin, you'ld be hard-pressed not to find something to like on the Starbucks seasonal menu. We love just about all of the options, but sometimes we would rather not brave the lines and mobile ordering madness that is an actual Starbucks location, especially when it's easy enough to recreate most of our favorite menu items at home. 
Starbucks makes a really good pumpkin bread that falls squarely in the middle of cake and bread territory. It's typically topped with petitas, or pumpkin seeds, though if you don't like seeds on your bread, the best thing about making it at home is that you can totally leave them out! The other great thing about DIY-ing this classic autumnal quick bread? You can eat the entire loaf, zero judgment, rather than a single slice. 
We've come up with the best copycat recipe for Starbucks' pumpkin bread. Even if you don't think you're good at baking, this recipe is easy enough that anyone with an oven can do it. 
Gather the ingredients to make copycat Starbucks pumpkin bread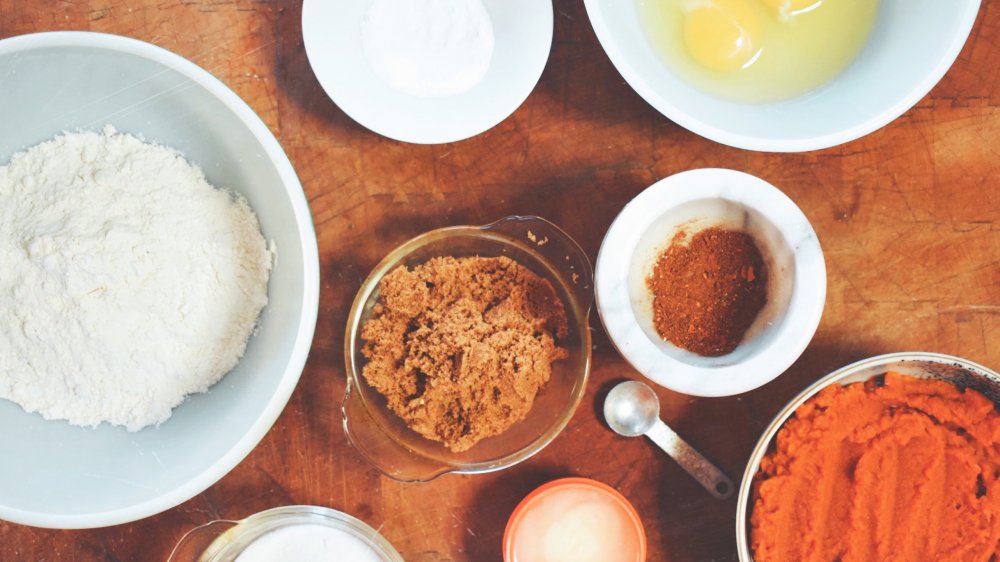 Starbucks' pumpkin bread is a quick bread, which means that rather than requiring yeast and a long proof to get it to rise, you're going to rely on a leavening agent like baking powder and/or baking soda to get an immediate rise as soon as you put your loaf in the oven. Quick breads are not only, as the name suggests, quick, but they're also extremely easy to make, and don't require any fussy ingredients or special equipment. Ideally, you will need a standard loaf pan, but if you don't have one, this batter can also be baked in a muffin tin, a square pan, or even a round cake pan if that's all you have on hand. 
When developing this copycat Starbucks pumpkin bread recipe, we started at the source: the Starbucks website, where they list all of the ingredients that go into their signature pumpkin bread. We left out a few that just aren't necessary for home baking, like modified food starch and soy lecithin. Apart from that, we stayed pretty true to the basic recipe. One thing to note: while you can use canola oil, which is what the website lists, we had slightly better results when using refined coconut oil for this recipe. 
To make this recipe, you'll need all-purpose flour, pumpkin puree, baking soda, baking powder, salt, pumpkin spice, white sugar, brown sugar, eggs, coconut or canola oil, and pepitas, if you like. We also find it helpful to use a spray like Pam to ensure that the loaf doesn't get stuck inside the pan. 
One of the key ingredients to getting copycat Starbucks pumpkin bread right is pumpkin spice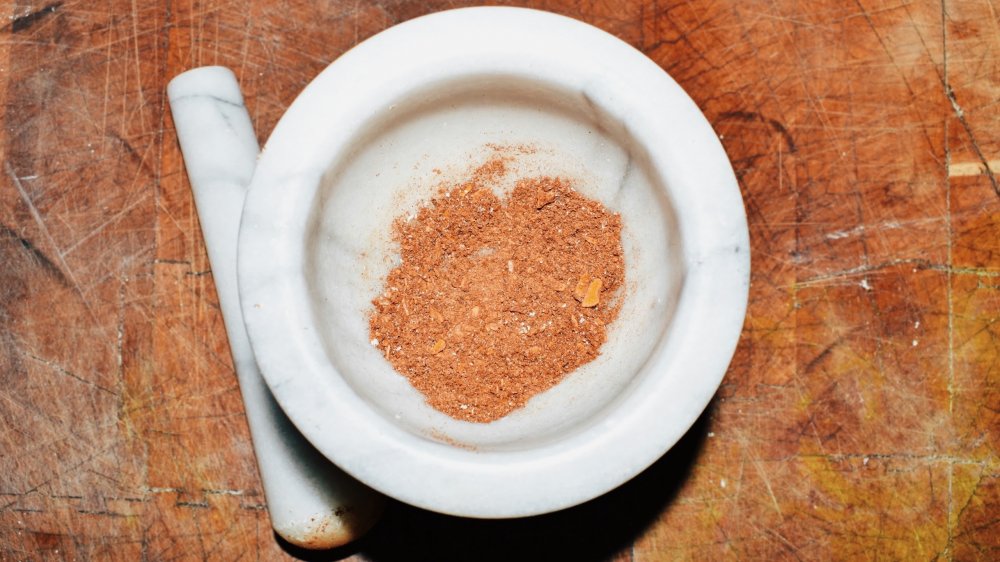 Pumpkin pie spice is one of the most important ingredients for any fall baking project, and there are a few ways you can approach this part of the recipe. If you want to keep things as simple as possible, you can use a readymade pumpkin pie spice blend — most major grocery stores will have one, especially during the autumn months. 
If you want to customize your copycat Starbucks pumpkin bread a little more, we recommend making your own pumpkin pie spice. Cinnamon is always going to be at the forefront of the flavor profile, with nutmeg, ginger, and cloves in the background. You can omit any spices you don't like, or get creative and add complimentary spices like star anise. We love putting a pinch of garam masala into our pumpkin spice blend to add a little extra depth of flavor. 
If you generally keep ground spices on hand, just mix them together. If you want the most intense pumpkin spice flavor, we recommend stocking your kitchen with whole spices, and grinding them in either a mortar and pestle or an electric spice grinder just before you add them to the flour mixture. 
What kind of pumpkin should you use for copycat Starbucks pumpkin bread?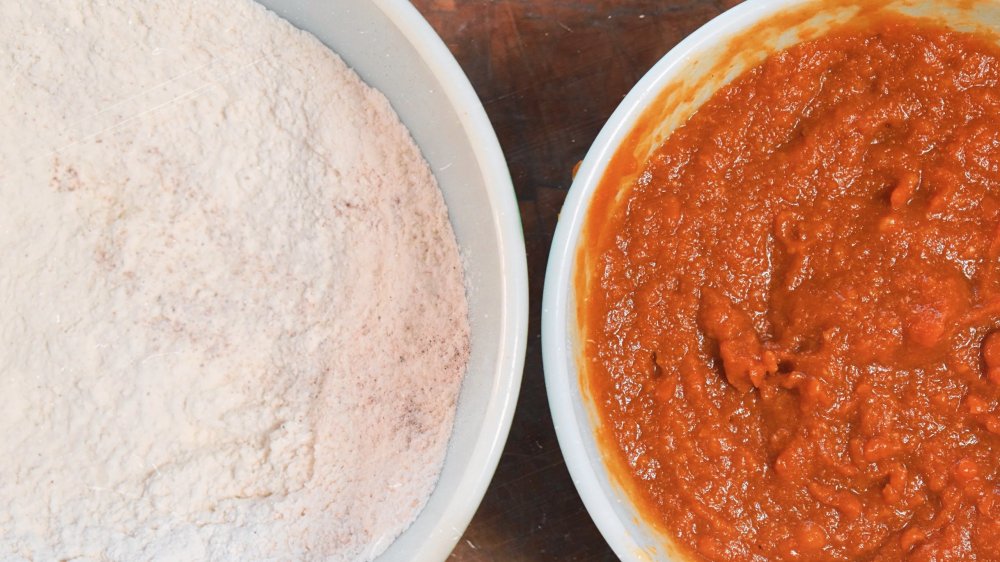 If you don't do a ton of baking, you might wonder whether you should be buying a can of pumpkin puree or a can of pumpkin pie filling when you go to the grocery store. In general, you'll want to use pumpkin puree unless you're specifically making a pumpkin pie, and even then, pie filling is so easy to make that it's always nice to make your own when you have time! 
For this copycat Starbucks pumpkin bread recipe in particular, you'll want to use pumpkin puree, since this bread isn't meant to be too sweet. If all you happen to have on hand is a can of pumpkin pie filling and you're really craving some pumpkin bread, it won't completely ruin the recipe, but it will definitely be a lot sweeter than intended. If this happens to you, reduce the amount of sugar listed in the recipe by half, and know that you won't be able to customize the spicing the same way you could if you were using pumpkin puree. In fact, if you're using pumpkin pie filling, you should probably just leave out most of the spices — or at least taste it before you start adding more spice. 
Whisk together the wet ingredients before you add them to the dry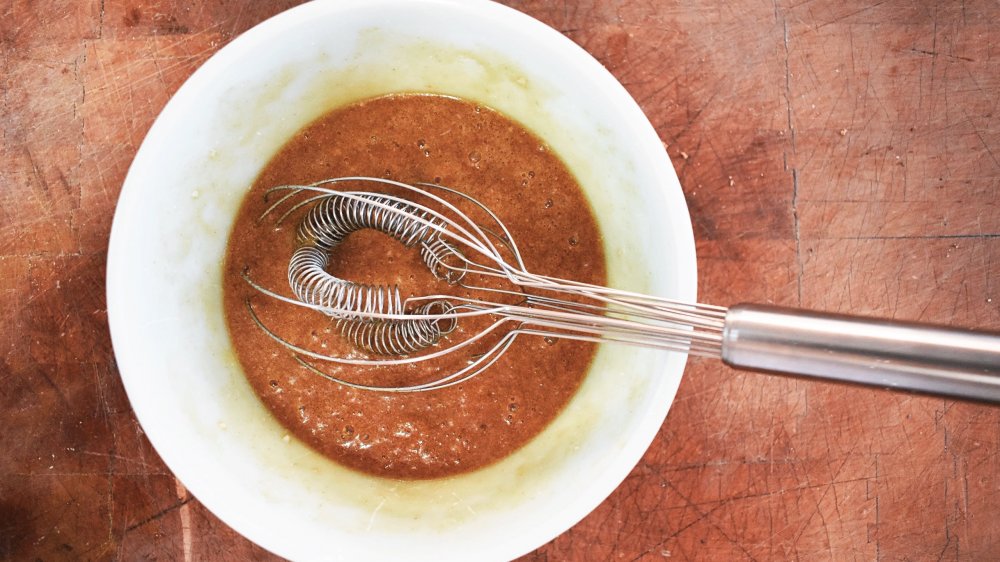 Since copycat Starbucks pumpkin bread is a quick bread, you'll want to mix the batter in two stages — keeping the wet ingredients separate from the dry ingredients until just before you're ready to put your loaf in the oven. Always remember to mix dry ingredients in your larger mixing bowl, because you will eventually add the wet ingredients to the dry, and not the other way around. 
We recommend whisking together the wet ingredients, which typically include sugars as well as oils, extracts, eggs, and other obviously "wet" items, and make sure that they are fully combined before adding them to the dries. Once you put them together, it's important not to over mix your batter, but there is very little risk of over mixing your wet ingredients at this stage in the process. Try to make sure that your sugars especially are fully mixed in at this point, that way they will be evenly distributed throughout the bread. 
Prepare your pan before you mix the wet and dry ingredients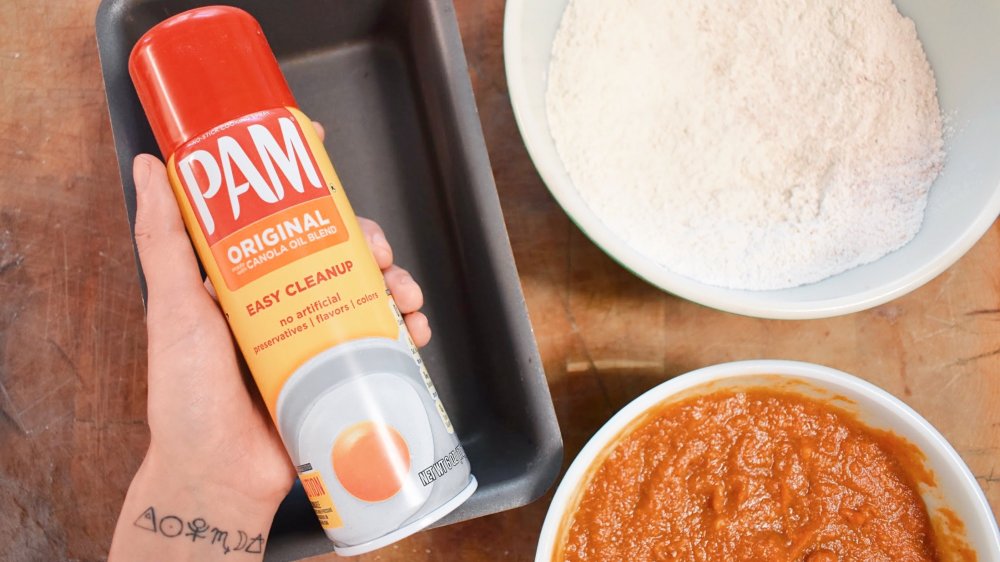 Since the leavening ingredients will start to release gas as soon as the wet ingredients are added, it's important to bake quick breads as soon as possible after mixing. To make that easier, make sure that your pan is prepared before you mix together the wet and dry ingredients. We love using a spray like Pam, because it's super fast and easy, but you can also line your pan with parchment paper, or grease it by hand using butter or oil. 
If you're using muffin tins rather than a loaf pan for your copycat Starbucks pumpkin bread, cupcake liners are also a great choice for an easy release. Whichever method you choose, this is an important step that will help ensure that after you've gone through all the work of putting together your copycat Starbucks pumpkin bread, you can actually get it out of the pan in one piece. 
Be sure not to over mix your batter for copycat Starbucks pumpkin bread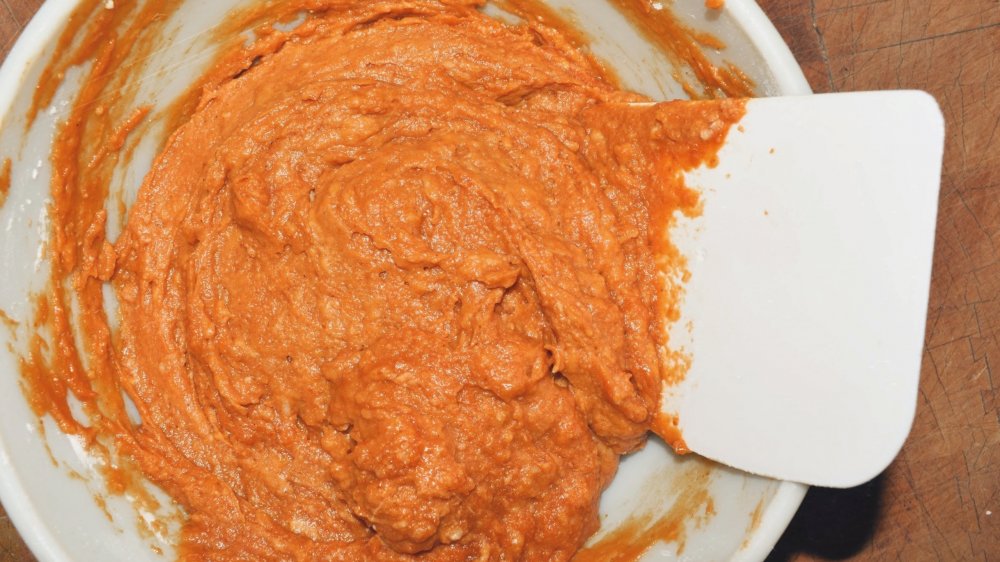 We've all had our fair share of breads and cakes that are gummy, dense, and generally not particularly pleasant to eat. More often than not, a less than optimal texture is the result of over mixing your batter. Quick breads are particularly vulnerable to becoming too dense when they're over mixed, so we have a few tips to help you avoid this common beginner baker's mistake when you're making your copycat Starbucks pumpkin bread. 
You can set yourself up for success when putting your dry ingredients together by sifting them first, which will ensure that you're not dealing with any clumps of flour once you add the wet ingredients. We like to use a flexible bench scraper, like the one shown, but a rubber or silicone spatula will also work well. Fold the batter together until it is just mixed. You shouldn't be able to see any dry flour, but it's okay if there are a few lumps here and there. 
If you want the most classic version of copycat Starbucks pumpkin bread, top your loaf with pepitas before baking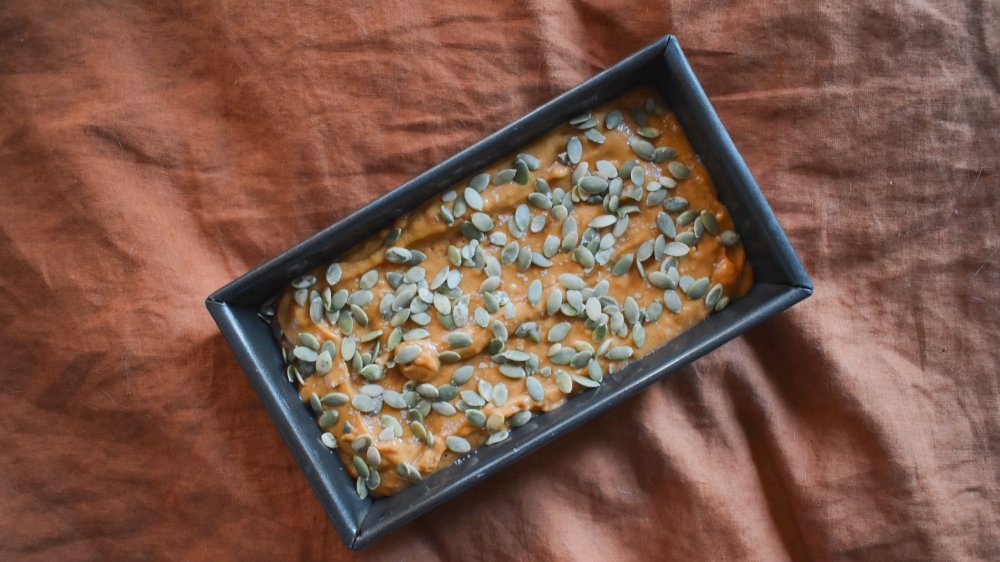 The pumpkin bread that's sold at Starbucks is topped with pepitas, the green seeds inside of pumpkin seed shells. These add a pleasant crunch and a nutty flavor to the finished product, but if you're not a fan, feel free to skip them! 
We've made this loaf both with and without pepitas on top, and both versions are equally good. The biggest difference between the two versions is texture. If you love the original Starbucks pumpkin bread, but can't find pepitas at your local grocery store, sunflower seeds, chopped walnuts, or chopped pecans are all great substitutes, although each will lend its own slightly different flavor to the end result. 
Remember, one of the best things about making copycat recipes is the ability to customize them to better suit your own tastes and preferences. If you want to get really crazy, you could even add dark chocolate chips to the batter just before baking. 
How close did we get to the original Starbucks pumpkin bread?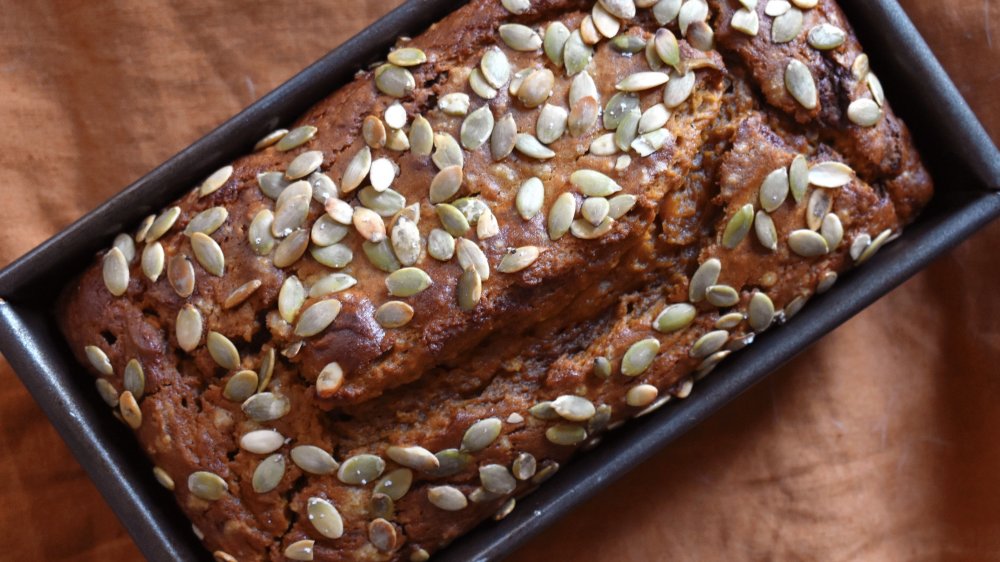 Our copycat recipe gets extremely close to the original Starbucks pumpkin bread. When topped with the traditional pumpkin seeds, you might even be able to fool your friends if you slipped a slice in a leftover Starbucks bakery sleeve! 
The color of the inside of our version tends to be a bit more vibrantly orange than the original, but it gets an equally nice rise, and has that perfect light, even crumb, moist interior, and golden-brown crust on the top that keeps fans coming back for more. While we would never say no to a slice of the real thing, we can honestly say that we prefer the homemade version. 
Officially, you should let your loaf of pumpkin bread cool completely before you slice into it, but we can almost never wait that long, and there are few things in life that are more satisfying than eating some pumpkin bread while it's still warm from the oven. 
Copycat Starbucks Pumpkin Bread Recipe
Starbucks makes a really good pumpkin bread that falls squarely in the middle of cake and bread territory, and we've figured out how to make a copycat version.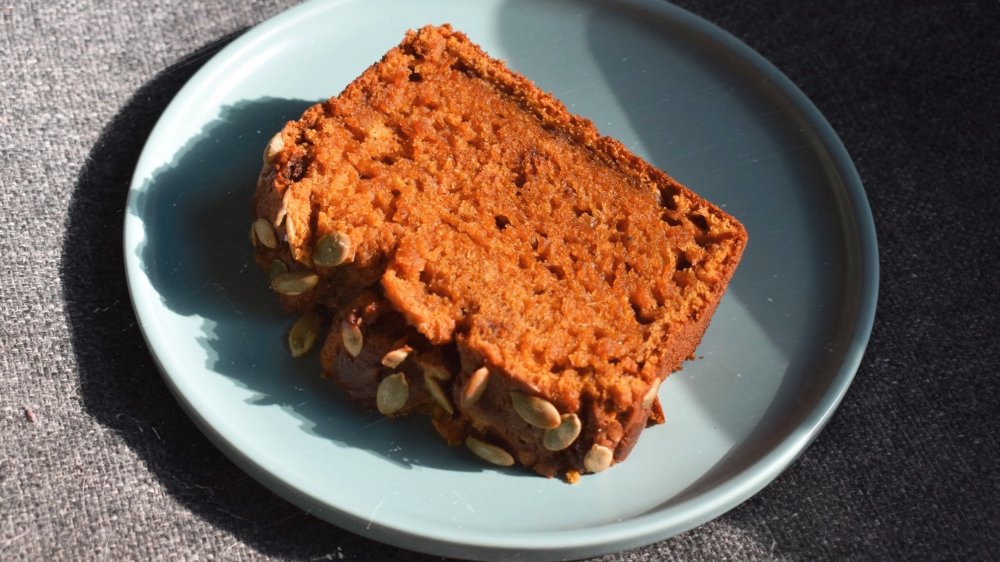 Ingredients
1 ½ cup all-purpose flour 
1 teaspoon baking soda
½ teaspoon baking powder 
1 tablespoon pumpkin pie spice 
½ teaspoon salt 
1 (14-ounce) can pumpkin purée 
½ cup white granulated sugar
¾ cup dark brown sugar 
3 eggs 
½ cups refined coconut oil (canola oil or olive oil will also work) 
1 teaspoon vanilla extract 
Optional Ingredients
Directions
Before you gather your ingredients, pre-heat your oven to 375 degrees Fahrenheit. Prepare your loaf pan with baking spray or a parchment paper lining, and set it aside.
In a large mixing bowl, sift together the flour, baking soda, baking powder, salt, and pumpkin pie spice. If you don't have a sifter, you can use a whisk to gently break up any lumps of flour and ensure that the dry ingredients are fully combined.
In a medium mixing bowl, whisk together the pumpkin puree, white granulated sugar, brown sugar, eggs, oil, and vanilla extract. Make sure that these ingredients are well combined.
Pour the wet ingredients into the dry ingredients and gently fold together, until just combined. You should not be able to see any visible streaks of dry flour, but it's okay if the batter is a little bit lumpy.
Transfer the batter into your prepared loaf pan, and smooth out the top so the batter is even. If you're planning to add pepitas to the top of your loaf, sprinkle them evenly over the batter, then place in the oven.
Bake for at least one hour, though some ovens may take closer to 75 minutes. (If you're using muffin tins, the bake time will be closer to 25-30 minutes.) The loaf is done when it is lightly cracked and golden brown on top, and feels set when you gently tap it with your fingertip — it should not wobble. To be sure that the loaf is fully baked, use a cake tester or wooden skewer. It should come out clean when the loaf is finished.
Remove the loaf from the oven and let it cool in the pan for ten minutes. After ten minutes, run a knife or offset spatula along the sides to loosen, then flip the load onto a wire rack to cool completely before slicing.