These Are The Vegetables Guy Fieri Grows In His Garden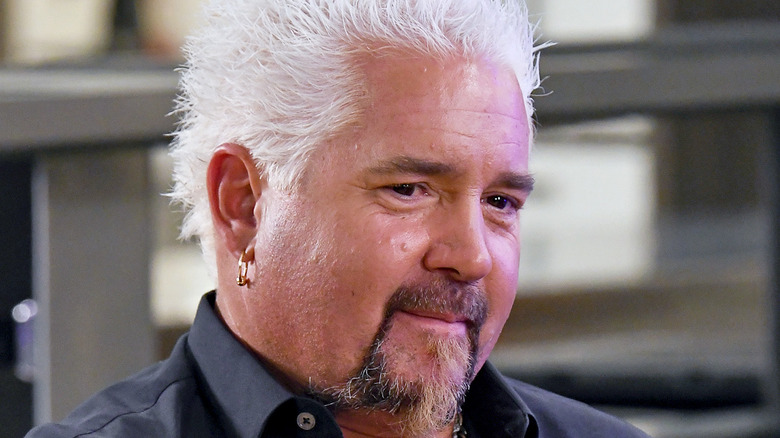 Steve Jennings/Getty Images
Guy Fieri may be one of the famous TV personalities on the Food Network. Long-time fans will know him from the show "Guy's Big Bite" that first aired in 2006. The show was so successful it turned into 13 seasons that lasted for 10 years. But he gained even more of a following with his show "Diners, Drive-ins and Dives" (via Food Network) where he drives around in a cool sports car to different small towns and big cities where he meets the chefs, interviews them, and tastes their food, all while providing commentary. Fieri has the ability to make viewers feel like they're right there with him. And let's be real: His job seems cool and likely enviable for many people.
But like with most celebrities, we often only see certain sides of Fieri. It can be easy to assume that he only eats what we see him eat, and depending on the show, it seems as though he only eats meat and carbs. However, this is only what the TV show highlights.
He likes to garden
Shutterstock
Many people may be surprised to learn that in Fieri's spare time, he enjoys tending a garden. In an interview with Food Republic the TV personality revealed, "I have a huge organic garden that I am looking at right now with 10 different peppers, three different kales and tomatoes galore." He also has a chicken coop with 16 free-range chickens, too.
If you're only watching his TV shows, you likely have a very specific image of him and who you imagine him to be. "Unfortunately, that's not what everybody gets to see: they see a guy with spiky blond hair and some tattoos driving a hot rod around and they want to say that all this guy has eaten is corndogs." He explains that he's a fan of organic food, but transmitting his interests can be challenging on certain shows.
But Fieri isn't concerned about how people perceive him and has neither plan nor desire to invest his energy in trying to convince anyone about who he truly is when it comes to his interests in organics and growing food. In fact, he's pragmatic about the whole thing. Fieri told Food Republic, "If I chased everybody around trying to explain my real energy and attitude about all this, I don't think it would be a waste of time, but people discover what they want to discover." Regardless of your opinion about Fieri, most people can learn from him the importance of not worrying about what others think of you.