In Ina Garten's Career, One Recipe Stands Above The Rest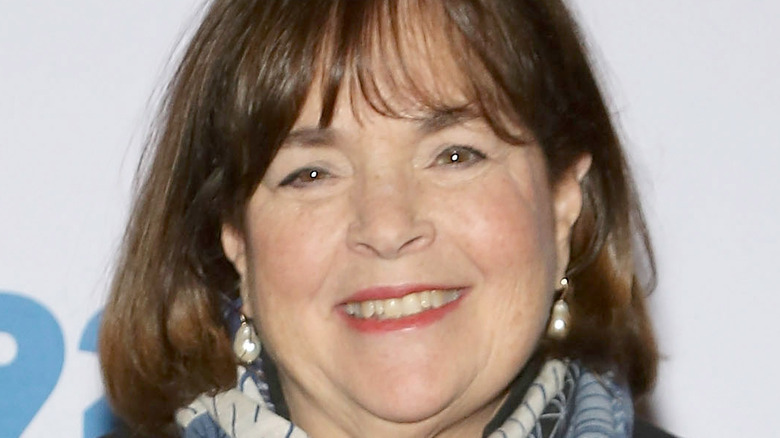 Manny Carabel/Getty Images
Oh, Ina Garten, is there anything you can't do in the kitchen? This cooking, baking, and hostessing doyenne makes any kitchen task — from leveling and frosting a layer cake to mixing perfect, pink cosmopolitans — look as easy as pie (which, incidentally, is another thing Garten does well). Over the course of her 40-year career, the "Barefoot Contessa" has become known for a handful of signature dishes, from parmesan-roasted broccoli to winter minestrone to lemon yogurt cake. 
But if we had to pick a favorite, we'd side with Garten's beloved husband Jeffrey — who apparently can't get enough of this dish — and go for her signature roast chicken. This simple lemon-and-herb-stuffed bird is apparently the chef's go-to for her standing Friday night dinner plans with her devoted husband, and it's easy to see why. Here's the inside scoop on what makes this roast bird really stand out from the flock.
Easy and delicious makes this dish a winning combination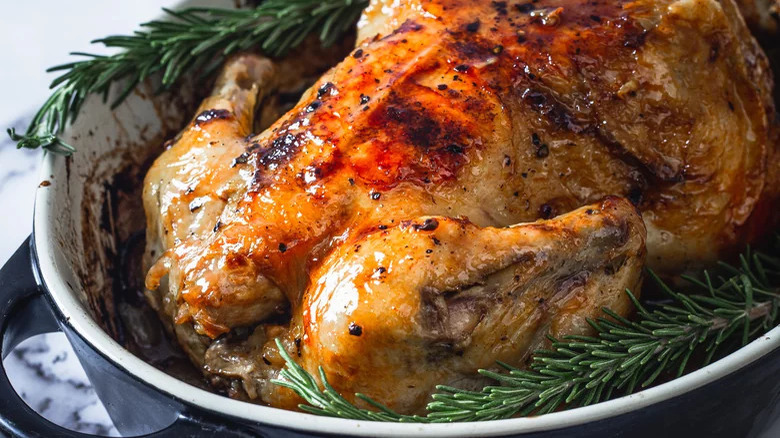 Ksenia Prints/Mashed
Although roast chicken has a reputation for being a simple, reliable dish, the reality is that a lot can go wrong. Perhaps the skin comes out flabby and rubbery instead of crisp or burnished. Maybe the white meat gets overcooked before the dark meat even comes to temperature. Or maybe the bird is simply bland. But when it comes to Garten's roast chicken, this bird comes out moist, memorably flavorful, and beautifully browned every time — it's not for nothing that it's garnered more than 1,400 rave reviews on Food Network. And best of all? It's not difficult to make.
To get in on the action and satisfy your dinner guests, you'll need a five to six pound whole chicken, some fresh thyme and garlic, a lemon, some carrots, an onion, and — here's the wildcard — a bulb of fennel. After generously seasoning the cavity of the bird, you'll stuff it with the thyme, lemon, and garlic, then truss up the chicken and nestle it on a roasting pan among the chopped onion, carrots, and fennel. The outside of the chicken gets brushed with melted butter, and the whole shebang is roasted in a 425-degree oven until the outside is nice and brown and the inside is juicy and tender, about 1 1/2 hours. We don't know about you, but we feel a craving for roast chicken coming on. Luckily, this is one craving that will be easy-peasy to satisfy.
As obsessed with this roast chicken as we are? Be sure to also try our Ina Garten's Roast Chicken with a Twist recipe, which features a simple ingredient swap we think makes it juicier than ever.