What Andrew Zimmern Really Eats In A Day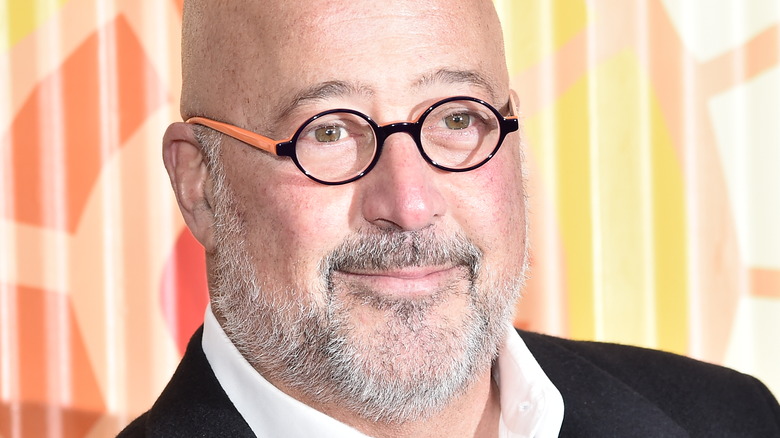 Steven Ferdman/Getty Images
Similar to a barista who can't stand the smell of coffee at the end of a long shift, an adventurous eater by trade is likely to crave something simple when they have the choice. In hungry TV personality Andrew Zimmern's case, he's just as happy enjoying hot dogs for lunch as he is caviar. As we see on his Travel Channel show "Bizarre Foods with Andrew Zimmern," his stomach is as open to new things as is his mind. However, Zimmern revealed to Harper's Bazaar in a YouTube video everything he consumes in a typical day and there are certainly some surprises.
Zimmern, who is known for shoveling just about anything into his mouth, starts his morning off by quenching his thirst with some water or seltzer and then hops on the coffee train. Many coffee drinkers are fully committed to the bean and steer clear of tea, but not Zimmern. He has "about 75 different types of tea in the house," but begins the day with a cup of black coffee. Before Zimmern indulges in meal number one, he usually has another cup of joe, this time with some milk to cut back on acidity. "I'm kind of obsessive when it comes to food and drink," he says to no one's surprise.
Zimmern leans towards savory flavors even in the morning, often having "dinner for breakfast." Here's what else to know about his day-to-day diet.
Andrew Zimmern's appetite is just as big when he's off-camera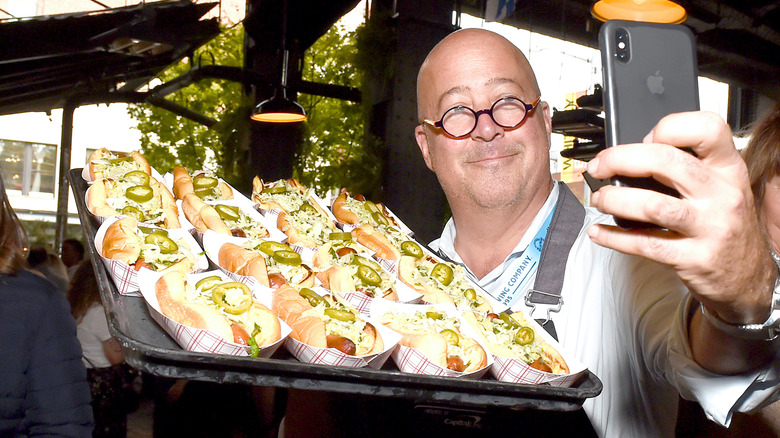 Daniel Zuchnik/Getty Images
Having dinner for breakfast involves rummaging through leftovers and recreating a hearty meal, such as slices of yesterday's brisket and some gravy on sourdough (via YouTube). Andrew Zimmern is a big snacker, and he'll typically toss together something light once he gets to the office. He's a big egg advocate, so scrambled eggs are often on the snack time menu. After plugging into work for a few hours, his hunger will sneak back up around 12:30 or 1 p.m. and he'll switch his focus to lunchtime. Lunch tends to be a smorgasbord of what's nearby. As a self-proclaimed "sandwich junkie," Zimmern can proudly create a sandwich from nearly anything that's in reach.
If Zimmern and his team don't order out, they'll pick at what's left in the kitchen from recipe testing and whatnot, which could be a gravlax and caviar slider on a Hawaiian roll. The next round of snack time will usually include some savory crisps, such as corn chips, anything packaged by Utz, or shrimp-flavored potato chips. These bites will tide him over until he gets home where he has the healthiest meal of the day for dinner.
After winding down with some meat and cheese snacking, of course, Zimmern will put together a meal often inspired by Eastern Mediterranean countries, focusing on one large shared course with many side dishes. Zimmern shamelessly admits to midnight snacking three or four nights a week, preaching, "Don't eat 'til you're full, eat 'til you're tired."