25% Agree This Is The Best Starbucks Breakfast Sandwich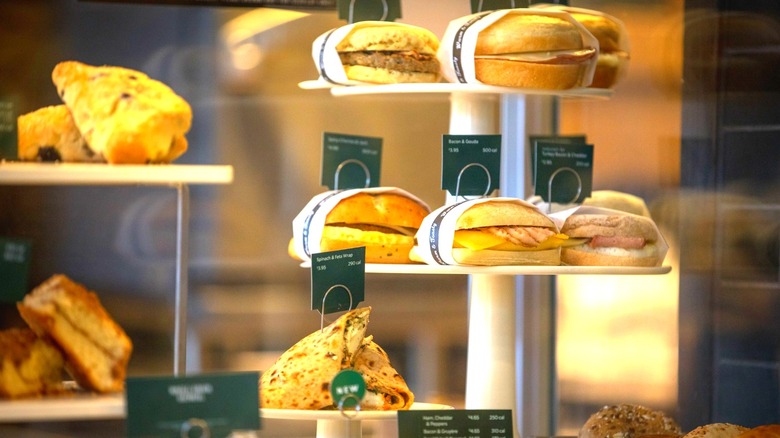 Nicole Glass Photography/Shutterstock
McDonald's and Starbucks are two of the biggest chains in the United States, with QSR Magazine reporting a combined 29,000-plus locations between the pair nationwide. Therefore, it's highly likely that you'll be able to find one of each within driving or even walking distance of each other, no matter where you are. However, only one of these iconic eateries will be able to satisfy your craving for a delicious breakfast sandwich at any hour of the day. According to CNBC, Mickey D's had to abandon their all-day breakfast menu in 2020, leaving Starbucks to be one of the only places you can pick up a savory sammie containing all of your favorite breakfast fixings whenever your heart (or stomach) desires.
Making its debut on the Starbucks menu in 2003 (via NBC News), the Seattle-based coffee giant now offers multiple different breakfast sandwiches — though, like most restaurants, there are some that are favored more than others. In order to help you determine which one is worthy of being paired with your venti-sized iced coffee, Mashed conducted a survey asking participants to name the best breakfast sandwich on Starbucks' current menu. A total of 609 U.S.-based readers responded, and of that group, only 50 people (or 8.21%) chose the Roasted Ham, Swiss, & Egg Sandwich, making it one you may want to avoid. The chain's Impossible Breakfast Sandwich wasn't too much of a hit either, with just 12.64% of participants deeming it the best.
Nearly 1 in 4 Starbucks customers are fans of this classic breakfast sandwich
With only 230 calories, 5 grams of fat, and 17 grams of protein, Starbucks' Turkey Bacon, Cheddar, & Egg White sandwich is one of the coffee shop's healthier menu options (via the Starbucks website). However, the meal's promising nutritional value wasn't enough to win over survey respondents, with only 13.63% of whom named it the "best" breakfast sandwich from the chain. Its similar but not quite as healthy counterpart, the Double Smoked Bacon, Cheddar, & Egg Sandwich, only fared slightly better with votes from 18.88% of participants, or 115 people, while the Bacon, Gouda, & Egg option took second place in the poll with 21.67% of the vote.
So, which breakfast sandwich is it that has won the hearts of a majority of Starbucks customers? The Sausage, Cheddar, & Egg option was awarded the title of best breakfast sandwich from the eatery by nearly one in four survey respondents to take a grand total of 24.96% of the vote. Described by one Redditor as a "McMuffin on steroids," this classic combination of breakfast favorites is served up on a toasted English muffin and, according to the Starbucks website, will serve as a reminder of why you have an affinity for the morning meal. Though it may seem impossible to forget why breakfast is so great in the first place, it never hurts to renew that love, and apparently Starbucks' Sausage, Cheddar, & Egg Sandwich is up to the task.