What Red Lobster Employees Wish You Knew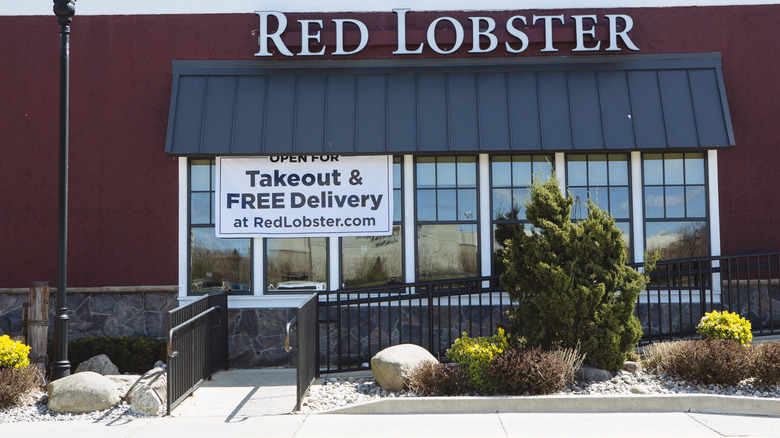 Bloomberg/Getty Images
If you're a seafood fan who loves a luscious and delicious lobster, then you've likely been to the world-renowned seafood chain known as Red Lobster. Red Lobster is a seafood restaurant that was established in Florida in 1968, and it now has over 700 locations across the globe. The restaurant chain was founded by Bill Darden, who, according to the Red Lobster website, was "a man passionate about making delicious, high-quality seafood available and affordable to everyone, including people who lived far from the coast."
With such success and global popularity, it's difficult to go anywhere without finding one of these locations somewhere near you. The employees at Red Lobster are also a crucial part of this business's success — without their polite and welcoming hospitality, it would be difficult to keep customers coming back. With a wide menu of dining options, as well as a long history behind it, the Red Lobster employees know a lot about the inner workings of the business that might not be common knowledge. If you're looking for some fun facts and knowledge surrounding this seafood restaurant, you may want to consider the point of view of an employee.
Red Lobster employees give guests an odd number of biscuits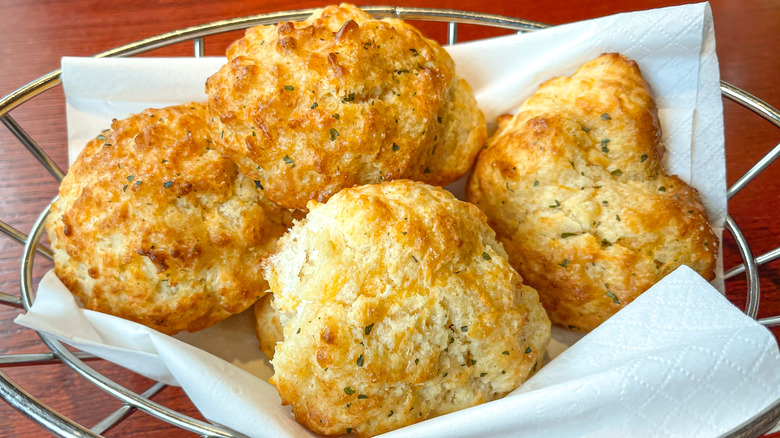 P. Maxwell Photography/Shutterstock
It is undeniable that one of the greatest things about Red Lobster is its delicious, cheesy Cheddar Biscuits. The golden delights are small dough balls of cheese heaven, and while Red Lobster is a seafood-based restaurant, it truly wouldn't be the same without its brilliant bread. If you frequently dine at Red Lobster, however, you may have noticed something interesting about the cheddar biscuits. If you take a friend or date to the seafood restaurant, or have an even number of people at your table, you may realize there is an odd number of biscuits.
A Red Lobster server on Reddit confirms that this move is completely intentional on their part, and in fact, required by the restaurant. When asked why they would give an odd number of biscuits, the user writes, "We bring one biscuit for every person at the table, plus an additional biscuit for the table. Corporate policy." While we appreciate the extra biscuit on our plates, it certainly creates a conundrum on who should get the honor of consuming the tasty side. On the other hand, it does make for good conversation at a table, and of course, you can always split the biscuit.
You don't have to have all of the butter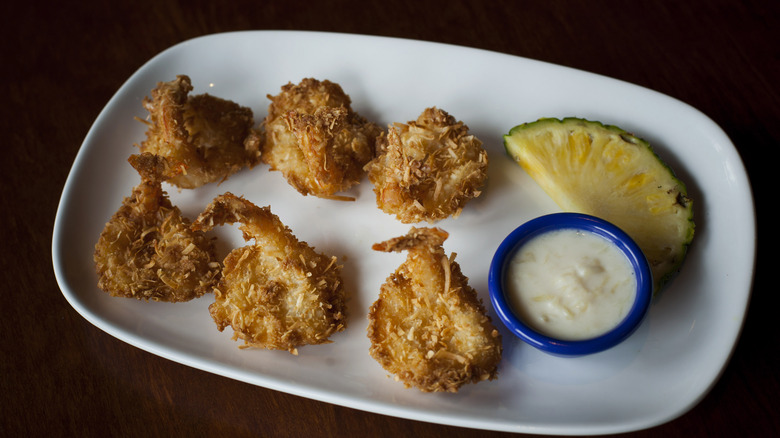 Bloomberg/Getty Images
Seafood itself is extremely healthy and can be beneficial to anyone's diet. It contains omega-3 fatty acids and is a great source of protein. However, this is often canceled out after you slap an entire stick of butter onto your lobster or salmon. While we love a buttery biscuit or popcorn from time to time, some might feel a twinge of guilt knowing their seafood is doused in butter. Many of Red Lobster's foods, such as its Salmon New Orleans, are served after being drenched in a Cajun butter sauce, while others, like its Wild-Caught Snow Crab Legs, are served with a side of melted butter.
While it's possible to simply not use the butter if it's presented as a side, it may be unavoidable if it's cooked with the seafood. Fortunately, Red Lobster has a not-so-well-known option that allows you to have the same, fantastic fish meals without the massive amount of butter. The next time you're at Red Lobster, you can ask your server to cook your meal in something a bit healthier than butter, such as olive oil. Then, you can enjoy your seafood without having to worry about all that butter.
Endless Shrimp is not a waiter's favorite deal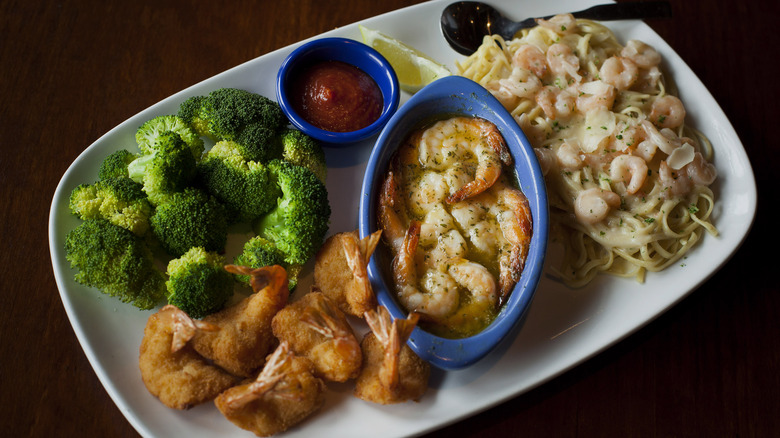 Bloomberg/Getty Images
For a limited time, Red Lobster tends to offer a tempting deal known as "Ultimate Endless Shrimp." This deal allows diners to order 2 of their favorite shrimp dishes, and when they receive them, they are able to continuously order more shrimp dishes after the fact. The Red Lobster website also says each endless shrimp meal is paired with a side of your choosing, and an unlimited supply of Cheddar Bay Biscuits. While this deal wasn't offered in 2020 due to safety reasons, the endless shrimp meal came back temporarily in 2021. Shrimp enjoyers rejoiced, as they were able to order their favorite shrimp dishes for the entirety of the week.
While diners adore this deal, the servers aren't as excited when the time to offer this meal rolls around. When asked what the worst part about the endless shrimp deal is, a Reddit post reveals that when someone orders the endless shrimp, the customer tends to stay a lot longer than your typical diner. This results in fewer seated guests for the waiter, and thus, less possible tips. The user writes, "Ticket times become so long that it is near impossible to turn tables at a high enough volume to make good cash. It's a promotion that most employees loathe." The next time you're thinking about ordering the unlimited shrimp, it might not be a bad idea to think about the server first.
If you want more, you can order extra biscuits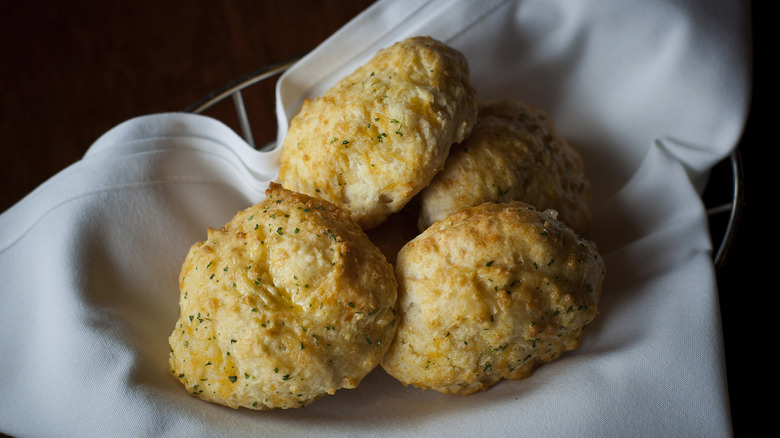 Bloomberg/Getty Images
You have not truly experienced Red Lobster if you've never tried their Cheddar Bay Biscuits. Warm, crisp, and made fresh in the restaurant, these golden-brown sides are, in our opinion, one of the best things about Red Lobster. In fact, this item is so popular that the Red Lobster online menu has an entire section titled "Biscuits and Extra," and serves over 1 million in a single day. If we could, we'd gladly just have some of these as a meal, and on the Red Lobster online menu, you can find these treasures by half or whole dozens. It's easy to argue that there's no topping Red Lobster's Cheddar Bay Biscuits...or is there?
What makes Red Lobster's biscuits stand out against other restaurant biscuits is that you can order them as a side with whatever your entrée is. If you've ever felt like you don't get enough Red Lobster Cheddar Biscuits, or that they could use a bit more cheese, then we'd like to introduce you to Red Lobster's Extra Cheddar Biscuits. If you feel like you could use an extra biscuit or two, then you can ask your waiter for extras, as well as request them to be extra cheesy. The next time you go to Red Lobster, don't be shy to ask for more biscuits!
You can still order the specials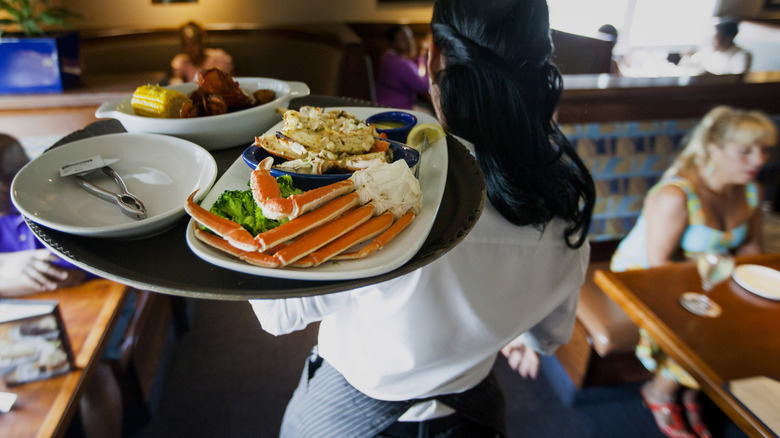 Bloomberg/Getty Images
One of our favorite things about restaurants is the specials they carry. Whether it's a holiday treat or a unique weekly deal, it's fun to try out something that's only around for a limited time. At the moment, Red Lobster has numerous special offerings, including daily deals that they rotate throughout the week. From "Fish Fry Friday" to "Ultimate Endless Shrimp Monday," there's always something different at Red Lobster every single weekday. While we love specials, however, sometimes it's disappointing to find that a restaurant is no longer offering something that you really enjoyed the last time you visited.
Fortunately, at Red Lobster, just because your favorite Crispy Cod Sandwich isn't advertised at your restaurant doesn't mean that they don't carry it at all. While those meals might only be advertised for a limited time, a participating Red Lobster may still carry that dish and allow you to order it. Although you might not be able to get the deal itself, if you want Steak & Lobster on a Monday instead of a Wednesday, just ask!
Red Lobster has gluten-free options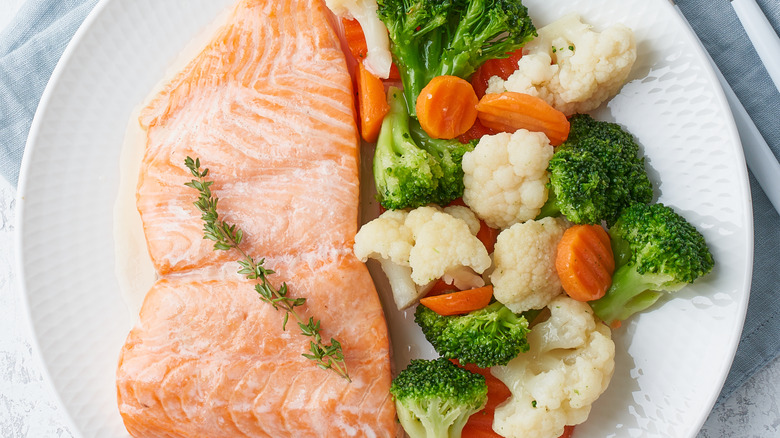 Nata Bene/Shutterstock
Many people have underlying health issues that don't allow them to consume gluten, such as a gluten allergy, or celiac disease. When someone with celiac disease eats foods containing gluten, it causes damage to the lining of their small intestine (per the Mayo Clinic). Because they can't eat gluten, most restaurants try to make sure they carry at least a few gluten-free items, such as Olive Garden's gluten-free pasta, or Chick-fil-A's grilled chicken nuggets.
Most seafood is naturally gluten-free, but it is often cooked or fried in something that contains gluten, making it extremely difficult to figure out if something is safe to eat. At Red Lobster, gluten is not a problem. Because most of its dishes are seafood and meat-based, it's easy to just ask a server if it's possible for a dish to be made without gluten products, or if a specific item contains any gluten at all. Online, Red Lobster also has a Food Allergy Wizard, where you can figure out what dishes contain or come into contact with gluten. You'll find a long list of beverages and meals that are safe for a gluten-free diet, and if nothing fits your palette, just ask!
While they're free in the restaurant, you have to pay to take the biscuits home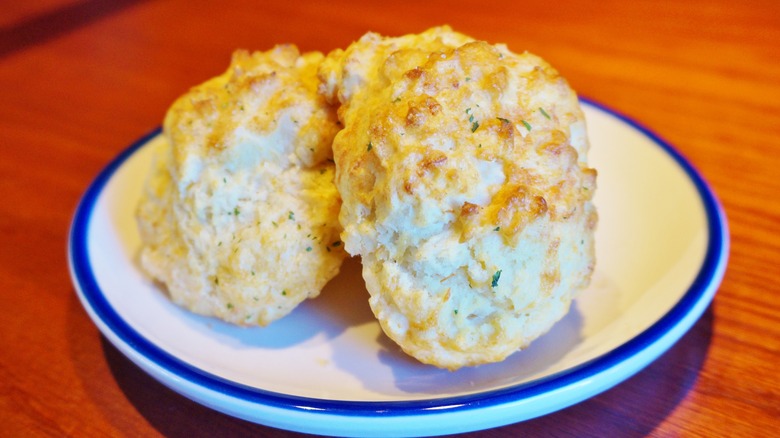 EQRoy/Shutterstock
While you can find a boxed version of Red Lobster's Cheddar Biscuits that you can try to make at home, it just isn't the same as eating them fresh at the restaurant. When you've eaten all the Red Lobster dishes and biscuits you can handle and realize you have a couple of extras, you might be pressed (and reasonably so) to ask your waiter for a bag to take the rest home. Unfortunately, your server may have told you that you would have to pay for the biscuits separately.
This isn't because the waiters want to take the extra biscuits for themselves. The same Red Lobster server was questioned by a user on Reddit about this, asking what the official biscuit take-home policy is at the restaurant. The user replied, "You can pay four dollars for half a dozen biscuits. Biscuits are free on Red Lobster grounds, but to take home it costs." While we're disappointed we can't take home the incredible bread biscuits, it's nice to know we have an option to bring them home — for a price.
You can ask for your lobster to be grilled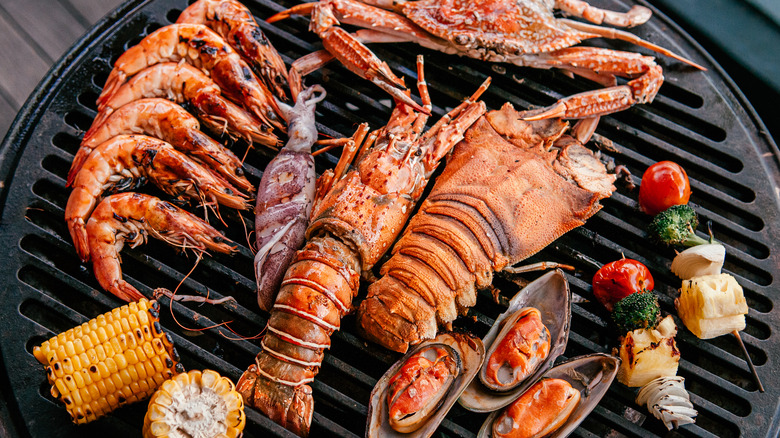 PixHound/Shutterstock
At many seafood restaurants, lobsters are typically prepared by steaming. This means that the lobster is dropped into boiling water before the heat is slowly reduced until the lobsters have a bright red color. According to Lobsters From Maine, lobsters are generally steamed as opposed to being baked because the method is considered a more "gentle cooking technique," and results in the meat being more flavorful and tender. At Red Lobster, a well-known lobster dish it carries, Live Maine Lobster, is also steamed and roasted.
If you're tired of always having your lobster prepared the same way, you may have the option to ask for your lobster to be prepared a certain way. Next time you are at Red Lobster, politely ask the nearest Red Lobster employee if you can have your lobster grilled instead of steamed. Through this different means of preparation, you'll find yourself with a refreshingly different, grilled flavor with your lobster. While according to Secret Menus, this isn't an option at every Red Lobster location, but don't be shy to ask if it is — the worst they can do is say no.
The fish really are fresh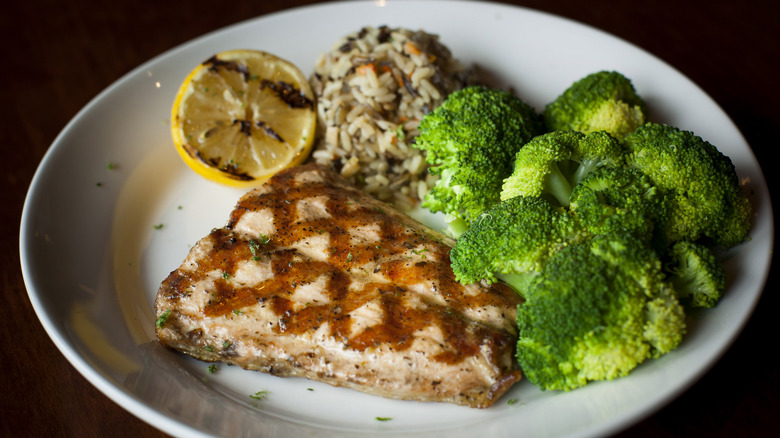 Bloomberg/Getty Images
Despite being best known for its delicious sides and the bright red crustacean that gives it its name, Red Lobster has a plethora of different seafood dishes to choose from.
Parrot Isle Jumbo Coconut Shrimp, Classic Caesar Salad with Grilled Salmon, White Wine and Roasted-Garlic Mussels ... we could go on forever. Even if you aren't the biggest fan of seafood, Red Lobster also has steak, chicken, and even mozzarella cheese sticks, so there's likely something for everyone at this restaurant.
If nothing on the Red Lobster menu floats your boat, there are still options that you might not be familiar with. If you're bold enough, you can take the plunge and ask what fresh fishes your Red Lobster location has to offer. According to a former Red Lobster server, the fish really are fresh (via Reddit). The types of fish that each Red Lobster has constantly changes, as the stock and amount of each fish vary from kitchen to kitchen. If you look into it, however, there might be a fish that fits your fancy. Be warned, though — fresh fish can be pretty pricey, so make sure that it's going to be worth the extra cash before you order.
Some customers go overboard with the all-you-can-eat specials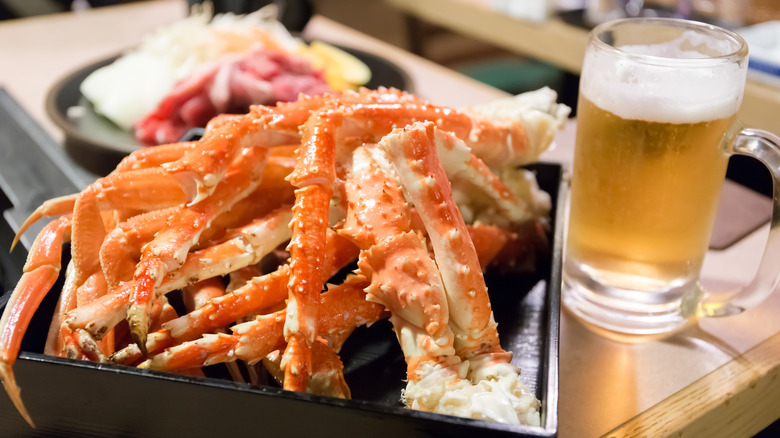 tuthelens/Shutterstock
The endless special promotions are a huge draw for Red Lobster. However, some people like to take the "all-you-can-eat" suggestion to heart by stuffing unhealthy amounts of seafood into their stomachs. U/monkeymoomoo10, who worked at a Red Lobster, claims that they've seen a single person down 15-16 refills during the endless shrimp special, which adds up to more than 150 shrimp). "Guys I used to work with would literally eat competitively and get over 200+ shrimp," they added. Now, that's impressive.
Another employee u/igotcrabs claimed to see people order 40+ refills of shrimp scampi during the special, even claiming to hear of someone who ate 70 plates of it in one sitting. "It depends on what kind of shrimp you get — that much scampi will make you sick – hell – maybe give you a full-blown heart attack," they wrote.
In fact, Red Lobster lost millions of dollars after an all-you-can-eat crab dinner special went wrong. Apparently, the chain underestimated how much crab their customers could eat for just $22.99. The sitting president lost their job after the company lost more than $3 million in profits in just one quarter (via New York Post).
Sometimes, boredom leads to employees finding unique entertainment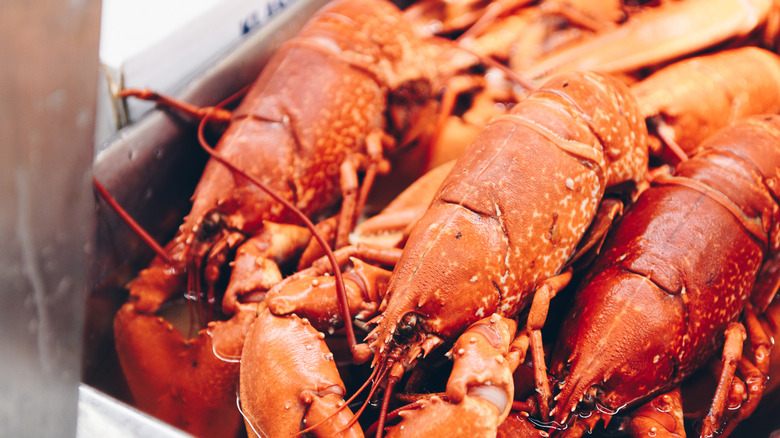 Linus Strandholm/Shutterstock
Like any casual dining restaurant, employees might find themselves less busy in-between meal times. That is likely more true at a business like Red Lobster that thrives on sit-down service that is likely busier during dinner hours. So ... employees might find themselves with extra time on their hands, and decide to get creative with the live crustaceans in the restaurant. 
According to one employee, u/downtown1123, that boredom leads to some Red Lobster workers placing bets with one another — on racing lobsters. Let's be clear that it's probably not good for any employees to be playing with their customers' food, but it is hilarious to think about. (Any animal rights concerns about the lobster racing are definitely outweighed by the fact they will soon be cooked.) On second thought, maybe employees wouldn't really want you to know if they're doing this, but it's definitely a well-kept secret. 
The workers don't get sick days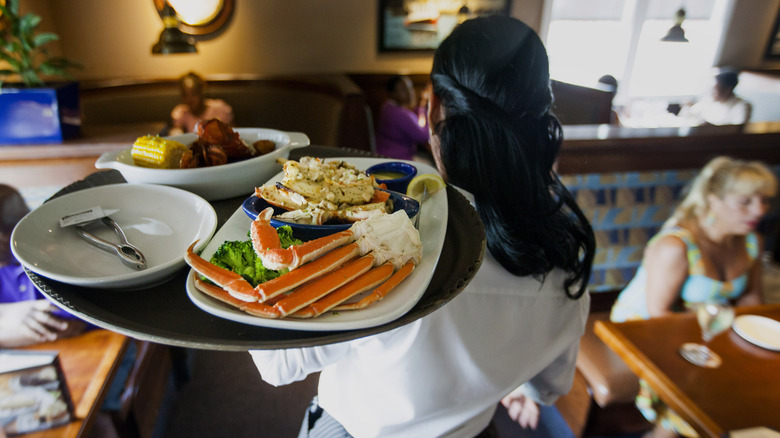 Bloomberg/Getty Images
The COVID-19 pandemic brought to light some questionable practices from Red Lobster when it came to employee benefits. According to Business Insider, workers at the chain claim they worked while feeling ill because they are not offered any sick leave. One former bartender claims management told him to find someone to cover his shift or he would face getting a write-up, after he tried to call off when he developed COVID-19 symptoms. If employees get four write-ups, they are allegedly subject to termination. 
Following outrage on Twitter, a Red Lobster spokesperson made the claim that it is pretty typical in the chain restaurant industry to not offer paid time off policies to workers. But it does show that being kind and tipping well are important, as some workers are forced to work under the weather in order to make ends meet and rely on money outside of their paychecks. 
You can save money on Red Lobster meals pretty easily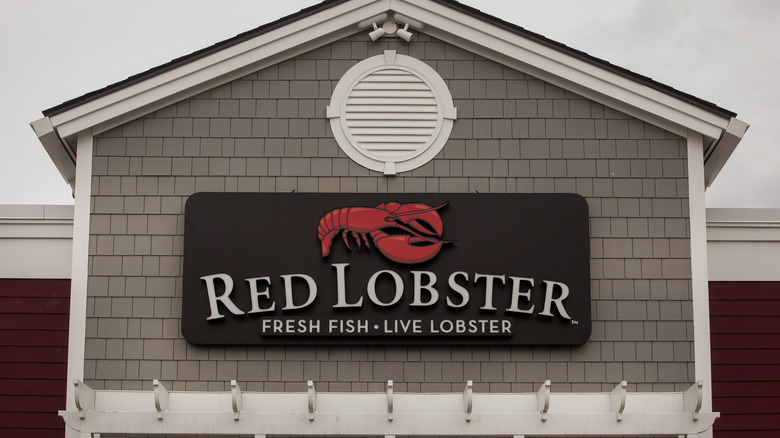 Bloomberg/Getty Images
If you're a frequent patron of Red Lobster looking for a deal, there's a pretty easy way to find one with the chain's rewards program. Basically, every time you eat Red Lobster, you can earn points toward free menu items and other deals. It's 1 point for every dollar you spend, plus 75 points just for signing up for the rewards program. 
Red Lobster Rewards members also get special perks unavailable to regular customers (including "frequent Special Offers, FREE* birthday reward, Insider Information and ‒ once you become a Platinum member ‒ 2x points for To Go orders"), so it's a simple way to earn a little something back if ordering an Admiral Feast is a weeknight regular practice for you. It's simple to sign up online or through the Red Lobster app, so check it out and see if it's something worth your while. 
Just be patient and kind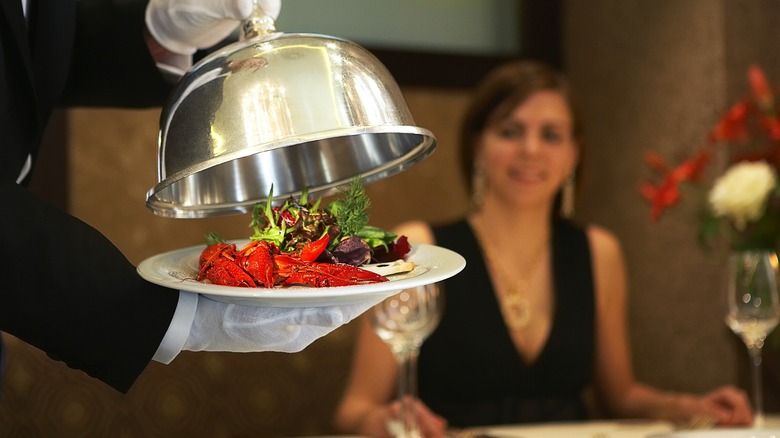 Celso Pizzolato/Shutterstock
The concept of being kind to your server is not limited to Red Lobster, but it can't be stated enough. It is a server's job to make sure your experience at the restaurant is pleasant, but not at their own personal expense. Servers rely on tips from customers to supplement their income, so leaving little to no tip is not the most productive way to demand better service. Restaurant staff are people just like you— they have off days, they sometimes forget things and they just want to do their job and go home. They are not subjected to mistreatment from overly demanding, and especially aggressive, customers. 
Red Lobster employees have been subject to unruly customers in the past, so it's always important to be kind. Especially now when the U.S. is experiencing a massive labor shortage, it's really important to be patient when you go out to eat.