Delicious Sauces You've Never Thought To Put On Steak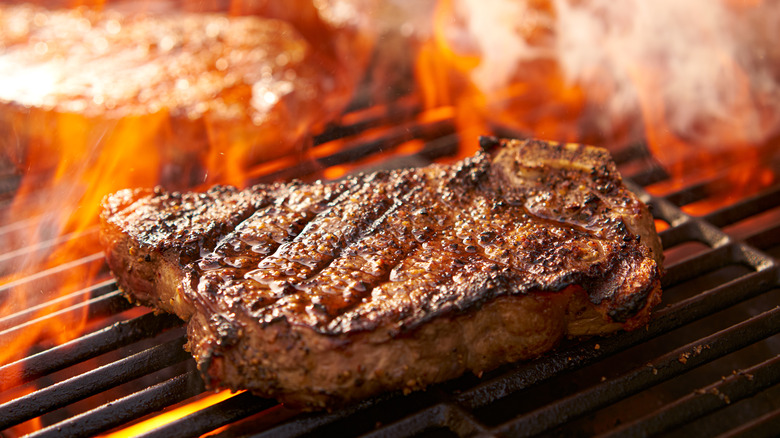 Joshua Resnick/Shutterstock
Sauces are meant to enhance foods, and if you eat at good restaurants, then you've probably tasted many memorable ones. Professional chefs know that the five mother sauces are the starting point for any number of others. What's Cooking America outlines them as white (Bechamel), blond (stock-based white sauce), brown (reduction of pan drippings), red (tomato-based), and Hollandaise (butter and egg-based).
Julia Child, the beloved chef who taught Americans all about French cooking on her public television show "The French Chef," had plenty of lessons regarding sauces to share with her viewers (via PBS). Along with classic techniques, she explained how to reduce sauces to concentrate flavors, as well as the key role of acidic ingredients to round them out. As she and so many chefs say, tasting and adjusting seasoning before you serve any dish is crucial. There's no doubt that the American chef influenced generations of home cooks. 
If you didn't pick up a few lessons about how to make sauce along the way, it's natural to reach for bottled steak sauce when grilling meat. However, making sauces isn't hard and it is often a healthier choice. While you might think that quality meat doesn't need much seasoning, our favorite homemade sauces will elevate your next steak into the stratosphere.
Creamy horseradish sauce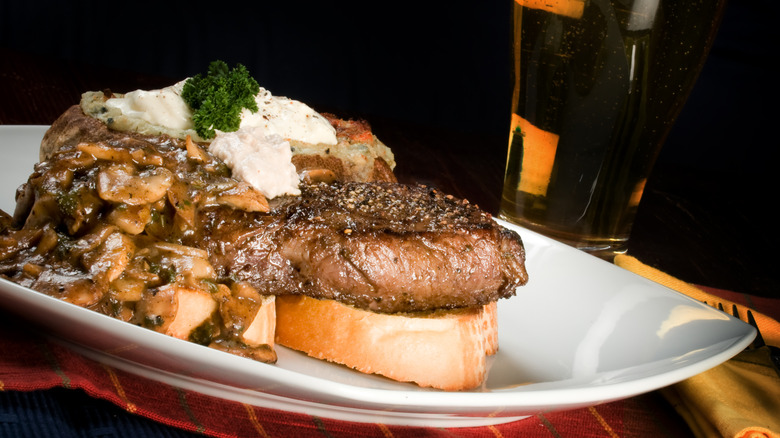 BG Smith/Shutterstock
Horseradish, a pungent root vegetable related to mustard and wasabi, has been used for cooking and as a natural remedy for centuries (via Britannica). Believed to treat ailments like muscle aches and coughs, ancient Egyptians even used it as an aphrodisiac, according to the Horseradish Information Council. In the 1600s, the British started pairing it with beef, and it has been popular ever since. Healthline notes that the root even contains compounds that may help protect against cancer and other diseases.
Horseradish sauce is often served with steak at restaurants, but if you're a fan of the peppery flavor, making it yourself is simple. Grocery stores carry prepared horseradish or you can go all out and start from scratch. Simply blend the root in a food processor with vinegar and salt to add intense flavor to any dish.
To make a luxurious creamy horseradish sauce, start with sour cream, heavy cream, mayonnaise, or strained Greek yogurt. A dollop of horseradish comes next; remember, the flavors intensify as the sauce sits, so go easy to avoid choking at the table. Lemon or vinegar plus a pinch of salt and pepper brighten up the flavor, while fresh herbs like chives or parsley add color and freshness. Add whatever else you enjoy like hot sauce, red pepper flakes, Worcestershire sauce, or other spices. Creamy horseradish sauce will keep in the refrigerator for a week so once you've tried it with steak, enjoy other combinations for a kick of flavor.
Gorgonzola sauce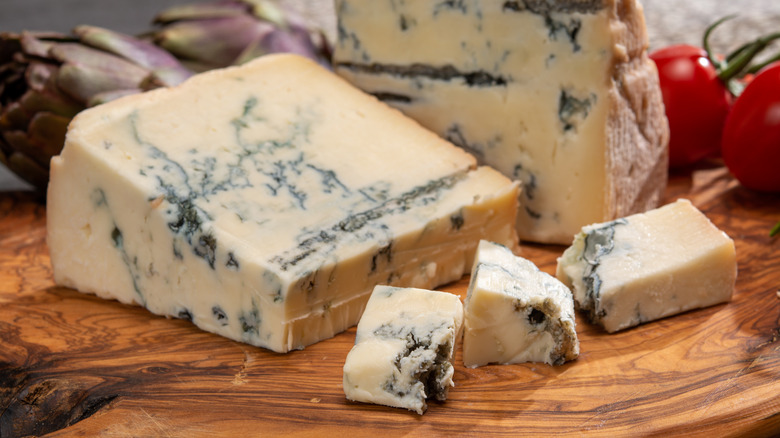 barmalini/Shutterstock
When celebrating an occasion with a juicy steak, why not make it genuinely decadent and add Gorgonzola sauce? You probably don't eat red meat and cheese in the same meal every day (at least your cholesterol level hopes you don't!), but if you want something restaurant-worthy at your table, you can't go wrong with a rich cream sauce.
Gorgonzola cheese is raw and made by salting curds and aging them in cold storage, according to Web Food Culture. The outlet explains that a mold spore (penicillium glaucum) is added to milk along with rennet and lactic ferments, forming the blue-green veins that characterize all blue cheeses. While aging, the cheese is punctured to allow air inside and help the edible mold develop.
Gorgonzola is an acquired taste and its sharp flavor is nicely balanced in a creamy sauce. The Cheese Empire asserts that blue cheese and steak are a match made in heaven because the saltiness pairs so well with the steak's umami taste. Although a Gorgonzola sauce seems like haute cuisine, it's a snap to make. Sauté garlic in butter, add cream and a squeeze of lemon, and cook over low heat until thickened. Turn off the heat before adding the cheese, stirring it in to melt. Season before serving with salt, pepper, or fresh herbs, and you have a tasty sauce that will wow your guests.
Red wine sauce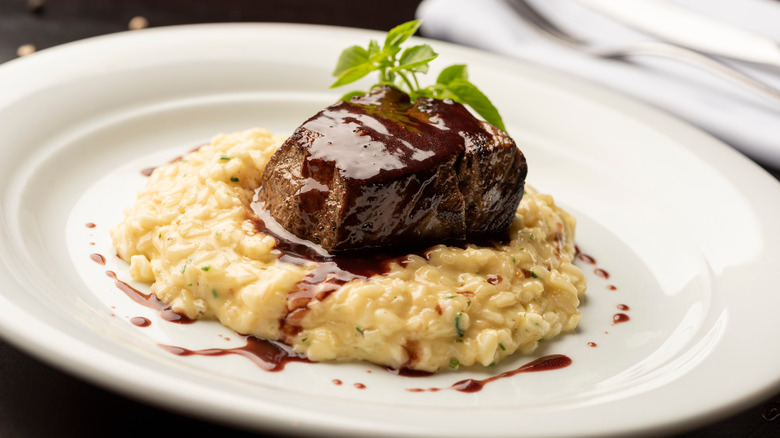 Fernando Z/Shutterstock
Steak with red wine sauce is a classic for a good reason. Steak School explains that the fat in the steak combines with the astringency of red wine, resulting in a perfectly balanced contrast. Boeuf Bourguignon is a classic French recipe made with beef, mushrooms, and wine, and a great example of this combo creating magic in the kitchen.
Before making a red wine sauce for steak, there are a couple of rules to remember. It's tempting to use an open bottle of wine, but if it's been sitting around long enough, beware. Chris Morocco at Bon Appétit explains that exposure to air changes a wine's flavor, and ultimately alters the sauce's taste. Reducing a wine-based sauce to thicken it is necessary, but avoid eliminating more than half the volume or it will become bitter from the tannins. Finally, buying cheap wine for cooking is not a bargain. Remember that your sauce is only as good as its ingredients, so use a wine you would drink. A good quality steak is a splurge, so don't ruin it with cheap wine.
Wine sauce is a terrific choice for steaks seared on the stove since you will deglaze the pan once the meat is cooked. Residue from the meat enriches the sauce, as will butter, shallots, fresh herbs, red wine, mushrooms, ketchup, Worcestershire, vinegar, and brown sugar. The sauce comes together quickly and while it simmers, you can let the meat rest.
Chimichurri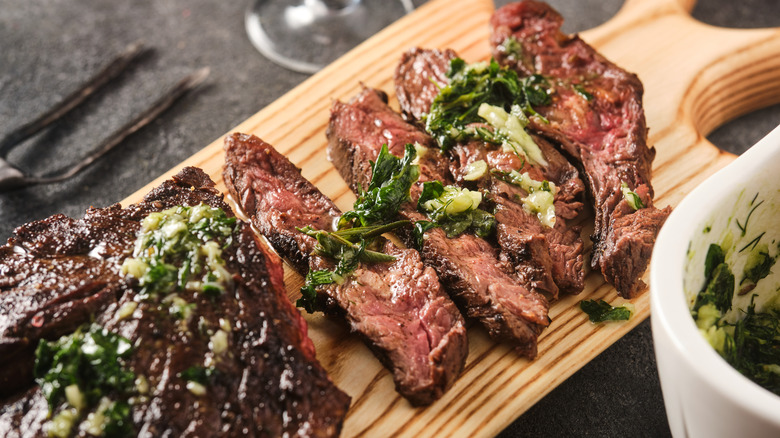 Food And Photo/Shutterstock
If you've never had chimichurri, then you're missing out on an excellent sauce for steak. At first glance, pesto and chimichurri look alike, but they are actually worlds apart. Chimichurri is green thanks to parsley, and since olive oil is not traditional in Argentinian cooking, sunflower oil is used in most recipes.
Chimichurri is anything but bland, however. Oregano lends a hand to the parsley, and the addition of vinegar, lime juice, garlic, and chili peppers makes for a subtly zingy sauce that enhances steak without overwhelming it. If you want an authentic Argentinian version, you can chop the herbs on a board, but a blender or food processor work in a pinch. Since chimichurri can be stored for up to five days in the fridge, make extra and plan other meals around it.
In Argentina, chimichurri is served alongside asado or grilled beef. Though everyone puts their spin on this national favorite, it's agreed that the duo is an Argentine expression of love and friendship (via BBC). However, don't be afraid to use chimichurri anywhere you want to add a punch of flavor. Add it to vegetables, seafood, and tacos, or eat it with a spoon — we won't judge.
Yum yum sauce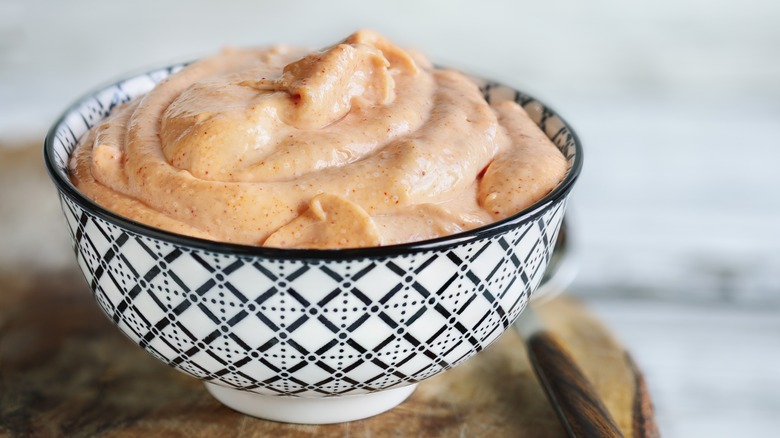 Stephanie Frey/Shutterstock
You've likely tasted Yum Yum sauce if you've eaten at a Japanese steakhouse. It might have been hiding behind another name like shrimp sauce, white sauce, or yummy sauce. It isn't even from Japan, NPR reports; traditional Japanese cuisine doesn't use mayonnaise-based sauces. Instead, Yum Yum is a North American sauce created by Japanese steakhouses.
Whatever you call it, this sauce is addictive. Please don't get hung up on the name shrimp sauce — it can and does go with everything. Case in point, Yum Yum sauce pairs beautifully with steak thanks to a sweet tanginess you'll love. Although Terry Ho sells it bottled, it's even better homemade. Not only does it taste fresher, but you can tweak it to your taste. It also keeps easily in the refrigerator for up to a week; see if you can make it last that long.
Measuring and stirring are all you need to do to make Yum Yum sauce, so no excuses. Ideally, the sauce should sit for at least six hours for the flavors to meld together (making it a day early is even better). The ingredients include mayonnaise, tomato paste, melted butter, garlic powder, cayenne pepper, smoked paprika, sugar, apple cider vinegar, and a bit of water for consistency. Adjust the seasonings to taste, stir to make sure the tomato paste is incorporated, and let it rest while you dream about the yummy sauce on your steak.
Cowboy butter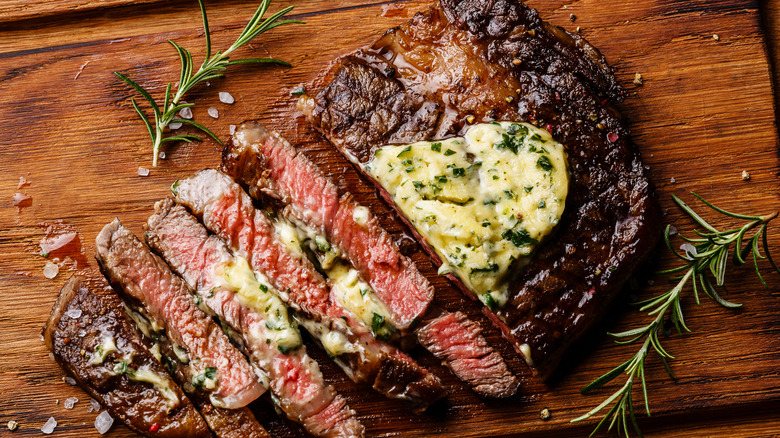 Natalia Lisovskaya/Shutterstock
Cowboy butter is a compound butter, a fancy name for butter whipped with herbs, garlic, and even fruit. It's an effortless way to bring a stylish flair to any meal. Traditional French Beurre Maître d'Hôtel was once made right at the table by the headwaiter (via The San Diego Union-Tribune). More recently, the Pioneer Woman, aka celebrity chef Ree Drummond, started referring to it as cowboy butter, and not surprisingly the name stuck (per Food Network).
Cowboy butter is versatile and incredibly delicious on steak. It melts on top while the steak rests, creating excellent flavors while remaining light and fresh thanks to its two main ingredients — parsley and lemon. While cowboy butter is meant to be served with beef, it's fabulous with chicken, seafood, bread, and vegetables. Make a big batch to store in the refrigerator or freeze it for up to three months.
All you need to make cowboy butter is fresh parsley, garlic, a lemon, red pepper flakes, salt, and pepper. Adjust the flavor to your taste and serve it any way you like. The Pioneer Woman rolls it, slicing off pieces as she needs them, but you could put it in a lidded bowl or form it into individual portions with a melon baller, ice cube tray, or small molds. Whatever you choose, your next steak with cowboy butter will be undeniably scrumptious.
Cherry barbecue sauce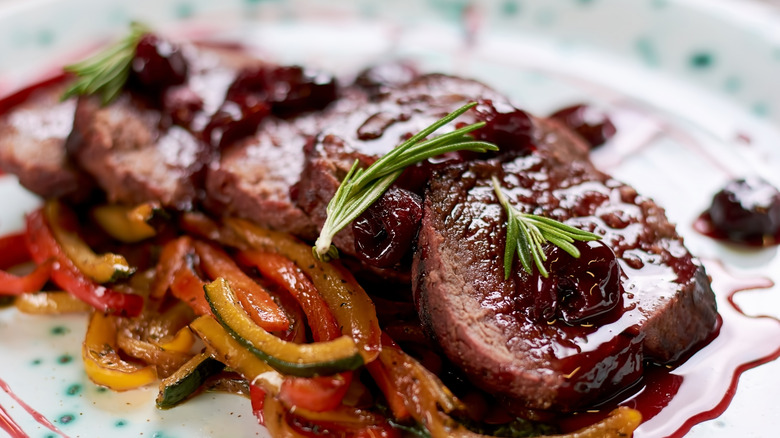 DenisProduction.com/Shutterstock
Cherry barbecue sauce is definitely a game-changer. As a dipping sauce, it is irresistibly sweet and smoky hot. Meanwhile, paired with beef, the flavors blend with savory sweetness. Salt also enhances sweetness, making the combination practically irresistible. Think of cherry barbecue sauce as the ultimate umami enhancer.
Fresh cherries are in season from late spring to summer, so that's the time to buy them as they are genuinely seasonal crops and aren't grown in greenhouses around the country in the winter. In the United States, sweet cherries only grow in California, Washington, and Oregon, so out-of-season cherries generally come from Chile and cost a lot more (via The Produce Nerd). Take heart: Since cherry season overlaps with grilling season, it's easy to add cherry barbecue sauce to the summer menu.
Start with a barbecue sauce base using your preferred combination of tomato paste or sauce, apple cider vinegar, molasses, sugar, garlic, onion, and liquid smoke. Add pitted sweet cherries and ancho chili powder and simmer until thickened. Puréeing the sauce before serving makes it look like any barbecue sauce, but the blended taste is spectacular.
Horseradish-butter sauce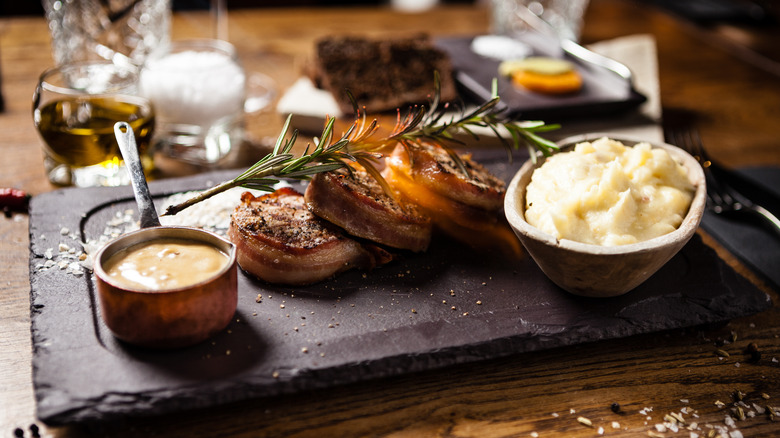 Maksim Toome/Shutterstock
We already know that horseradish and butter are delicious paired with steak, so it follows that combining them must be even better. This sauce couldn't be easier — melt butter and stir in minced garlic, horseradish, and a dash of Dijon mustard. Adjust the seasoning to taste with salt, pepper, and cayenne. Imagine a juicy steak grilled to perfection, dipped in spicy goodness, and ... it's time for a grocery run and a well-fired grill.
If horseradish has too much kick for you, feel free to leave it out. You could add more Dijon or even crush a few mustard seeds for a similar flavor without so much sting in your nose. If you decide to use horseradish, you'll get an added boost of nutrients since it contains potassium, magnesium, folate, and calcium. Horseradish is also antimicrobial, and if you happen to have a cold, it may bring some relief (via Healthline).
As for cayenne, you can make substitutions there, too. While the chili is considered only moderately spicy, some people shy away from its mention. Omitting it is fine, but consider substituting chili powder, paprika, or another hot pepper. As with all sauces, taste before serving and adjust the flavors to your taste.
Double mustard and garlic sauce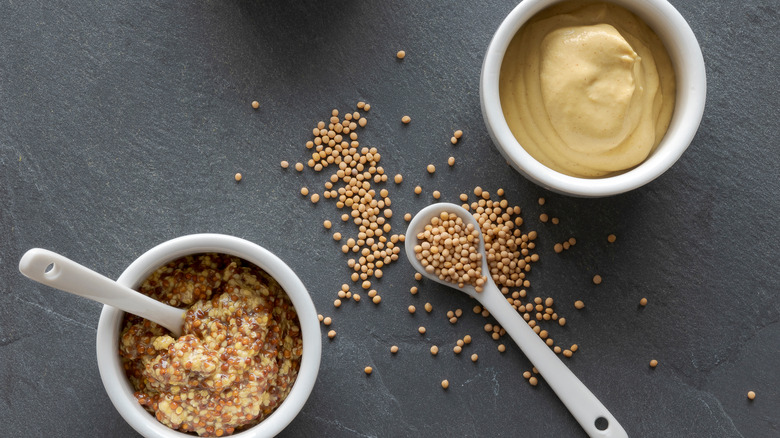 dropStock/Shutterstock
What's better than mustard and garlic swirled into butter for your steak? More mustard! There's no need to stick to one type with so many different mustards to try. Balance the flavors with mustards at different ends of the spectrum; Dijon mustard is made from brown mustard seeds, which MySpicer.com explains are spicier than milder yellow mustard seeds.
The health benefits of mustard are often overlooked; it contains trace amounts of iron, phosphorus, calcium, selenium, and antioxidants that can help protect us from disease (via Healthline). Meanwhile, garlic is anti-inflammatory and antifungal, and eating it raw keeps allicin (the sulfur compound that gives garlic its bite) potent. Cleveland Clinic lists a host of beneficial effects such as improving blood pressure, clearing skin infections, and boosting immunity.
As with many of the yummy sauces on our list, not only is double mustard and garlic sauce a simple case of mix-and-serve, but it's versatile enough to use on almost anything. Maybe it's the butter, but whatever it is, this sauce will bring a superb steak to the sublime.
Ginger dipping sauce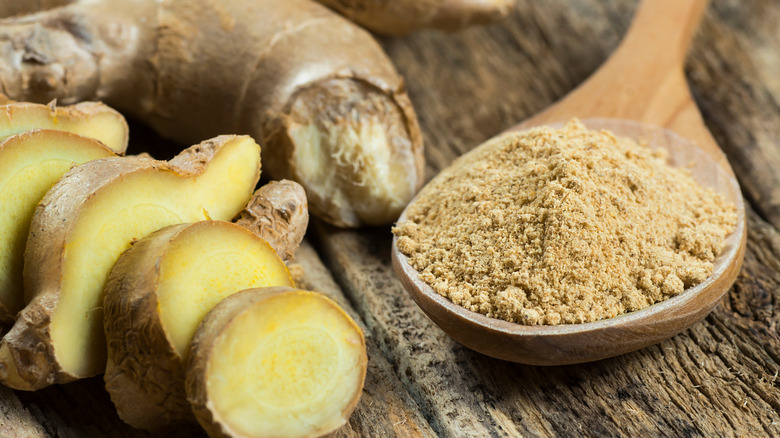 Halil Ibrahim Mescioglu/Shutterstock
Japanese steak houses are not just famous for theatrics and volcanic onions. Part of the reason so many Americans love the overall dining experience involves the tasty dipping sauces served along with bites of steak, chicken, seafood, and veggies. You can recreate the ginger dipping sauce served at teppanyaki restaurants by blending raw onion, garlic, fresh lemon, soy sauce, vinegar, and a knob or two of fresh ginger. Let the sauce sit for an hour or two while the flavors combine, then taste and adjust.
Fresh, raw ginger is another powerful addition to a healthy diet, offering benefits like reduced cholesterol, lighter menstrual cramps, and antioxidants (via Healthline). Knobs of ginger can be found in the produce section near onions and garlic. If you're storing fresh ginger, try slicing it into rounds, place it in a container, and cover with the spirit of your choice (vodka, sherry, etc.). It will stay fresh and ready to cook for weeks as long as the liquid remains clear. Bonus: You can use the ginger-infused spirit to make delicious cocktails, like an improvised Moscow Mule.
Roasted red pepper sauce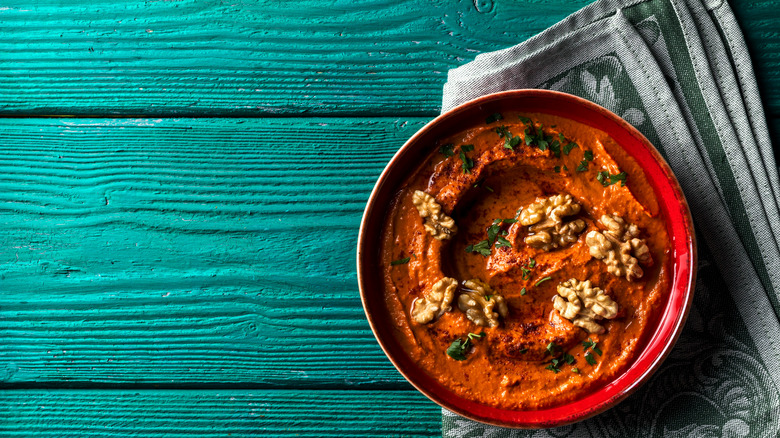 Rasul Iskandarov/Shutterstock
Red peppers are culinary heroes, packing a punch of vitamins, fiber, and antioxidants in a sweet, crunchy, and low-calorie package (via WebMD). Though some people experience digestive issues when eating them, that can be avoided by roasting the pepper and removing the troublesome skin. Roasted red peppers with a tender steak will certainly satisfy any sweet-and-savory cravings, and you can customize your dip to please any palate.
You can use roasted red pepper pasta sauce for a milder sauce that kids will love. Roast peppers, onions, and garlic, removing the pepper skins after cooling. Purée with canned tomatoes and season with Italian herbs for an easy sauce that will make enough for steak one night and pasta the next. That's meal prepping without even trying!
If you want a spicier, smoky version of a red pepper sauce, muhammara is a Syrian pepper dip that can stand up to any steak. Its main ingredients are roasted red peppers, walnuts, and breadcrumbs. It includes Middle Eastern flavors you might not have in your kitchen, like Aleppo peppers, pomegranate molasses, and sumac, but don't worry. The Mediterranean Dish reports that lemon juice and honey can substitute pomegranate molasses. While sumac is a great spice to have in your pantry, most cooks alter muhammara as they wish, so flavor with your heart.
Jalapeño cilantro cream sauce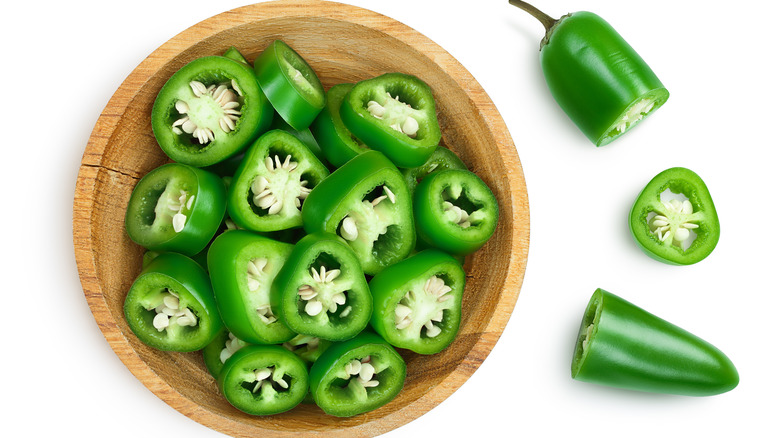 Nataly Studio/Shutterstock
Does anything sound more luxurious than dipping steak into a cheesy, spicy cream sauce? Start with a basic white sauce and add cheese, cilantro, cumin, chili powder, and jalapeños to take any steak dinner over the top. Meal planners might make a pan of enchiladas for the freezer, or else scale down the sauce if it's only being used for dipping steak.
Cilantro is an herb that has long been used in natural healing. Although more research is needed, WebMD reports a number of benefits like easing anxiety, regulating blood sugar, and even helping with cognitive diseases like Alzheimer's. Still, if you are one of the cilantro haters out there (and you know who you are), there are several herbs you can sub in for cilantro.
Home cooks can adjust the spiciness according to preference. Naturally, the number of jalapeños affects the heat, but there are some handy tricks for gauging the spiciness of any individual pepper. When choosing jalapeños, look for white streaks on the flesh which indicate a spicier pepper (via Simply Recipes). Cutting into a jalapeño reveals the seeds and membranes; the more membranous tissue inside, the more intense the pepper, according to PepperScale. Adjust the spice factor by removing or including the membranes, but don't be fooled by the seeds; it's a myth that they hold heat.
Maple balsamic glaze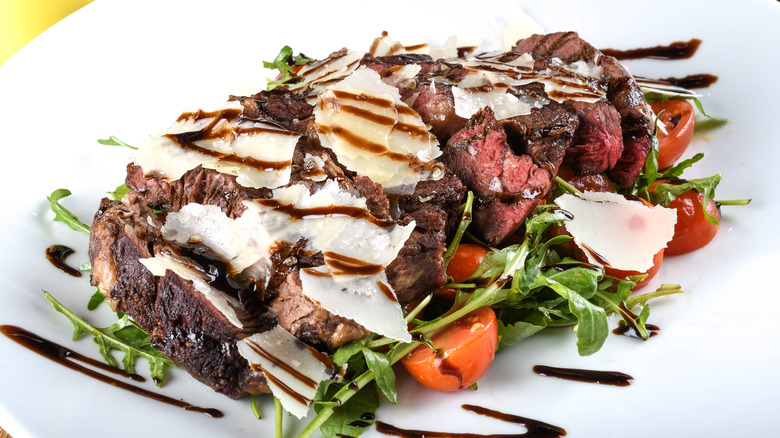 Cristina A/Shutterstock
Balsamic vinegar is generally sweeter and thicker than other vinegars, and it is commonly drizzled or used for dipping in order to appreciate its flavor. Each batch of balsamic varies in color, thickness, and sweetness; traditional aged balsamic will be the sweetest — and cost the most (via Simply Recipes). Balsamic reductions add an elegant touch to any dish and only require several minutes to make. 
Adding maple syrup to balsamic vinegar and reducing it makes a magical glaze that heightens the flavor of beef with a sweet smokiness. Celebrity chef Nadia G. loves the combination and points out that it can totally elevate a steak. Even better, it doesn't even require a recipe. Simply portion out the maple syrup and balsamic vinegar according to how much glaze you need and how sweet you want it to be. Remember Julia Child's advice to taste while you cook!
The key to reducing is to evaporate the water by simmering slowly, stirring often to avoid burning. When the glaze thickens to your liking (if you are making a larger amount it will take longer), remove it from the heat and be aware that it will reduce more after cooling. Brush the glaze on the steak while grilling, and serve more at the table for dipping. If you have leftovers, this glaze can jazz up salads, sandwiches, cheese, veggies, meat, and seafood.
Salsa criolla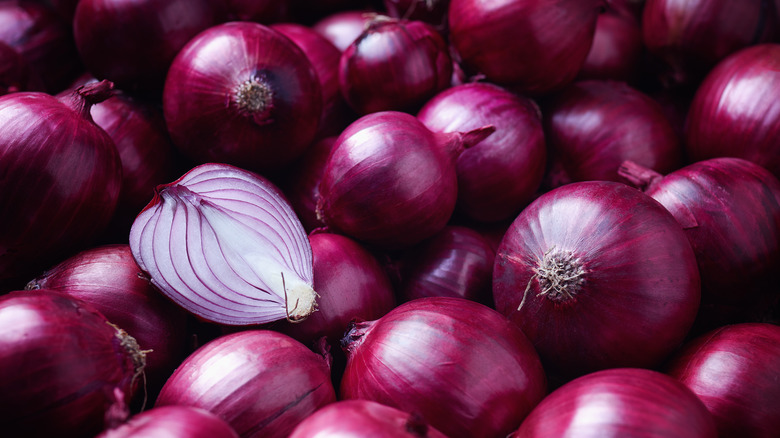 Melica/Shutterstock
Salsa criolla is a light condiment served alongside many dishes in Argentina and around Latin America (via 196 Flavors). Popular with grilled meat, aka asado in Argentina, its ingredients vary depending on the cook but it always includes thinly sliced onions. While red onions have a strong flavor, white and yellow onions are a bit milder, so don't be put off if you think onions have too much bite.
Traditional salsa criolla uses aji amarillo (yellow chili pepper), which has a fruity flavor followed by a kick of spicy heat, Chili Pepper Madness explains. Try combining orange bell pepper and Serrano peppers for a sweet and spicy alternative if you can't find them. Some criolla recipes don't even use chili peppers, so feel free to experiment.
The spectrum of ingredients cooks use in criolla includes bell peppers, chili peppers, tomatoes, avocados, scallions, garlic, oregano, parsley, and cilantro. Essentially, you can use a combination of ingredients based on your tastes and what you have on hand. However, most recipes agree about using lime juice, vinegar, and salt to brighten the flavors. This light, healthy relish is perfect for your summer steaks and highlights their flavor no matter how you decide to make it.
Whiskey cream sauce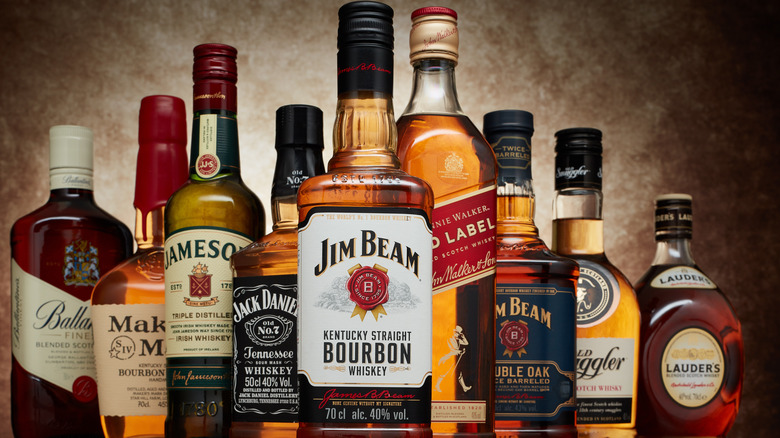 Dmitry Melnikov/Shutterstock
If you want to indulge your senses, there's nothing like steak served with a creamy sauce. Whiskey cream sauce elevates the smoky flavor of beef into something special. No need to worry about your cooking skills; this sauce is straightforward. It's quick to make on a busy weeknight but could also be served at the fanciest dinner party.
Start by bringing some beef broth to a boil. If you cook your steak on the stovetop, deglaze the pan first — it adds a ton of flavor to the sauce and makes the pan easier to clean. While the broth comes to a low boil, stir in some whiskey (or bourbon if you prefer) and a spoonful of Dijon mustard for a kick. No need to measure; make the amount of sauce you need, and remember, the alcohol cooks off. Taste is what matters here.
Once the sauce comes to a boil, turn the heat down and simmer for up to 15 minutes, reducing and thickening it slightly. While it simmers, take a spoonful of cornstarch and add a splash of whiskey, whisking it to a smooth slurry. Once the sauce reduces, add a generous dollop of heavy cream and seasonings to suit your menu — salt, pepper, garlic powder, crushed red pepper, thyme, and rosemary are all possibilities. Add the cornstarch slurry to the sauce in a stream, whisking constantly. Watch the sauce become glossy and thicken perfectly; serve immediately and bask in the compliments.