The Trick Duff Goldman Learned From Baking Biscuits Every Day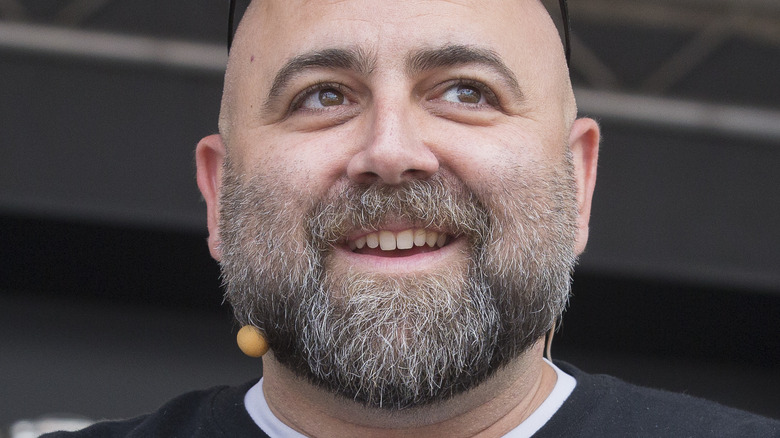 Sterling Munksgard/Shutterstock
Biscuits are one of the most recognizable foods in Southern cooking with good reason. There's nothing like a fluffy, tender biscuit with a golden, buttery crust that flakes apart with ease while holding plenty of butter and jam. They can be the base of a breakfast sandwich, a substitution for dinner rolls, or the foundation of dishes like biscuits and gravy. But for such a simple recipe, making the perfect biscuits can be tricky as the recipe, while simple, can be finicky, but Duff Goldman of "Ace of Cakes" fame has a trick to help produce the perfect biscuit.
Duff Goldman is easily one of the most well-known bakers among today's pantheon of celebrity chefs. The owner of Charm City Cakes located in Baltimore, Maryland, he is perhaps best known for his larger-than-life cakes that can look like pretty much anything, as demonstrated when Goldman made all of the cakes that appeared in Katy Perry's music video for her song "Birthday" (via The Baltimore Sun). But Goldman didn't get a start making towering confections. In an interview with Baltimore Magazine, he revealed he got his start baking in the restaurant Savannah under the tutelage of Cindy Wolf. Goldman says, "Thanks to Cindy, I started to understand baking fundamentals," further crediting her for enabling him to get where he is today. And it was at Savannah that Goldman uncovered his secret biscuit technique.
Tips for making perfect biscuits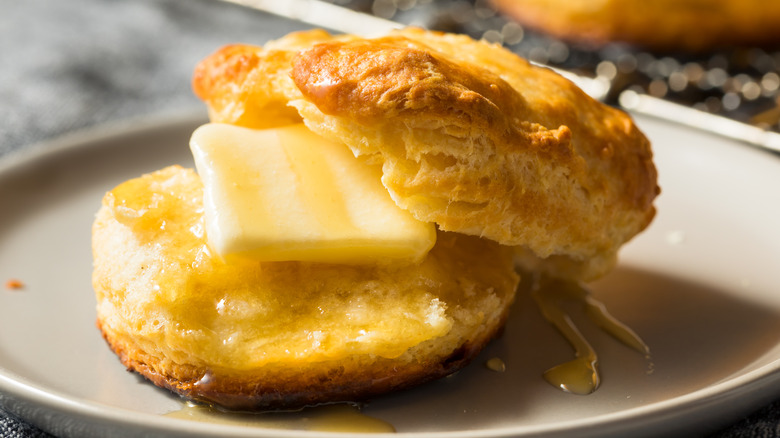 Brent Hofacker/Shutterstock
Duff Goldman displayed his biscuit expertise in an interview with Delish, revealing the lesson that two years of baking at Savannah taught him. Goldman's technique? He said, "After cleaning the pans, I'd grease them and let them sit overnight. The biscuits wouldn't stick at all, and they'd come out beautiful and even every time." Though simple, this tip holds quite a bit of potential, as stuck biscuits can be a disaster – the ideal biscuit is so light and delicate that it can fall to pieces if it sticks to the pan at all. Greasing the pans overnight ensures this disaster can't come to pass.
Keeping your pans lubed is one step on the path to the perfect biscuit, but the are plenty of other tips that can help as well. Keeping the butter cold when adding it to your flour is especially essential because cold chunks of butter give the biscuits their pillowy, fluffy interior but warm butter will just melt into the flour and make everything dense (Boston Girl Bakes). Southern Living even suggests chilling your flour after incorporating the butter to ensure that everything stays cold and also recommends that your buttermilk is chilled when you add it to the dough. One final tip to make the best biscuits possible is to handle the dough as little as possible to ensure a tender, not tough final product (Allrecipes).