The Disturbing Reason A California McDonald's Just Closed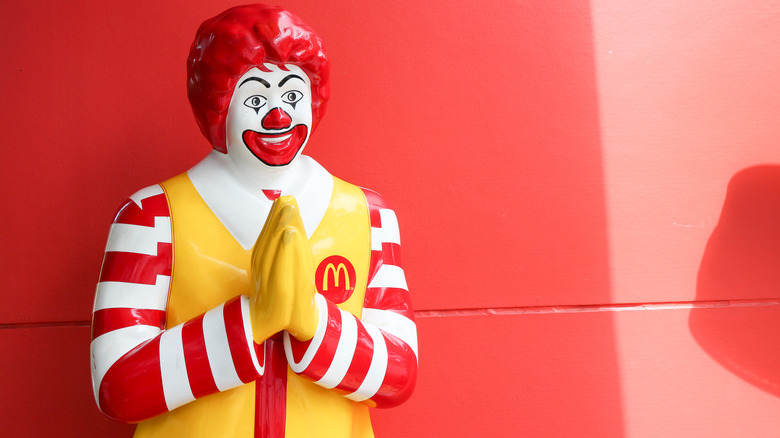 Rachata Chintawong/Shutterstock
When you crave McDonald's, nothing else will do. Whether your taste buds are hollering for an impossible-to-eat-tidily Big Mac, the daintier Filet-o-Fish, or the refreshing Vanilla Chai Frappe, these yearnings can only be satisfied by the authentic dishes found under the golden arches. 
It's hard not to let your hankerings show you who's boss by loading the kids into the car, and making the trek to the home of Ronald McDonald and your favorite fries. When you pull up, however, you're surprised by the lack of cars in the parking lot. Oh well, finding a space has never been this easy. It is not until you put your hand on the door handle and give it a firm but non-responsive yank that you spot the sign. Your McDonald's, the one on Academy Avenue in Sanger, California, is closed for maintenance (via Fresno Bee), and your dinner plans are crushed. 
Why, oh why is this location closed? And how will you ever satisfy these nagging taste buds? Odds are that when you find out why this McDonald's location isn't open, your hunger will no longer be a problem. And, if you still crave your Mickey D's, you may want to watch what this restaurant's employees have caught on video.
The food at this McDonald's may come with a side order of mouse tracks
On June 2, Sanger Live published a telling post to their Facebook page after watching videos provided by restaurant staff at this McDonald's, The video showed scurrying roaches and rodents in the dirty kitchen where employees are preparing food and around the drink stations.
Sanger Live's founder told the Fresno Bee that the footage was taken by workers who were afraid of being fired, adding that he feels sick when he thinks of all the times he's eaten at that location. And no one can blame him. With the footage showing dead mice bodies stuck on glue traps, a live one scurrying between employees' feet, cockroaches crawling up the walls, and most disturbingly, beverage containers stored on the floor amongst all this, these images are enough to make anyone regret their most recent Quarter Pounder with cheese.
The Fresno County Health Division confirmed to the Fresno Bee that they were looking into the conditions at the Academy location of McDonald's, but couldn't make any more comments. And, according to a post on the Sanger Live Facebook account, employees are being kept in the dark about when they will re-open and shifts will resume. 
There is good news, however, for those in the area who still crave a Happy Meal. There is another McDonald's in Sanger located on Jensen Avenue. Yes, you can still silence those whiny taste buds and their incessant desires once and for all.