What Happened To Cinnaholic After Shark Tank?
Correction 8/11/22: A previous version of this article stated that Cinnaholic's rolls are kosher; only some of them are kosher.
Plenty of budding entrepreneurs have tried their hand at winning over one of the "Shark Tank" investors. Most of the time, they need to prove themselves beyond just a good idea. They're asked about sales, growth plans, their ideal market, and more.
Cinnaholic appeared on "Shark Tank" back in 2013 (via YouTube). Shannon and Florian Radke are the company's founders, and they sought $200,000 from a shark for a 20% stake in their business. The sharks loved the flavors of the rolls, and they were pleased to learn the rolls are vegan, dairy-free, lactose-free, cholesterol-free, and egg-free. Some Cinnaholic rolls are kosher, too. Plus, they're roughly half the calories of a traditional cinnamon roll of that size.
Ultimately, they won over Robert Herjavec, and the couple signed a deal with the desired $200,000, but with a 40% stake. However, things needed to be done Herjavec's way, and the Radke's weren't thrilled with that. So, what happened to the brand once the show aired?
Cinnaholic pulled out of the deal with Shark Tank investor Robert Herjavec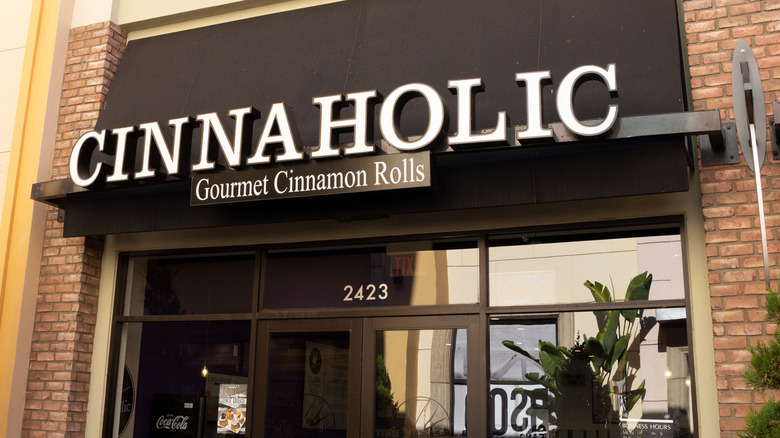 The Image Party/Shutterstock
Though Shannon and Florian Radke were initially thrilled to have a "Shark Tank" investor on board, the excitement faded when they realized they didn't want to take the approach that Herjavec was pitching. According to QSR Magazine, Herjavec wanted the couple to focus on growing the shipping side of their project, so people could simply order the Cinnaholic pastries to their doorstep anywhere in the country. However, the Radke's were more focused on the brick-and-mortar side and wanted to open locations throughout the United States.
"We don't want to damage or ruin the quality and integrity of our product and it's just best served fresh and warm day-of," Cinnaholic's director of marketing, Heather Stennis, said (per QSR).
According to VegNews, Cinnaholic's stubbornness to serve the freshest cinnamon rolls has only paid off; the chain was able to keep every location open in 2021, despite that restaurants all over the country were shutting their doors due to the pandemic. It has ultimately helped them set the stage for even more growth.
Cinnaholic's sales have only grown
As of January 2022, Cinnaholic has opened more than 60 locations in the U.S. and they have since only expanded, opening spots in places like Texas, South Carolina, and New Jersey (per VegNews). Furthermore, between 2020 and 2021, the chain saw year-over-year sales growth of 64% in the U.S. and 30% in Canada.
Some of that growth likely came from partnering with food apps and third-party delivery sites, which QSR Magazine said was a big way Cinnaholic handled the pandemic. The brand also created a franchisee program, which has helped them expand to areas of the country where they couldn't before.
According to Cinnaholic's website, they have nearly 20 locations in the works between the United States and Canada. Some have opening dates, and some don't, but places like Maryland, Tennessee, and Ontario are all on the list. Though QSR reports that some franchisees have been concerned about what the future holds for brick-and-mortar stores, Cinnaholic says its sales have only increased.