Why Aldi's Potato Salad Is 'Inedible,' According To Reddit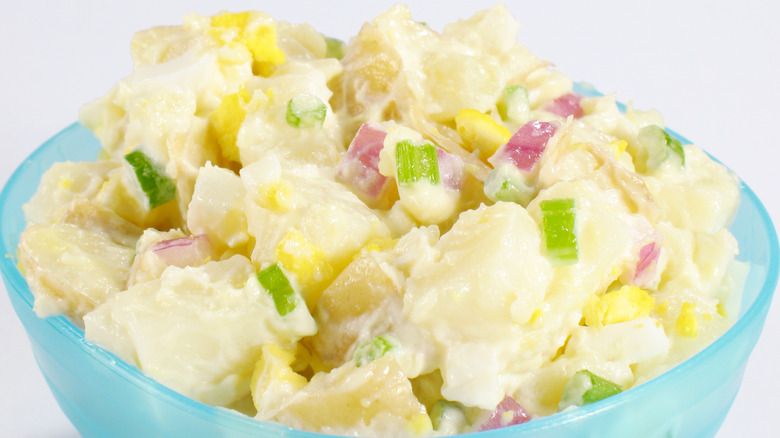 Andrea Skjold Mink/Shutterstock
Regardless of the potato salad recipe you use, it is undoubtedly a classic summer dish. Just think about it: potato salad goes great with hamburgers, hot dogs, grilled chicken, steak, BBQ ribs, and countless other summer favorites (via Insanely Good Recipes). Potato salad is so versatile that you can make it for breakfast (per MyRecipes) and even pairs nicely with other sides, like corn on the cob, baked beans, and coleslaw. Simply put, it's perfect for a backyard cookout.
However, party planning can be hectic, we get it. You might not have time to peel and boil potatoes for your potato salad. Instead, you might choose to buy a premade potato salad from your most-trusted grocery store, and there's no shame in that. However, if you do go the grocery store route, you should take a minute to read reviews because not all potato salads are made equally. In fact, Redditors advise against purchasing Aldi's potato salad in particular, and for good reason. 
Aldi's potato salad contains an unwelcome ingredient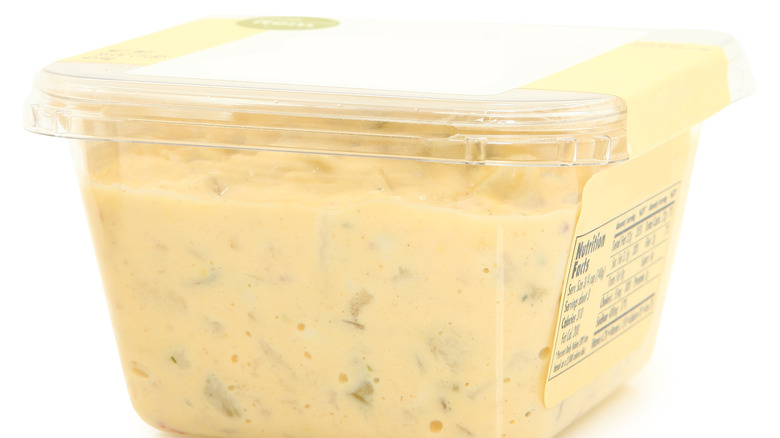 Ixepop/Shutterstock
There are plenty of Aldi food items that have cult followings, but it would seem that potato salad isn't one of them. Reddit was especially offended, describing Aldi's potato salad as "disgustingly sweet" and "basically inedible."
One Redditor chalked the sweetness up to unnecessary sugar. They said potato salad doesn't need sugar added, but store-bought salads typically add it anyway. Others noted that Aldi's coleslaw, tuna salad, and chicken salad were similarly sweet. Another person wrote, "In my opinion, potato salad should be slightly tangy and definitely not sweet."
But even if you buy potato salad from the grocery store, it's not the end of the world. You can actually tone down a too-sweet potato salad by adding a splash of vinegar, according to Just One Donna. To make the potato salad taste less store-bought and more your own, you can also add salt and pepper, celery, or fresh dill (just be sure to avoid any political quagmires like model Irina Shayk, per The Cut).