Aldi Just Brought Back A Fan-Favorite Keto Offering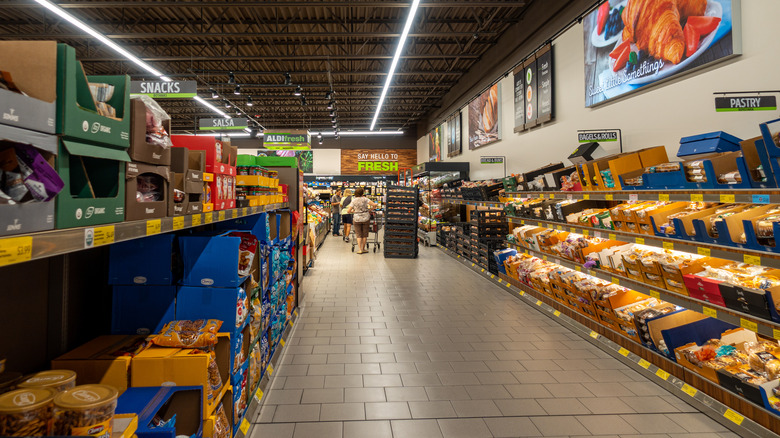 Joni Hanebutt/Shutterstock
If you follow a Keto diet, Aldi just brought back a fan-favorite product. According to Today, a Keto diet tries to keep the carb intake low and is all about choosing foods high in fat and protein. Because it's been in the universe of diets since 1921 and embraced by some celebrities — think Halle Berry and Vanessa Hudgens, per US Magazine – the rest of us can't help but be a tad bit curious.
Of course, there are a lot of foods you might think you can eat on the Keto diet, but can't. For example, Woman's Day explains you shouldn't be putting those bottles of wine in your grocery cart, although tequila is a popular alternative. You also need to cross starchy vegetables, grains, and pasta off your grocery list, and Real Balanced points out that bread can also be a no-no unless it is Keto-friendly.
Enter Aldi, which recently restocked an item that will likely have carb-counting Keto fans excited at all of its doughy possibilities.
L'oven Fresh bagels are only 90 calories
Instagram account @aldifavoritefinds posted a photo of a package of Keto-conscious bagels enthusiastically proclaiming, "The Keto friendly bagels are back for $4.49!" These bagels contain 11 grams of protein and only 2 grams of net carbs per serving. And as an added bonus, they're vegan and are just 90 calories for a whole bagel. How does this compare to a regular bagel? Per WebMD, a plain, medium-sized bagel has about 271 calories, 9 grams of protein, and 55 grams of carbohydrates, so these Aldi Keto-friendly bagels definitely stack up. 
But the proof is always in the taste and fellow fans of this bagel chimed in, with one offering a seal of approval, writing, "These are actually good and soft." Responding to a comment, another Instagrammer concurred, exclaiming, "they are soft and delicious! I think they're better than regular bagels. They also freeze well," while yet another wrote, "Oh I hope our Aldi has them, they been out of the wraps!" The brand makes wraps, too? Noted. Kitchn reviewed these Keto-friendly bagels and shared that compared to other Keto breads, the bagels are "fluffier" but sans the chewiness of a regular bagel. Still, the reviewer called them "great" and claimed that toasting made them better.
If you like these Aldi bagels, Hip2Keto notes that L'oven Fresh doesn't just make Keto-friendly bagels and wraps. The lineup includes bread and rolls, as well.