The Intimidating Food Scam To Watch Out For On Vacation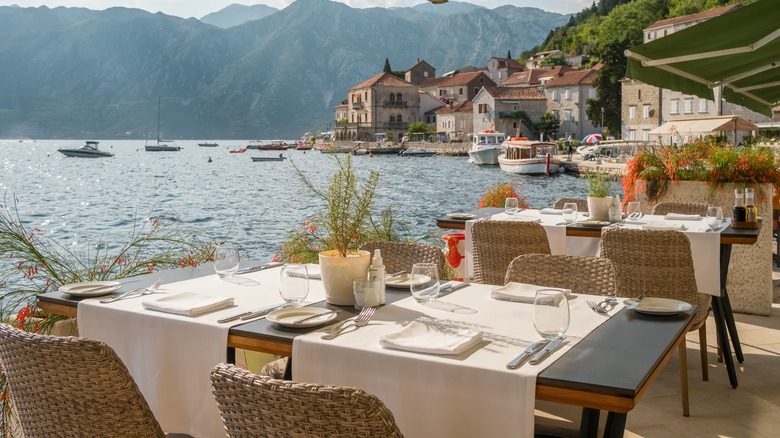 Mazur Travel/Shutterstock
Going on vacation entails plenty of new experiences, and trying new foods is certainly one of them. Whether exploring Europe, enjoying the nightlife in Japan, or visiting as a foodie to the U.S., you're bound to get a delicious experience you'll never forget. But while many people you'll meet may be friendly and welcoming, some have no problems conning a naïve tourist to make a quick buck.
Such was the case for one mother and daughter duo enjoying a summer vacation in Greece. As Inside Edition reports on YouTube, Brenda Moulton and her daughter were enjoying a lunch of crab legs and mojitos at a beachfront restaurant in Mykonos, only to discover the bill was a whopping 598 euros, which equals $640 in the U.S. When Moulton felt she was being scammed into paying such an outrageous price, she threatened to call the police. She explained to Inside Edition that the restaurant owners intimidated her, claiming she would be detained in Greece if she didn't pay up. DK Oyster, the restaurant in question, responded to similar criticisms that they can charge whatever they like for their services and that customers are free to go anywhere else should they wish (via Daily Mail).
While it is true that such businesses can charge what they like for their services, how can you avoid becoming a "mark" for scam artists while still being respectful and polite to your hosts?
Easy, useful tips to avoid restaurant scams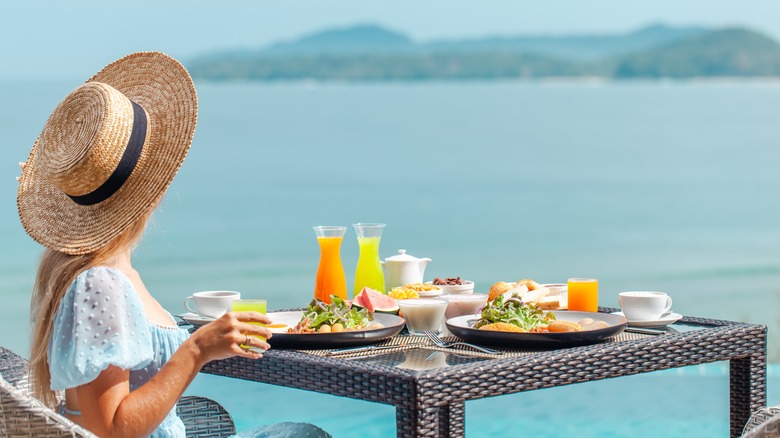 Molishka/Shutterstock
TripSavvy offers three simple tips to keep in mind when you're at a restaurant in a different country. First, you should always ask for a full menu at any restaurant to see what options are provided and how much the food and drinks will cost. If you are refused to be shown a menu, then that may be a red flag. The second tip is to always ask for a bill, which will contain exactly what you ordered. You'll always want to double-check to see if you're being coerced into paying more than you should. The third tip involves a bit of research on your part. Although it's common in the U.S. to tip, other countries may not expect you to unless it is noted somewhere. If someone asks for a tip in a country you know that doesn't expect it as the norm, you can question if this is a legitimate part of the service or if you're being scammed.
No matter where you go, it's always good to be courteous and respectful to everyone you meet — but don't allow them to mistake your kindness for weakness. Keep your wits about you to not fall prey to any easy schemes so that you can fully enjoy the experience when you're on vacation.