The Fall-Shaped Aldi Pasta TikTok Can't Stop Raving About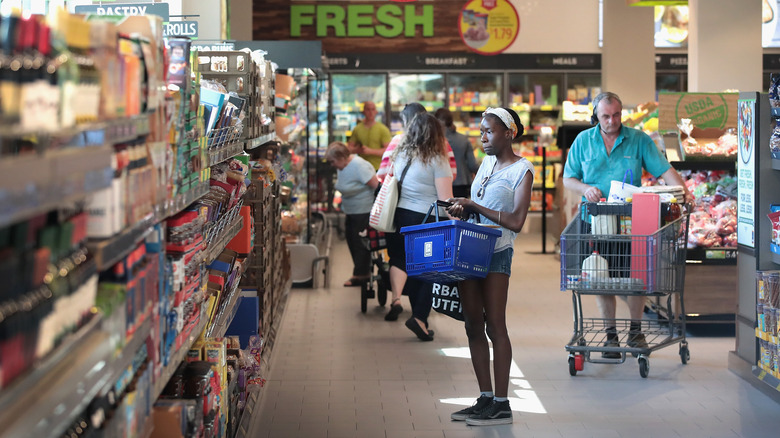 Scott Olson/Getty Images
As a scorching hot summer comes to a close, grocery stores like Aldi are beginning to roll out their autumnal products. Whether it's pumpkin spice pie, apple cider doughnuts, or cinnamon-flavored crepes, Aldi is an expert at stocking its shelves with products that match the spirit of fall. 
This season, the grocery store is selling fall-shaped pasta that's perfect for dishes such as creamy lemon pasta, macaroni salad, or homestyle mac and cheese.
Dedicated to reviewing and promoting all things Aldi, TikTok user Aldi All The Time featured the pasta on her latest recap of food finds, going so far as to say that she "almost shed a tear" when she saw the pasta on display. The fall-themed pasta is sold in 17.6-ounce bags and is formed in shapes of plump pumpkins and golden-brown leaves, designed to mimic the charming glow of a November golden hour — or fall supper time.
The cute pasta shapes have shoppers excited for fall
While the fall-shaped pasta at Aldi sparked enthusiasm on TikTok, it isn't available nationwide quite yet. For now, it appears the Thanksgiving-friendly pasta is only sold in select stores. A number of TikTokers commented on @AldiAlltheTime's video, saying that they hadn't seen the fall pasta at their local Aldi stores. 
"I feel like your store is way better than mine, I don't find half the stuff you find," one person commented. "Your Aldi's has everything mine never has anything good like that," another wrote. "You need to tell my Aldi's to step up their game," lamented another TikTok commenter.
Price-wise, if this product is anything like the discount grocery store's spider-laden Halloween-themed pasta, Aldi customers can expect this fall treat to retail for around $1.99 per bag — or half the price of the national average cost of a gallon of gas.