Aldi's Newest Snack Is Inspired By Your Favorite Fall Donut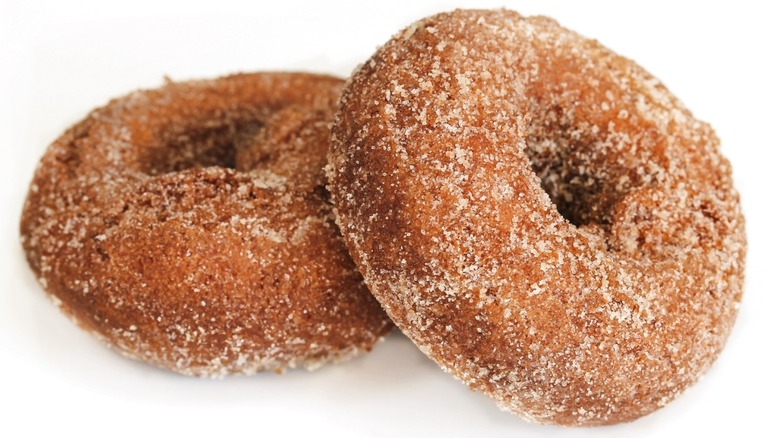 vm2002/Shutterstock
We're one month out from the start of the fall season, which Farmers' Almanac says will be making its official return to the United States on Thursday, September 22. For some, that means the next 31 days will be spent outside by the pool and clinging on to every last ounce of summer possible. However, considering several parts of the country have endured some extreme heat this year — including a July that the National Oceanic and Atmospheric Administration declared to be the third hottest on record — we don't blame anyone who's ready to pack up their swimsuits and move on.
For those who are part of the "ready for summer to be over" crowd, there are currently a number of autumnal treats on the market to mentally bypass the hottest part of the year. Pumpkin spice returned early to Krispy Kreme this year, for example, in the form of four festive donuts and a coffee drink. Additionally, a number of grocery stores have begun their annual fall makeovers by stocking their shelves with new seasonal products, such as Rice Krispies' spooky Halloween cereal, as well as returning favorites like Costco's pumpkin muffins. This week, Aldi is also jumping on the autumn train with the introduction of several seasonal products, including a new fall donut-inspired snack that has several shoppers racing to the budget-friendly store.
Benton's Apple Cider Donut Crème Cookies have already won over some Aldi shoppers
Aldi has long been known for being one of the go-to spots to grab unique seasonal fare, and this autumn is no exception. Aldi just teased its fall food lineup on Twitter, and one product that's already getting attention online is the German chain's new Benton's Apple Cider Donut Crème Cookies, which Aldi fan Instagram account @aldifavoritefinds recently spotted in stores. "The first fall snack item has been found!" the Instagrammer triumphantly posted on Sunday, August 21. The upload included a photo of the fall-inspired treat, which comes wrapped in bright orange packaging and runs for $2.29 (via Aldi).
Considering that a 2020 OnePoll survey found that 33% of Americans consider fall their favorite season (via People), it should hardly come as a surprise that Aldi shoppers were stoked about the Instagrammer's seasonal find. "Apple cider donut anything is my favorite! Will be on the hunt for these!" one person commented on the post. Another user pointed out that the sandwich cookies could make a suitable alternative for Oreo's discontinued Apple Cider Donut cookies, which Instagram user @woody_donut seemed to concur by writing that Aldi's version is "a 10/10."
Per the Aldi website, Benton's Apple Cider Donut Crème Cookies are expected to roll out to stores nationwide by Wednesday, August 24. Later this fall, shoppers may also see the return of past maple and pumpkin spice varieties, as well.