The Limited-Edition M&Ms To Look Out For This Halloween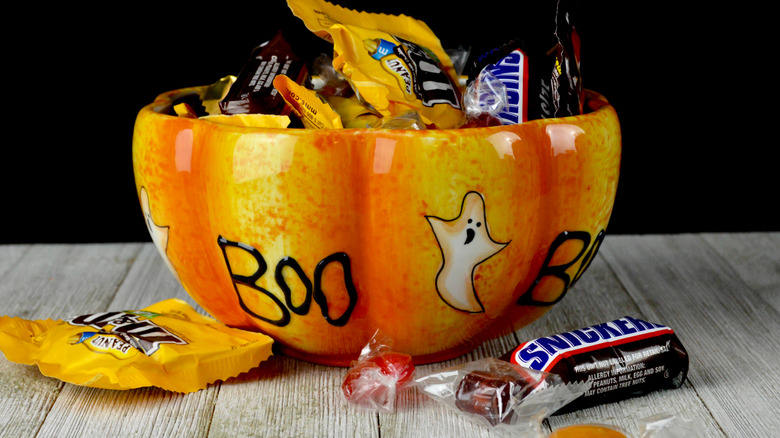 JMCA.photo/Shutterstock
A new holiday means new limited edition flavors of M&Ms. In the past, the company has sold strawberry and white strawberry shortcake flavors for Valentine's Day, and an Easter Sundae flavor for Easter, per Thrillist. So, why are these exclusive varieties such a hit with the candy company? According to Better Marketing, limited edition flavors spark an immediate reaction from those who don't want to miss out. A great example of another company that follows the trend is Oreo, which first started pushing temporary flavors to celebrate its 100 year anniversary. This flavor turned out to be birthday cake, one that's still on the menu today due to its success.
Upon visiting the M&Ms' website, you realize just how many flavors the brand actually sells. Some include dark chocolate mint, crunchy cookie, fudge brownie, caramel, and several more. This year is a bit different when it comes to exclusive M&M packs, but you can still expect something special coming your way this Halloween (via PR Newswire).
A seasonal mix up
Last month, Mars, the owner of M&Ms, announced a new variation of the product for Halloween (via PR Newswire). Instead of an all new flavor like the brand usually releases, a Mad Scientist Mix will be hitting the shelves. This eight ounce bag will contain a mix of milk chocolate, peanut butter, and peanut M&Ms. "As an authority on Halloween, Mars is committed to inspiring moments of everyday happiness for our fans — and that includes delivering our classic treats with a seasonal twist," president of sales and chief Halloween officer Tim LeBel said. "From the candy dish to trick-or-treating, we have no doubt fans will delight in Mars' seasonal offerings as we look forward [to] another fantastic Halloween season."
Last Halloween, M&Ms released a Cookies & Scream flavor, as well black, white, and orange varieties of its original candy in the form of a Ghoul's Mix, according to Brand Eating. This year, let's just hope the new variety isn't affected by a potential Halloween candy shortage.