The Frozen Breakfast Item Aldi Shoppers Can't Wait To Grab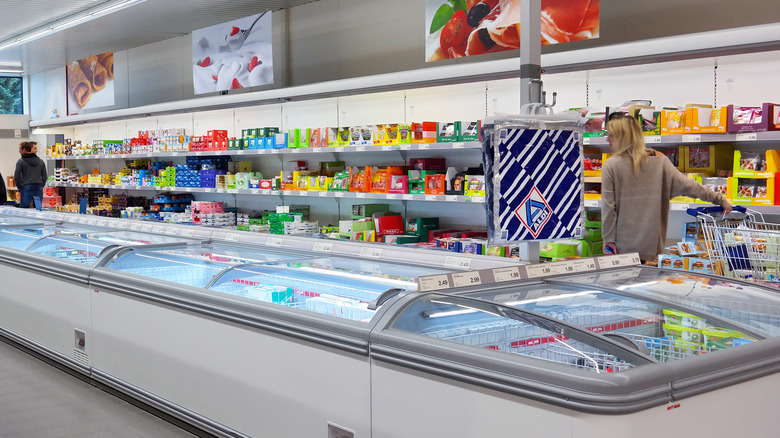 defotoberg/Shutterstock
Aldi is swiftly expanding throughout the U.S., boasting on its website that it's set to have the third largest grocery retail footprint by the end of the year. The chain already has around 2,000 locations in three-quarters of the States, which means many more people are about to have access to Aldi products that have a cult following.
Many of the store's most popular products are stored in the freezer to be eaten in the morning: Fans especially love Aldi's frozen breakfast items, which go beyond ready-made hash browns and sausages and are updated on a frequent basis. This month alone, Aldi's new frozen acai bowls have shoppers super excited, while a just-launched vegan chicken and waffle breakfast sandwich is taking Instagram by storm. Most recently, fans of the Germany-based company are eyeing a different frozen breakfast treat that's said to make both kids and adults happy.
These pancake treats leave the toppings up to you
Instagram fan account @adventuresinaldi recently posted a photo of Aldi's pancake puffs, known as "Belgian gourmet bites." These mini pancakes have an airy interior and are manufactured by Good Food Made Simple, which is known for using "better for you" ingredients, like cage-free eggs. Commenters were quick to chime in with their thoughts on the Aldi pancake find, calling them "delicious" and "YUMMY" for their "very light and fluffy" texture. The package comes with 36 pancakes, enough for a week of breakfasts at home, snacks in a kid's lunchbox, or a contribution to a potluck brunch.
The pancake puffs resemble popular Dutch-style buckwheat pancake bites called poffertjes, which are typically served as a snack or street food and often come with butter and powdered sugar, as well as whipped cream or fruit. One commenter wrote that they like Aldi's puffs best with honey. For now, it looks like the grocery chain only carries the original flavor, but Good Food Made Simple also makes chocolate chip and banana flavors for anyone who gets hooked.