GBBO Season 13 Will Be Postponed Following Queen Elizabeth's Death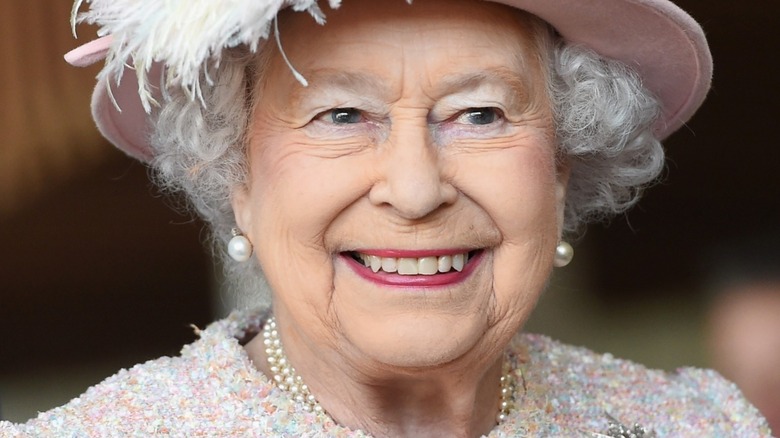 Stuart C. Wilson/Getty
We all know those six precious words that set off a frenzy of baking on our TV's. Those words were just mere days away as Season 13 of our favorite baking competition show, "The Great British Bake Off," was getting ready to premier. We were anticipating the first Hollywood handshake, the first collapsed showstopper, and the dynamic duo's hilarious jokes in the next season of GBBO. With more than 5 million viewers tuning in for the premier of Season 12, and even more for Season 11 in 2020, Season 13's premier was expected to be as show stopping as ever – GBBO is very popular across the pond (via DailyMail).
Sadly, fans will have to wait a little bit longer to meet the new contestants of Season 13, as news channels in the U.K. are pausing all regularly scheduled shows to cover the sorrowful passing of Queen Elizabeth II on Thursday, September 8. As tradition goes, Britain will participate in 10 days of mourning, which includes BBC broadcasting only news about the queen.
News channels suspend programming
"The Great British Bake Off" plays on Channel 4 in the U.K., one of the numerous news channels suspending regularly scheduled programming after the queen's passing. According to The Herald, this comes after the BBC confirmed it would pause scheduled broadcasting to cover the queen's health when news broke about her being sick. Now that she has passed, all broadcast channels — ITV, Channel 4 and Channel 5 — followed suit.
This means that our beloved GBBO will have to wait a little bit longer to show its fresh slate of contestants and competitions as Britain mourns the queen and celebrates her life as the longest-serving monarch. There's no news about when scheduled programming may resume as normal but it could be different for the next couple of weeks (via Tellymix.com). Unfortunately, it's also unclear whether this changes the timeline for episodes to appear on Netflix, which is usually the Friday after an episode premiers in the U.K. In the meantime, to get your Paul Hollywood fix, take a look at his touching tribute to Queen Elizabeth after her passing.