Dangerously Easy Two-Ingredient Appetizers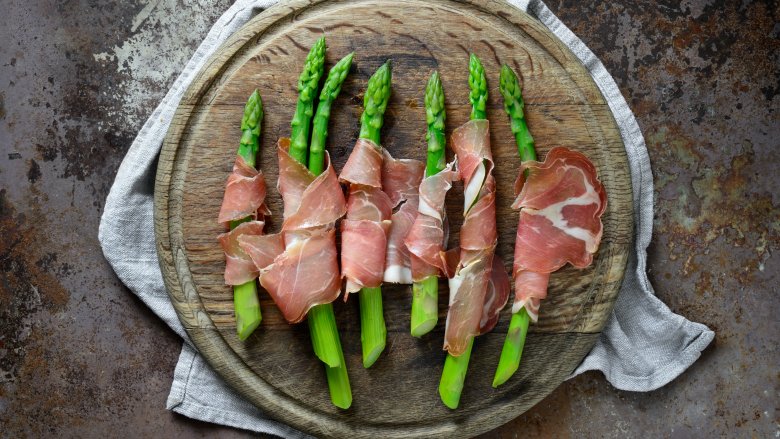 Shutterstock
We all envision that perfect cocktail party that goes off without a hitch — the one you'd hope Ina Garten would be proud of and probably requires hours of prep. But if you're feeling a little more like Sandra Lee (think "semi-homemade"), you probably want to dial back the expectations and shoot for something delicious but doable. Because once you get started on your to-do list, you'll be amazed at how quickly your timeline gets off track. Suddenly those complicated appetizers you've planned are dropping off your menu, and you're trying to decide which take-out place you can call to get some mediocre-at-best bites at your party.
The good news is, you don't have to let it get that far. Plan your party with super simple appetizers —we're talking two ingredients here! — that you can whip up even if you've only got 10 minutes until guests arrive. And even if you're not planning a big shindig, these killer recipes (and we're using "recipe" loosely here) should be in your repertoire for any time you need a quick but tasty dish.
Note: These recipes have just two main ingredients, not including pantry staples like salt, pepper, or oil. 
The easiest-ever surf and turf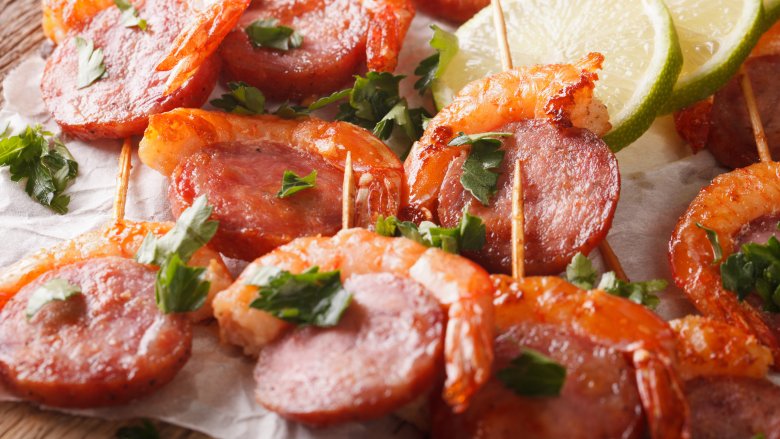 Shutterstock
You don't need to spend a ton of time or money on surf and turf if you think beyond steak and lobster and put these simple shrimp and chorizo skewers together for a fun twist on the traditional.
Thread raw shrimp and sliced chorizo on skewers, place them on a baking sheet, drizzle with a little olive oil to prevent sticking, and roast in a 400 degree oven. Depending on the size of the shrimp, cooking times will vary, but larger shrimp will take about 8-10 minutes. You'll know they're done when the shrimp turn pink and firm up.
Parmesan + honey = delicious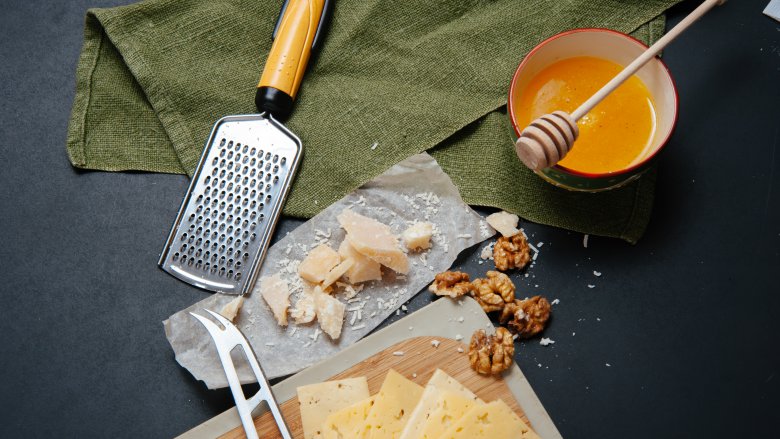 Shutterstock
It might sound a little weird, but Parmesan cheese, honey, and black pepper are a surprisingly tasty combination, and not too shabby with a glass of red wine, either.  
You can go two ways here for serving: Either plate the wedge (with rind removed), pour honey over the top, then sprinkle religiously with black pepper, or cut the cheese into chunks and serve with small bowls of honey and pepper for dipping. Don't forget the toothpicks in either case.
Super simple cheesy skewers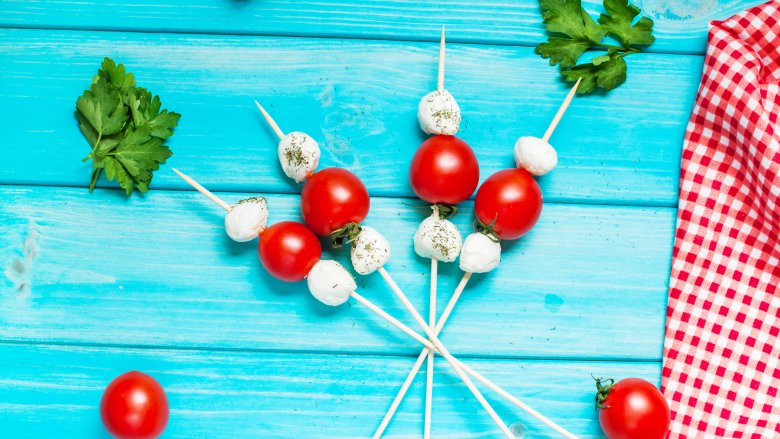 Shutterstock
With all the fancy cheese you can buy at the grocery store these days, it's never been easier to pull off these ridiculously simple pairings.
Try watermelon and feta skewers for a fruity-meets-salty bite — a drizzle of olive oil wouldn't hurt. The classic tomato and marinated mozzarella ball skewers are always a crowd pleaser. And for an uncomplicated nod to an antipasto platter, just skewer salami cubes (or rolled up slices) and marinated mozzarella.
Elevate the radish to new heights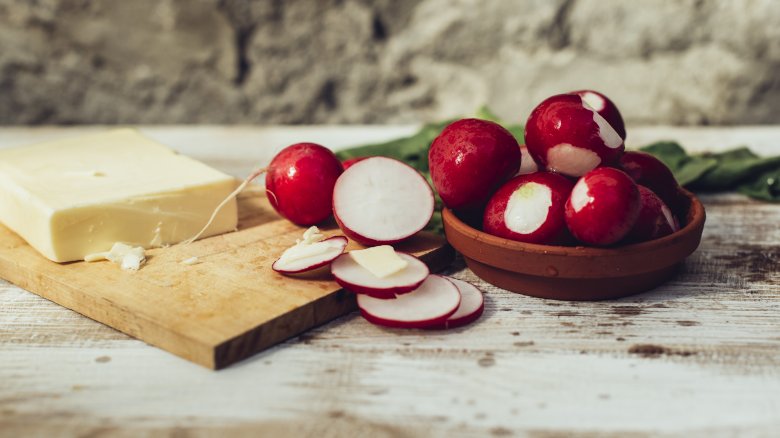 Shutterstock
Radish. Butter. Salt. 
Do yourself a favor and try this one even if you're a little skeptical. It's one of those times when "don't knock it 'til you've tried it" applies.
For this one you'll want to get the very best butter you can get your hands on (it's best when it's a bit soft), trim up a bunch of radishes, and set out a small bowl of kosher or sea salt. Guests can assemble these bites themselves by schmearing a bit of butter on a radish and sprinkling or dipping it in the salt.
Pigs in a blanket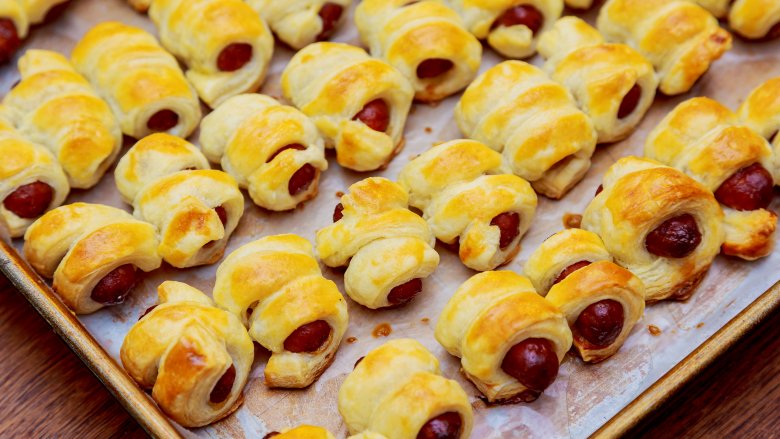 Shutterstock
Bring back an old favorite with two-ingredient pigs in a blanket. It's probably best to make two batches because both kids and adults will be scarfing these down.
Use cocktail weiners and wrap them each with refrigerated canned dough. (If using precut dough like crescent rolls, you'll want to cut each piece into smaller pieces to fit the sausage.) Place the piggies on a baking sheet and bake at 375 degrees until golden brown, about 13 minutes.
Cheese-filled biscuit bites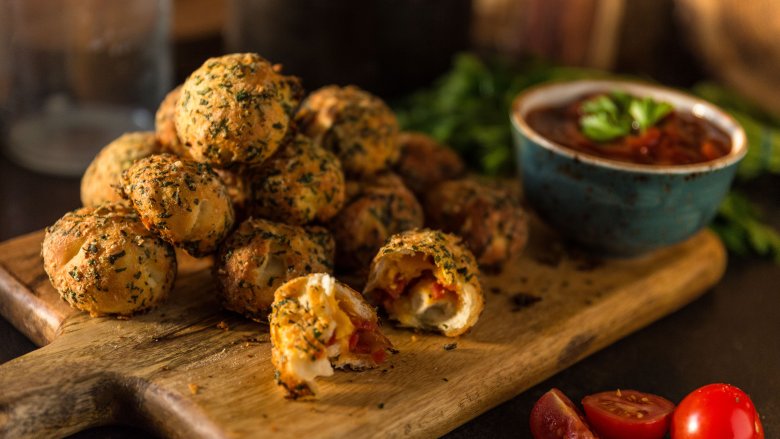 Shutterstock
Another way to take advantage of refrigerated dough: cheesy biscuit bites. Grab a can of biscuits and a container of marinated mozzarella balls and you're on your way. This one requires just a little work, but your payoff is melty, cheesy goodness.
Separate each biscuit so you have 16 pieces, then flatten each round out a bit. You want each piece to be big enough so you can stuff a mozzarella ball into the middle and fully encase it with dough. Seal up the edges around the cheese, and place on a baking sheet. Brush lightly with olive oil, sprinkle with salt and pepper (if desired), then bake at 375 degrees for about 15 minutes or until golden brown.
Parmesan cheese crisps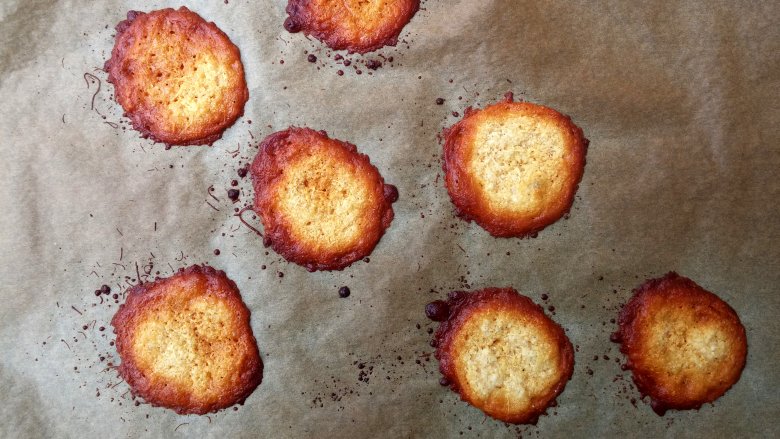 Shutterstock
This could really be a one-ingredient recipe, because who doesn't love plain ol' Parmesan cheese baked up to crispy perfection? It's as easy as putting piles of fresh grated Parm (about 1 tablespoon each) on a baking sheet covered in parchment paper. Bake at 450 degrees until golden and crisp. These go fast once they start to brown, so keep a close eye on them after about 5 minutes.
If you want to add a little extra flavor, try topping the cheese with thinly sliced jalapeños, dried herbs, garlic powder, or cooked bacon bits before baking.
Wrap it in prosciutto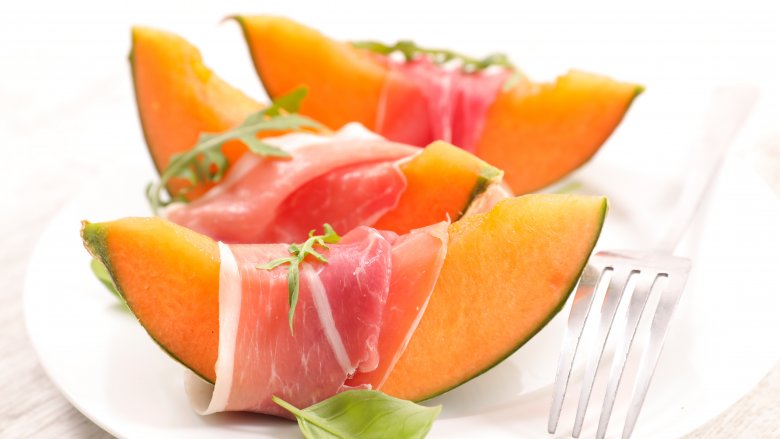 Shutterstock
There are endless options when it comes to easy prosciutto appetizers. Some require nothing more than a quick wrapping, while others taste better after a quick trip to the oven. Here are a few favorites:
Prosciutto and asparagus: Wrap trimmed asparagus spears with a slice of prosciutto, drizzle with olive oil, and sprinkle with salt and pepper, then bake at 450 degrees until the spears are tender and prosciutto is crisp, about 5 minutes.
Prosciutto and melon: Wrap melon slices (cantaloupe and honeydew work well) with prosciutto. Serve cold.
Prosciutto and breadsticks: Wrap one end of crispy breadsticks in prosciutto. The end.
Prosciutto and peaches: Wrap fresh peach slices with prosciutto. Serve cold.
Prosciutto and figs: Wrap fresh fig halves in prosciutto, drizzle with olive oil, and sprinkle with salt and pepper, then bake at 400 degrees for about 5 minutes.
Prosciutto and pineapple: Wrap fresh pineapple chunks slices with prosciutto. Bake at 400 degrees for about 5 minutes for a bite reminiscent of Hawaiian pizza.
Bacon makes it better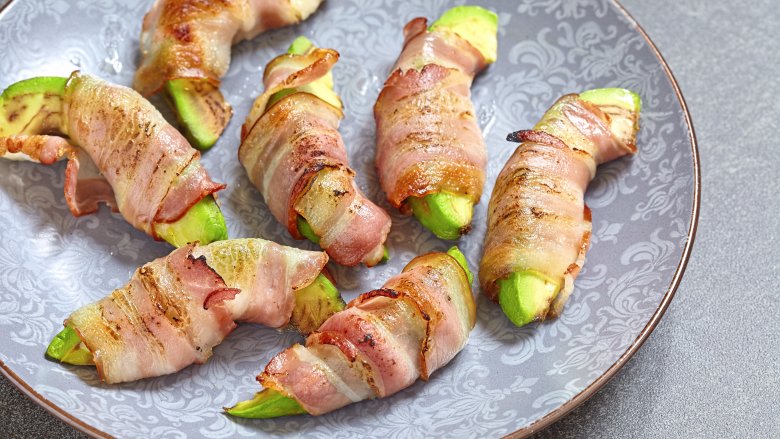 Shutterstock
You can wrap just about anything in bacon and please a crowd, but these bites are always at the top of the popularity list.
Bacon-wrapped shrimp: Wrap large shrimp with half slices of bacon. Cook on baking sheet topped with a wire rack at 450 degrees for 10-15 minutes, until shrimp is cooked through and bacon is crisp.
Bacon-wrapped avocado: Wrap avocado slices with half slices of bacon. Cook on a baking sheet at 425 degrees for about 14 minutes, until bacon is crisp.
Bacon-wrapped dates: Wrap fresh pitted dates in half slices of bacon. Cook on a baking sheet at 400 degrees for about 15 minutes, turning once.
Maple bacon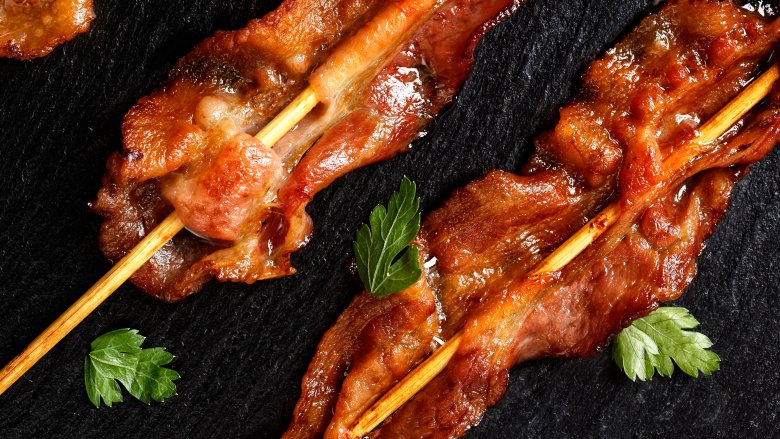 Shutterstock
If you don't even want to bother wrapping things in bacon, maple bacon ribbons are for you.
Thread bacon slices onto a skewer like a ribbon, then brush both sides with maple syrup. Put the skewers on a baking sheet topped with a wire rack, then bake at 425 degrees for about 20 minutes, turning once. The result is sweet and salty heaven.
Stuffed peppers two ways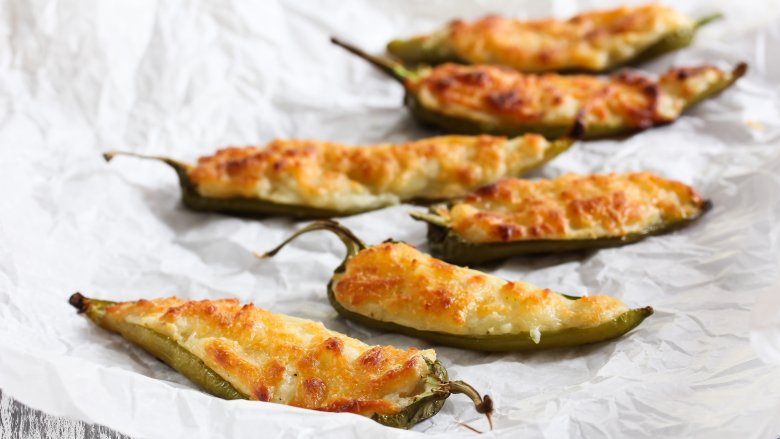 Shutterstock
Stuffed peppers don't need to be complicated, as proven by these two-ingredient delights.
For a shortcut version of jalapeno poppers, stuff halved peppers with premade spinach-artichoke dip, then bake at 375 degrees for about 15 minutes. If desired, place the peppers under the broiler to brown for a minute or two after baking.
For a less spicy but still delicious stuffed pepper, use mini sweet peppers and stuff halves with herbed cream cheese, or your favorite savory cream cheese. No need to cook this one.
Barbecue little smokies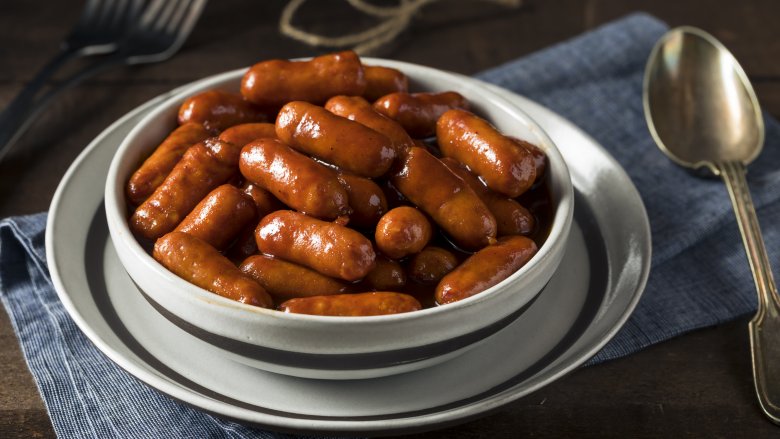 Shutterstock
It's okay to admit that you like cocktail weiners in barbecue sauce. You're not alone, and your party guests will thank you for making them. The good news is that they are one seriously effortless appetizer.
Toss the sausages in a saucepan, add your favorite barbecue sauce, and warm until heated through. That's it! You can also do this in a slow cooker (on high for about 1 hour), and they'll stay warm through your party.
Pesto puff pastry twists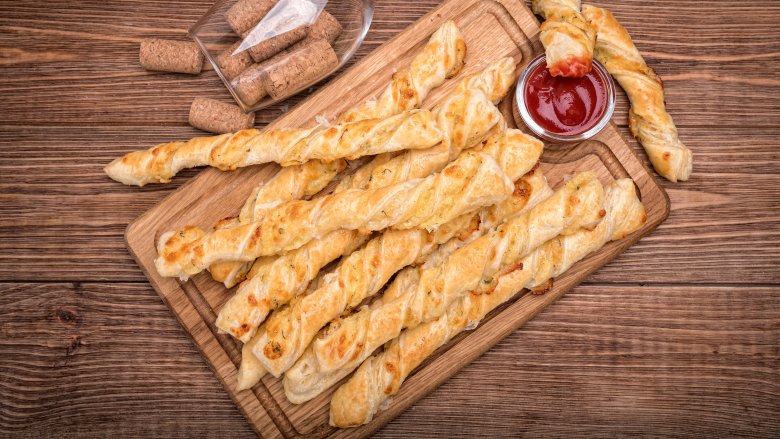 Shutterstock
Frozen puff pastry is one of those convenience items that always comes in handy and makes you look like a rockstar in the kitchen. Take these pesto twists, for example.
All you need to do is defrost the puff pastry, then roll out the sheets on a lightly floured surface to about 12 inches wide. Brush one sheet all over with pesto, then top with the remaining sheet of pastry. Cut into 12 equal strips, then twist each strip and place on a parchment paper lined baking sheet. Bake at 400 degrees for about 15 minutes, until golden brown.
Simply roasted chickpeas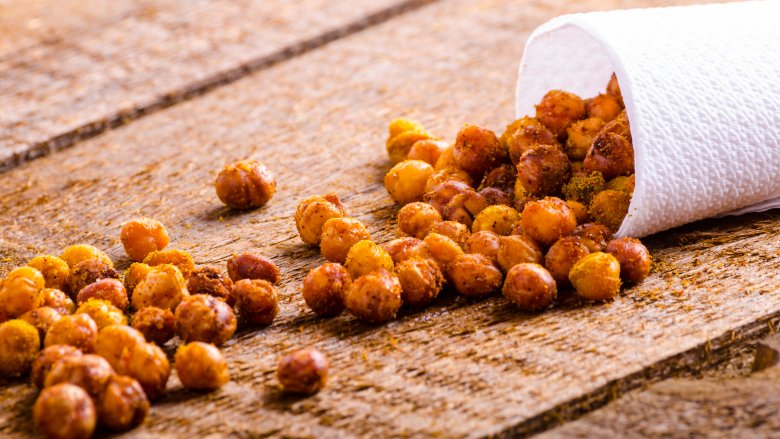 Shutterstock
If you think you don't like chickpeas, try roasting them — these crispy little morsels might just change your mind.
All you need here is a can or two of drained chickpeas, dried very well. The less moisture the better, so really dry those suckers. On a baking sheet, toss the chickpeas in plenty of olive oil and season with salt. Bake at 400 degrees for about 25 minutes, tossing halfway through, until crisp and starting to brown.
To amp up the basic recipe, toss the roasted chickpeas with herbs or spices just after they come out of the oven. Try herbs like dried rosemary for some savory flavor, or cayenne pepper for some kick.
Fun and easy for kids to make AND eat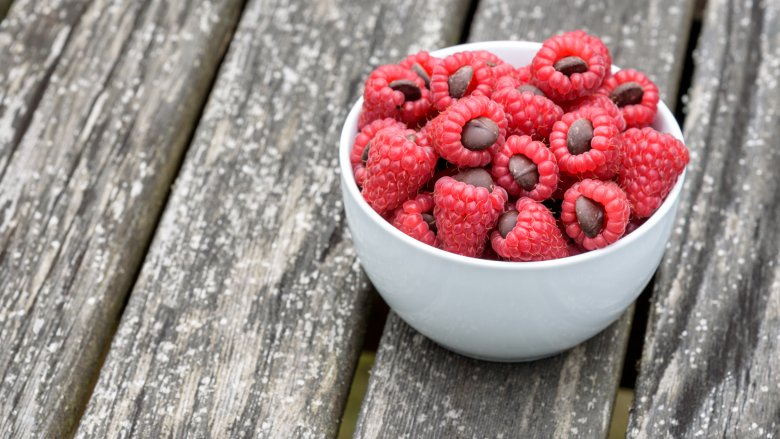 Shutterstock
Don't forget about your littlest party guests. Not only will the kids love eating these, they'll also be able to help prepare them. Win, win.
These adorable chocolate chip stuffed raspberries are as easy as poking a chocolate chip into a fresh berry. Warning: More of these might make it into your helper's mouth than into the bowl.
Make white chocolate dipped pretzels by melting white chocolate on a double boiler (or in the microwave). Just dip the pretzels and lay them on wax paper to set.
Celery stuffed with peanut butter is an old stand-by for good reason — it's satisfying and tastes good. Try this classic with other nut butters for a new twist.