The Best Gingerbread Kits In 2022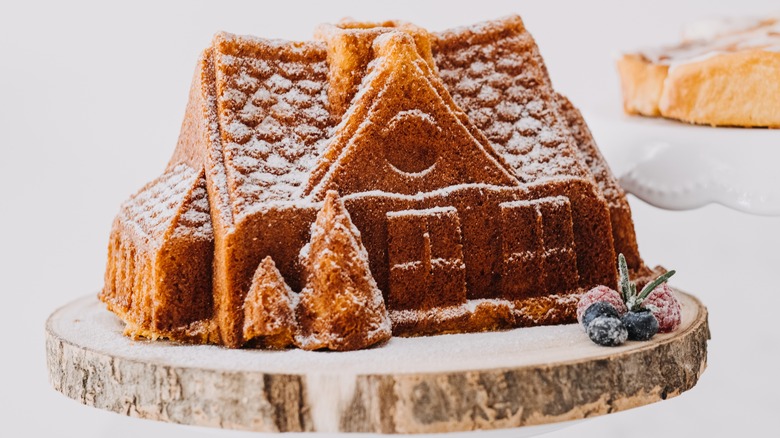 Wirestock Creators/Shutterstock
We may receive a commission on purchases made from links.
Gingerbread houses are a holiday tradition for many, but even those who don't get one each holiday season are sure to recognize one when they see one! The cookie home's ubiquitousness is well-earned and a long-time coming as it's believed to have originated in 15th century Germany (via PBS). Way back then, the candy houses were a more austere affair: it wasn't uncommon for the homes to be decorated with foil and gold leaf. PBS notes of course, that you can't discuss Germany and gingerbread houses without thinking of that ill-fated gingerbread home from the tale of Hansel and Gretel. But, as the site points out, it's unclear which came first, the gingerbread house or the fairytale. Nonetheless, gingerbread homes have come, one way or the other, to be associated with Christmas.
But, of course, gingerbread houses have long since broken out of Germany and become a staple in many different cultures. National Geographic, in a profile on gingerbread houses from around the world, went so far as to describe the baked goods as "edible art." The homes varied from villages to replicas to even resorts. With tons of history, influence, and a good dose of Christmas spirit, there are plenty of options out there for hopeful gingerbread home constructors and architects of every age, skill, and enthusiasm level.
How we selected our products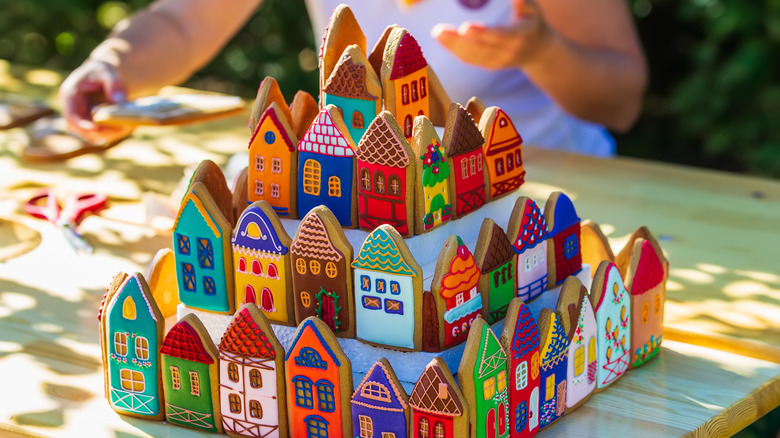 fotoandy/Shutterstock
Gingerbread houses are, as stated, beyond well-known and well-loved. It may seem nonsensical to even rank them, after all, what really makes one gingerbread house better than the others? They need four walls, a bit of icing, and candy. Et voilà, a gingerbread house to call one's own! Nonetheless, when it comes to anything doing, it's worth doing well. There are simply some gingerbread houses that are a cut above the rest. 
Thus, there was a lot of consideration that went into selecting the best gingerbread house kits of 2022. The general reviews of the gingerbread house were brought to attention, as it's always important to know how well the kits are received. But, there are other factors that deserve equal recognition such as: price point, ingenuity of the kit, skill level necessary to construct it, and of course the general ingredients used to make it. With that in mind, here are 12 gingerbread houses that offer something for everyone this holiday season.
Best classic gingerbread house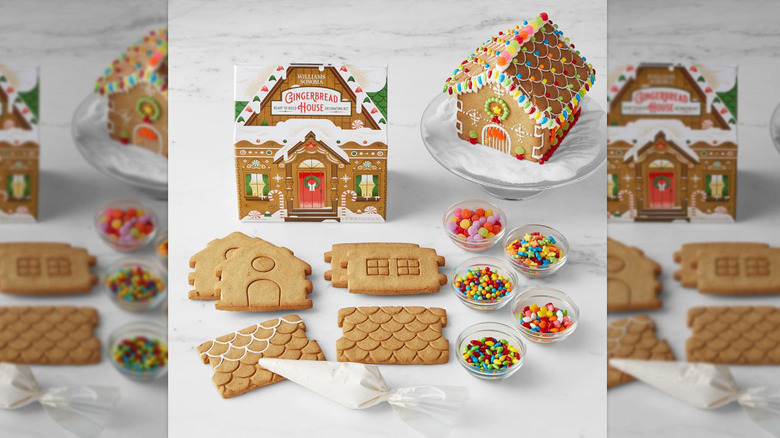 Williams Sonoma
Williams Sonoma is beloved cookware and home goods store. It's no surprise that the classic goods store would also provide a lovely and classic gingerbread house. The darling gingerbread house is prebaked, so there's no oven-work that needs to be done with this kit! A set of six pre-cut gingerbread cookies will provide the structure for a darling home with a tiled roof. Vanilla icing mix will help to hold everything together, and gumdrops, candied beads, gum, and alike to doll up this already adorable house. The jewel tones of the candy give paired with the white icing and classic brown make this the sort of gingerbread house you'd see in a classic holiday movie. Two piping bags ensure that multiple hands can build this house up, and make it a project for friends, families, and parties. 
Fittingly the Williams Sonoma gingerbread house comes in a just as sweet package that displays a sweet winter cabin, which makes this gingerbread house kit a perfect holiday gift as well. If you are looking for gingerbread kids to occupy this house, Williams Sonoma has you covered with this gingerbread cakelet pan and mix. 
At the time of this writing, the Williams Sonoma Gingerbread House Kit can be purchased from Williams Sonoma for $29.95.
Best budget gingerbread kit
Leave it to none other than the beloved grocery chain Trader Joe's to offer up both a traditional and budget-friendly gingerbread kit for the holidays! The Trader Joe's Gingerbread House Kit comes in at a modest $7, but provides a lot of bang for those bucks. As stated in the Amazon description, the Trader Joe's kit is a super traditional gingerbread house, i.e. a German hexenhaus, or witch's home. Fittingly, and cheekily, the kit comes with not only a witch, but a Hansel and Gretel. Though it does seem that this time the trio has a much happier ending. 
The gingerbread home forms an A-frame and thus, assembles quite easily. This is the perfect kit for kids, beginners, and lovers of simplicity alike. The kit comes with a gingerbread base to keep the Hexenhaus sturdy and long-lasting through the Christmas season. Though, as one Amazon reviewer mentions: unlike other gingerbread house kits, the Trader Joe kit does not come with premade icing. The kit comes with powdered sugar, that as the review notes, must be mixed with egg white and vinegar or lemon juice. Though this provides the opportunity to modify the icing, so that your hexenhaus will be in good shape throughout the short winter days and long winter nights. 
As of September 2022, The Trader Joe's Gingerbread House Kit is available on Amazon for $7.
Best gingerbread village
Similar to the gingerbread house, the gingerbread village is believed to take inspiration from Italian nativity scenes (via Better Homes and Gardens). While Christmas villages may not necessarily be edible, gingerbread Christmas villages combine the traditions of both home-oriented holiday traditions. For those who want to go the full nine yards, then the gingerbread village may be the perfect cozy and yummy decoration this holiday season.
The Food Items Gingerbread Kit Mini-Village is the meeting point of many wonderful gingerbread house elements. For one, this particular village includes four different houses of varying structures and shapes. This makes for an exciting time figuring out how to best construct and decorate each of these different homes. The village is also brightly colored and festive. Bright candies and sugar-coated gumdrops make for a sugary sweet little neighborhood. Green and red fondant further cement the festive spirit of this gingerbread village. This is certainly the kit for those who want to let their creative spirit fly. 
The Food Items Gingerbread Kit Mini-Village is, at the time of this writing, available for $21.75.
Best for Barbie lovers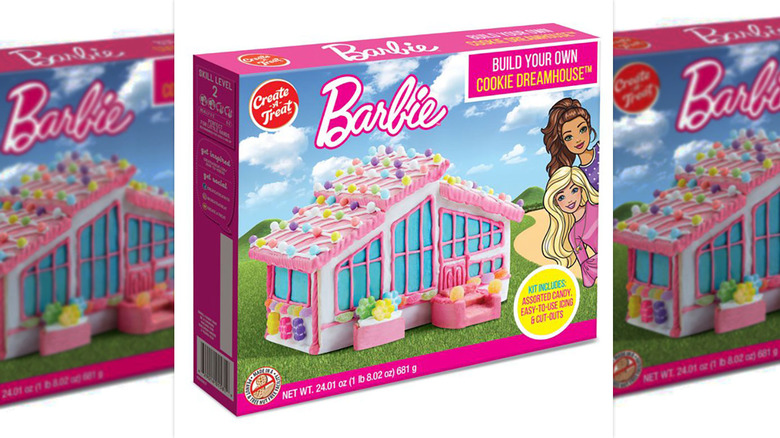 Walmart
It's not just life in plastic that's fantastic, it seems that Barbie has also found a sweeter home as well. The Barbie Dreamhouse Cookie Kit offers up a holiday treat for Barbie lovers old and young. The split-level house makes for a completely modern and Californian twist on the gingerbread house. But, of course, the kit's unique shape means that it may prove tricky for even the most experienced gingerbread house constructors. But, the results are undeniably cute. 
Unlike other gingerbread houses on the list, the Barbie dream house, is, fittingly a pink affair. Pink icing will doll up the house, and make it a place set for a Barbie. Though, one Amazon reviewer advises buying additional icing, as the amount provided for the kit may not be enough. Given the size of this dream home, certainly a lot of icing is needed to be able to keep it standing up and stable! Once constructed and painted, there are many cute candies to decorate the home with. Bright pink gumdrops and gummy flowers add the level of playfulness to this kit that only Barbie can. 
The Barbie Dreamhouse Cookie Kit is available on Amazon for $30. 
Best for chocolate lovers
For some chocolate lovers, only chocolate will cut it. Thankfully, the Whaline Gingerbread House Baking Tray offers up a nice solution. The set comes with two sheets, each of which have a mold for a 3D home, trees, and figures. There is a bit of legwork that goes into this kit, if only a little. The future-owner of the house needs to melt and pour the chocolate into the mold and then let it cool. Afterward, it's all about the construction. A little bit of icing should be enough to keep the house standing! The rest of the decorations are up to taste. Of course, unlike other kits on the list, this kit only comes with the mold. All other supplies, chocolate, and candy need to be purchased separately.
This silicone tray can serve up two unique chocolate homes with little fuss. For those who still prefer the traditional, these molds are also well-suited for gingerbread homes. One review offered the advice of not overfilling the molds so that the houses are uniform in shape. The reviewer also suggests waiting for the cookies to cool for easy removal. From then on, it should be smooth sailing. 
The Whaline Gingerbread House Baking Tray is at the time of this writing, available on Amazon for $11.99.
Best DIY gingerbread house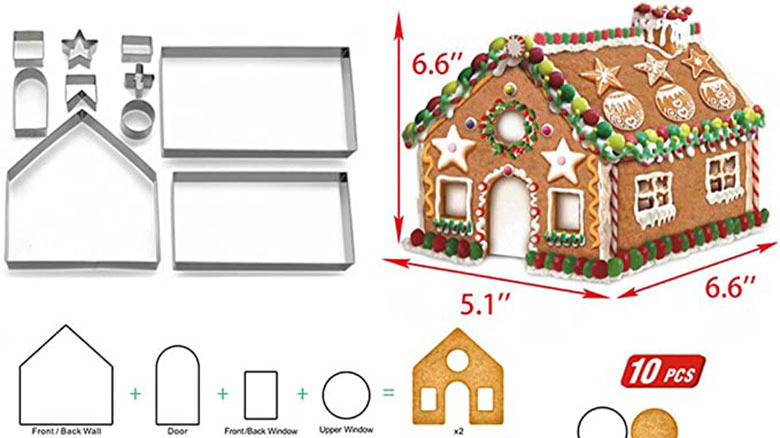 Amazon
YXChrome doesn't provide the building blocks for a gingerbread house, it provides the tools to construct said blocks! The YXChrome Christmas Cookie Cutters are for those who want near total control of their gingerbread house construction. The stainless steel cutters come in a set of 10. This set includes the main cutting forms to make the four walls of this simple gingerbread house. One review even praises the set for having the perfect proportions to build a perfectly proportioned gingerbread home. After all, a great house starts with a good foundation. 
Smaller cookie cutters allow for a variety of shapes to make for windows, doorways, star accents, and other bold shapes. Of course, another major aspect, when left to your own devices, is to have a good recipe! Our gingerbread house recipe suggests that a good gingerbread dough is first and foremost, strong. It needs to be able to stand up tall, and also carry the weight of candies and icing alike. Once you make it to decorating, you'll have the pride of displaying a gingerbread house you've built from the ground up. 
The YXChrome Christmas Cookie Cutters are available on Amazon for $10.98.
Best pre-baked gingerbread house
The Bee-International Pre-made Gingerbread House Kit tries to streamline the gingerbread house-making process solely on decorating. For those who have little patience when it comes to building, but have a full heart when it comes to decorating: look no further! Bee International's gingerbread home comes ready to rock and roll. The squat house comes stored snugly in a square box, and once pulled out, all that's left is some decorating.
Pre-mixed icing and brightly colored candies provide for an especially jubilant appearance. All that the buyer needs to do, is take the helm and decorate to the heart's desire. Maybe with all that spare time, the decorator may find themselves even experimenting with different candies used to decorate their home, outside the provided kit! But heed the warning of NPR and never use heavy candies, especially on the roof! This can threaten the structural integrity of any gingerbread house, including ones that come pre-made. 
The Bee-International Pre-made Gingerbread House Kit is available on Amazon for $41.09.
Best vegan / gluten-free gingerbread house
There should be a gingerbread house out there for everyone, and Sensitive Sweets of California does just that. The Sensitive Sweets Gingerbread House is free of major allergens such as dairy, soy, peanuts, among others. All the while, being vegan at the same time! 
What makes this kit a true knockout, is that it's truly neat, petite, and ready to eat. The gingerbread is a rich brown color, with heart-shaped windows to add to the winter whimsy. The kit comes in two forms: basic and deluxe. Basic includes all the structural elements needed for the gingerbread house of course, but also comes with icing mix, and plastic trees and rings for decoration. The deluxe kit, for those who would like the fully monty, comes with a tub of icing intended to add snow-like elements to the house, and organic dye-free candy to further compliment the conscious gingerbread house.
Cool Mom Picks gives it high marks, noting that not only does it provide a bit of holiday joy for those who may not otherwise be able to fully enjoy it, but it also saves a lot of hassle with its premade structure. If you're not in California, but still enamored with Sensitive Sweet's sensitive sweet, never fear, the bakery ships everywhere in the States! 
The Sensitive Sweets Gingerbread House basic and deluxe are available for $36.95 and $48.95 through the Sensitive Sweets website. 
Best gingerbread cookie tree
Not really into houses? Why not a tree? Gingerbread trees have the two-fold advantage, for some, that they are much easier to construct than gingerbread homes. In fact, they don't need to be constructed so much as stacked. On top of that, the gingerbread tree provides a unique centerpiece. Bandwagon's Gingerbread Tree kit doesn't come with premade stars, but does include a set of star-shaped cookie cutters to construct the tree, as well as the piping bags, and instructions on how to bake and decorate the tree.
So, while you might need to make the gingerbread cookie dough and bake, the results of the kit are undeniably great. The Bandwagon's Gingerbread Tree maintains excellent reviews, one of which cites the included recipe as perfect. Another reviewer doles out some advice: make sure to make two of each star, otherwise, the tree will be very squat! Once constructed, the baker can then engage in the long-beloved tradition of decorating a Christmas tree, albeit a bit differently. 
As of September 2022, Bandwagon's Gingerbread Tree can be found on Amazon for $6.49.
Best gingerbread truck
It seems that the vintage red truck is the Christmas decoration du jour. Well, specifically a vintage red pickup hauling a richly green Christmas tree in its bed. In an op-ed with The East Hampton Star, one journalist muses that perhaps the truck has become a symbol for romanticized Americana, which they tie in with its current moment in pop culture. It isn't hard to understand the journalist, after all, doesn't the sight of a Christmas tree being hauled by an old-school pickup evoke that sort of hometown Hallmark feel-good spirit?
So, the second question would be: Why not indulge in the trend? While you don't need to go and pick out some vintage truck or a thousand pickup truck ornaments, the Wilton Gingerbread Truck Kit may be the perfect way to bring this trend home. The kit comes with three panels that build the truck, a gingerbread tree, and some red and green frosting to "color" both of them in. Lightbulb candies that come with the kit also provide a chance to decorate the tree! This is really a wholesome kit. For those who may want to throw a gingerbread decorating party, like this Amazon reviewer, the gingerbread truck may very well be the preferred mode of transport! As the review notes, this kit doesn't take nearly as much time to build as a house, and is fairly easy to put together. 
The Wilton Gingerbread Truck Kit is available on Amazon for $5.99.
Best for the young at heart
Gingerbread, why not ninja bread? Brand Castle's Ninjabread Gingerbread Cookie Kit is best suited for the young, young at heart, and action lovers everywhere. The kit comes with four different cookie cutters, all of which feature ninjas in different poses. Cookie mix, icing and piping bags will help you make your ninjas while candies can be used to decorate the ninjas to the heart's desire. The brand suggests throwing a party and having ninja fighters be decorated in a group setting.
One review succinctly hits the nail on the head of what encapsulates this gingerbread kit: fun, silly, and tasty. While this certainly isn't the traditional gingerbread, much less Christmas decoration, there's a lot to be said for something that is purely silly and lighthearted. In that sense, these ninjas blend perfectly in, as a real ninja should, with the joy that surrounds the first few winter months. The review goes on to note that the gingerbread cookie mix also tastes good! It seems like one can say these gingerbread ninjas have more than just a little bit of kick to them, pun intended. 
Brand Castle's Ninjabread Gingerbread Cookie Kit is, at the time of the writing, available on Amazon for $10.63.
Best for pet lovers
Furry family members and friends shouldn't be left out of the holiday debauchery! A gingerbread dog house is a great way to include all holiday celebrators in the celebration. The gingerbread kit comes with four panels to build the gingerbread dog house. Though, what's a dog house without a dog? Of course, this Wilton's kit comes with a festive corgi cookie wrapped in Christmas lights to warmly stand outside of the gingerbread structure. 
White and green frosting is ready to go, both to construct and decorate the dog house. Little candied holiday lights perfectly compliment the corgi's accessories and can be placed anywhere where icing will adhere to them. Stickers also accompany the dog house to add an extra flair to the entire shebang. The kit's reviews remain largely positive. One five-star reviewer however does note that there isn't enough icing in the kit! No need to fret, the royal icing needed for gingerbread houses isn't too difficult to whip up, and can often add a lot of structural integrity to the average gingerbread kit. The added benefit is, of course, having the opportunity to lick the bowl! 
At the time of this writing, Wilton's Gingerbread Dog House is available on Amazon for $25.