Homemade Aioli Recipe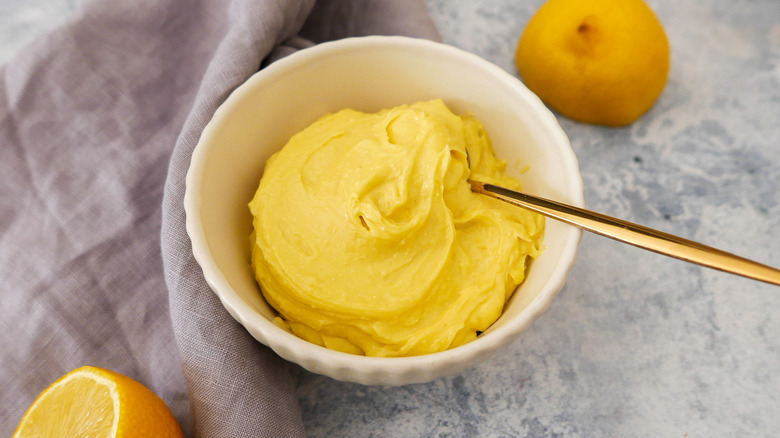 Ting Dalton/Mashed
If you're under the impression that aioli is merely mayonnaise in disguise, then you're sadly mistaken. Sure, you could make a simple, aioli-like sauce by combining garlic, mayonnaise, and lemon juice, but a true aioli is a little more complex than that. But don't let the word "complex" scare you — it's quite easy to make aioli from scratch, and recipe developer Ting Dalton has graced us with the perfect homemade aioli recipe. "There's something so utterly moreish about aioli. Its punchy, garlicky taste really hits all the right spots," Dalton describes. "And you can whip up some homemade dip in a matter of minutes just by using a blender or food processor at home."
While aioli is great as a spread on sandwiches, Dalton loves enjoying it as a dip: "My favorite way to eat this dip is with french fries," she says. "There is something so good about dipping crunchy fries into this tasty dip." Of course, you could also dip sweet potato fries, raw veggies, "or even toasted pita or flatbreads," as Dalton suggests. Follow this recipe and experience the garlicky goodness for yourself — you won't be disappointed! 
Gather the ingredients for homemade aioli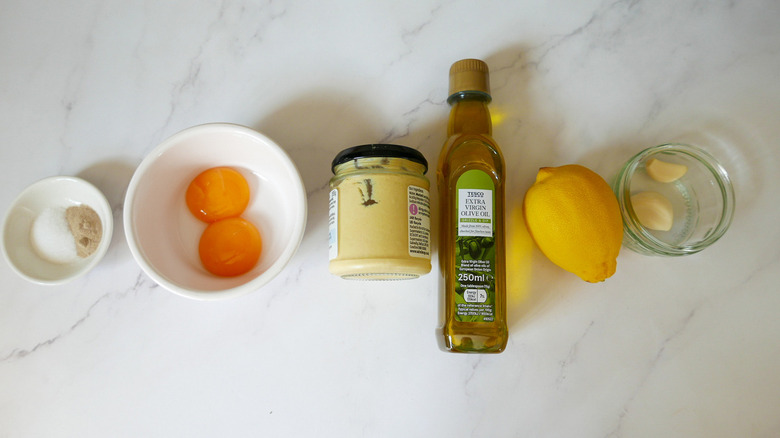 Ting Dalton/Mashed
You'll only need a handful of ingredients to make this homemade aioli: egg yolks, Dijon mustard, extra virgin olive oil, lemon juice, salt, pepper, and of course, some garlic cloves. "I really like garlic, so this recipe has 2 cloves in it, which is quite a strong flavor," Dalton says. "If you want to use less, you can. Or you can roast or boil the cloves beforehand to take away some of the punchiness."
Blitz the ingredients in a food processor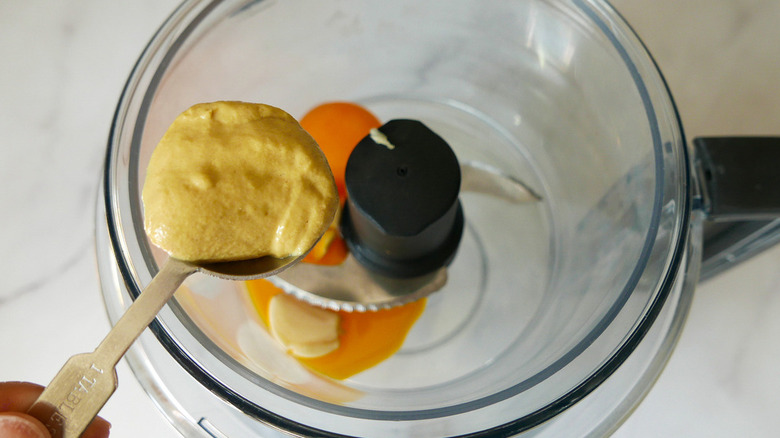 Ting Dalton/Mashed
Grab your trusty food processor (or small blender) and add in the egg yolks, crushed garlic, and Dijon mustard. Blitz these ingredients together on a medium speed, until they form a paste, then slowly start adding in the olive oil. Continue blending, gradually adding the oil, until it is fully incorporated into the rest of the ingredients. "By using a food processor, you can easily add the olive oil to the ingredients as it continually blends," Dalton explains. "You'll see it thickening as more and more oil is added. You need to add the oil slowly, as you don't want the egg yolks to split."
Give the aioli a squeeze of lemon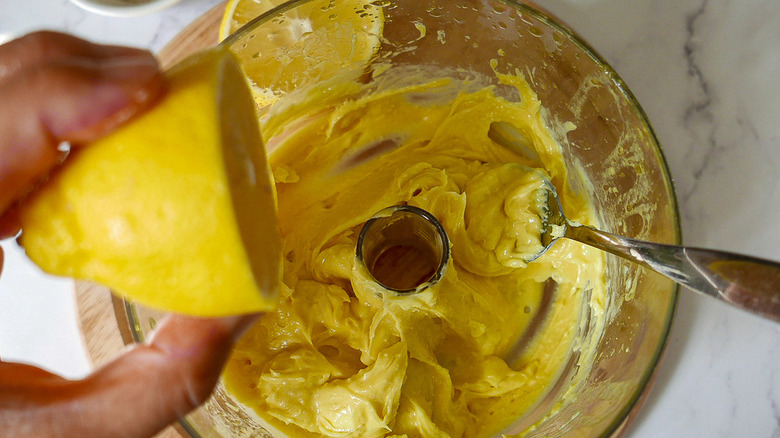 Ting Dalton/Mashed
Once your aioli is smooth and creamy, add salt and pepper, to taste. Then, squeeze in some fresh lemon juice — Dalton likes to add the juice of ½ lemon, but you could add more or less, as desired. Then, give the aioli a good stir to ensure that the salt, pepper, and lemon juice are fully incorporated in the sauce.
Enjoy your homemade aioli with french fries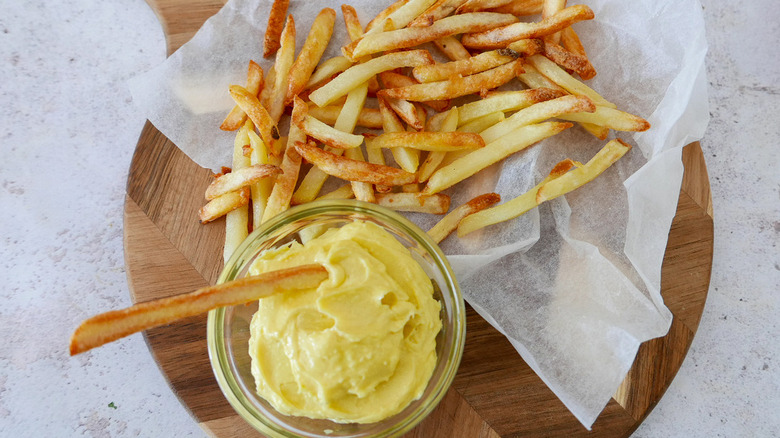 Ting Dalton/Mashed
There's only one thing left to do here, and that's to enjoy your homemade aioli. Like Dalton said, she personally likes to enjoy this aioli with french fries, but you could also serve it with chips, crudités, or whatever your heart desires. And if you're not able to enjoy all of this garlicky goodness in one sitting, don't sweat it. "You can keep this aioli in the refrigerator for up to 3 days," Dalton advises.
Homemade Aioli Recipe
Aioli is one of those sauces that can elevate any sandwich or work as the perfect dip. This homemade aioli recipe only takes 5 minutes to make and is delicious.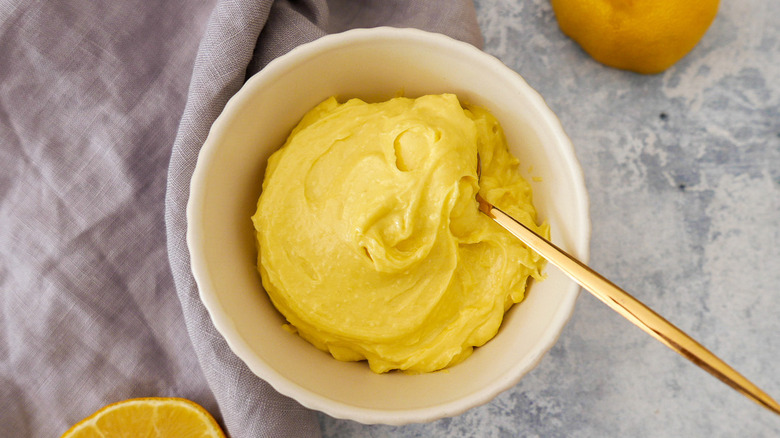 Ingredients
2 garlic cloves, crushed
2 egg yolks
1 tablespoon Dijon mustard
1 ½ cups virgin olive oil
salt, to taste
pepper, to taste
1 teaspoon lemon juice, more if desired
Directions
Add the egg yolks, garlic, and Dijon mustard to a small food processor or blender.
Using a medium setting, blitz into a paste and slowly start adding the olive oil. Continue to blend and add the oil until it's all combined with a smooth and creamy texture.
Season with salt and pepper, to taste, and add 1-2 teaspoons lemon juice, as desired.
Stir until all is combined, then serve.
Nutrition
| | |
| --- | --- |
| Calories per Serving | 496 |
| Total Fat | 55.3 g |
| Saturated Fat | 7.9 g |
| Trans Fat | 0.0 g |
| Cholesterol | 48.7 mg |
| | |
| --- | --- |
| Total Carbohydrates | 0.8 g |
| Dietary Fiber | 0.2 g |
| Total Sugars | 0.1 g |
| Sodium | 146.8 mg |
| Protein | 0.9 g |