Rachael Ray's Game-Changing Advice For Chopping Cilantro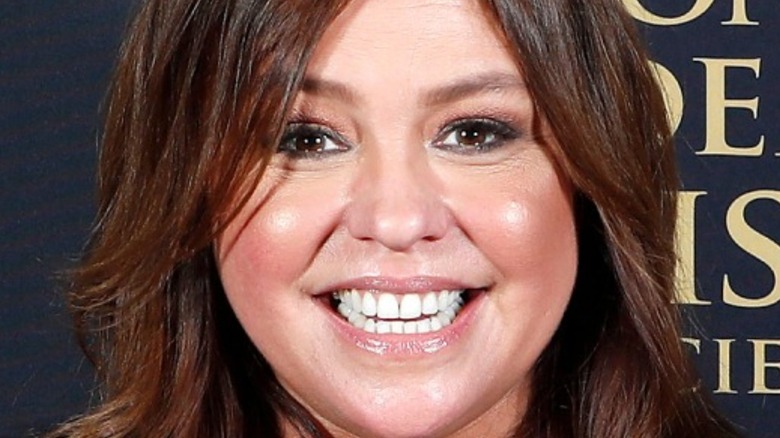 Joe Seer/Shutterstock
Herbs like cilantro can add freshness and expand the flavor profile of myriad dishes but some people might struggle with how to best use them. Along with which herbs are best to use with which dishes, there are questions about specific herbs like the best ingredients that go with cilantro. If you have a bunch of cilantro on hand and you're looking for inspiration in terms of what to do with it, there is no shortage of options.
Taste of Home has compiled a list of 45 different recipes that showcase cilantro, for example. If you exhaust that list or none of those suggestions appeal to you, Insanely Good Recipes has a compilation of 25 cilantro recipes as well. The array of dishes that cilantro makes a stellar complement to is much wider than simply rice and salsa.
If you're uncertain about how to prepare your cilantro for use in the recipe you've decided to try, don't fret. Cookbook author Rachael Ray has you covered with a trick that will make it easier than you might have imagined.
The way to go with chopping cilantro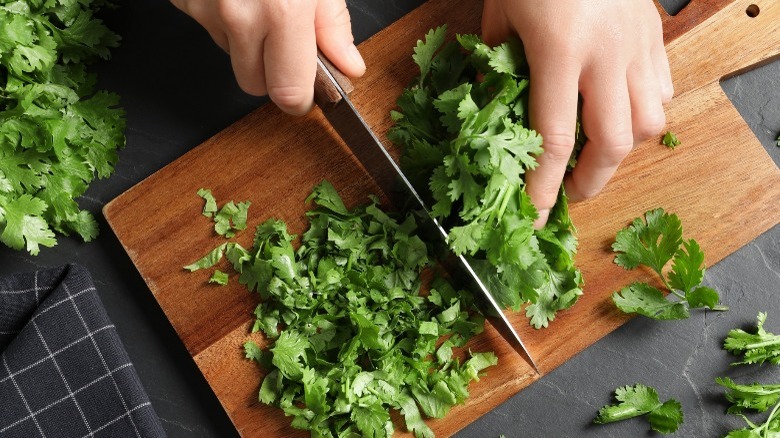 New Africa/Shutterstock
The Rachael Ray Show has chronicled Rachael Ray's method for chopping common herbs including cilantro. First, though, you should verify your bunch is safe to use and this is how to tell if cilantro has gone bad. Provided your cilantro is fresh, Ray's tip makes prepping quite simple and it's worth heeding her advice; as her website points out, Ray is an author of multiple cookbooks.
Ray says the stems of cilantro have a lot of flavor themselves. For that reason, she recommends simply removing the very ends of the stems and then chopping up everything else together. There's no reason to discard the stems and only use the leaves, she says. To make the actual process of chopping up the cilantro easier, Ray endorses the use of twine and tying the cilantro stems together into a bunch. That will not only save you effort but time as well as you won't have to chop each individual stem separately or try to hold the stems together with your hand.
Ray's advice for cilantro chopping appears sound as MasterClass concurs with much of it. MasterClass also states the stems are the most flavorful part of cilantro and endorses a strategy of bunching the cilantro together before you start cutting it. Furthermore, they say chopping cilantro is a stellar way to become an ace at handling your kitchen knife. Using Ray's tip, you can be a cilantro pro.