The Sea Salt Caramel Cookies Aldi Fans Can't Get Enough Of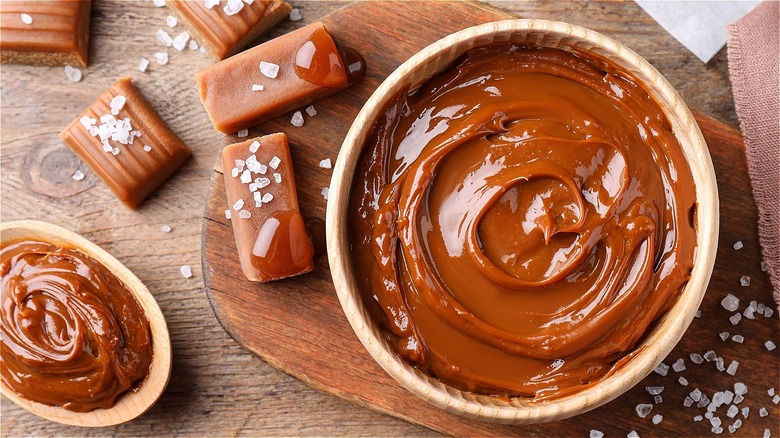 New Africa/Shutterstock
There's a strange phenomenon that happens in grocery stores every year when September rolls around. As soon as the clock strikes midnight on the first of the month, it seems like practically every item on the shelves has undergone an autumnal makeover to incorporate pumpkin spice into the product for a limited time. The spice blend has been the "it" flavor of fall ever since Starbucks debuted its infamous Pumpkin Spice Latte in 2003, and is even considered to be the absolute best thing about the season by 30% of Americans, according to a One Poll survey conducted in 2020 (via Study Finds). That stat is certainly a testament to the annual hype we see when the seasonal spice mix makes its triumphant return. On the other hand, it also means the remaining 70% of the population might be drooling over another one of the traditional autumnal flavor profiles, such as apple, maple, or salted caramel.
Allrecipes argues these classic fall flavors are superior to pumpkin spice, and yet, a quick walk through the grocery store during leaf-peeping season can leave you thinking they get no love — what gives? There's a chance that your local market has a bias against seasonal products that don't contain aromatic spice blends, or maybe, just maybe, you've just been looking in the wrong place. As it turns out, Aldi brings in a number of non-pumpkin spice products for fall every year, including one extra-sweet baked good that shoppers can't get enough of.
Aldi shoppers think you should stock up on this ready-to-bake cookie dough
Whether you need a little break from pumpkin spice or the pungent seasoning mix simply isn't your jam, Aldi has you covered with a delicious, crave-able alternative that can put you in the autumnal state of mind after just one bite. A fall staple at Aldi since at least 2019 (via Aisle of Shame), the low-budget grocer's Sea Salt Caramel Chocolate Chunk cookie dough from Bakehouse Creations is back in stock once again — and just in the nick of time, according to Aldi-obsessed Instagrammer @aldimademedoit. "I may have just finished our last pack from last year a few weeks ago," the shopper admitted in an Instagram post earlier this month after spotting the ready-to-bake goodies in store. "I loved these cookies so much! I was so freaking excited to see it again!!" they added, and they weren't the only one.
In the comments section, several other Aldi shoppers shared their excitement that the chocolate chip and sea salted caramel-infused break-and-bake cookie dough had reappeared. "Yay!! I wait all year to stock up on these. My fav!!" Instagram user @its.just.amyyy commented, while @jacimelfi dubbed them "one of my all time aldi favorites." Others, like user @kewi_1990 shared a word of advice for their fellow Aldi fanatics picking these cookies up for the first time: "Get as many as you can buy because these are awesome."