How Tall The Highest Restaurant In South Korea Really Is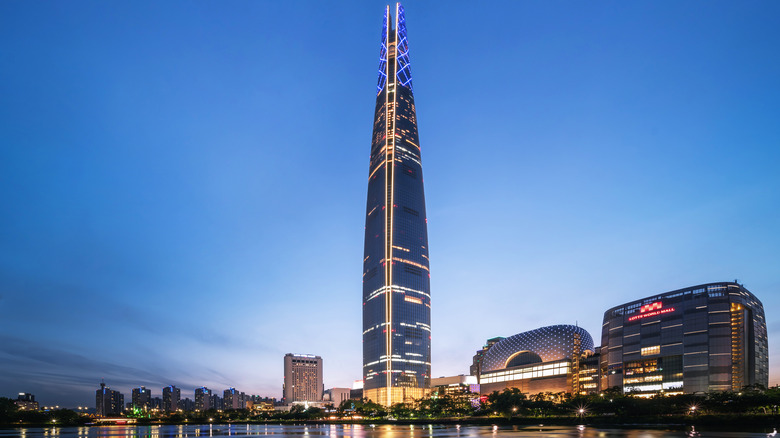 Nattakit Jeerapatmaitree/Shutterstock
There's something about dining high above a bustling city of millions of people that just makes the food taste that much better. If you're looking for a fine dining experience, almost all the major cities across the globe offer top-notch meals with breathtaking views of their streets below. From The Standard boasting floor-to-ceiling skyline views of New York City, or Le Jules Verne in Paris' Eiffel Tower, to Atmosphere offering panoramic views of the Arabian Gulf in Dubai, there's something for everyone (via Architectural Digest).
Next time you find yourself in South Korea, make sure you treat yourself to at least one meal in the clouds. Known as the Land of High Mountains and Sparkling Streams, South Korea boasts beautiful mountains, valleys, and coastal plains (via Facts.net). Along with its breathtaking landscape, the country also offers amazing Korean cuisine such as the chicken dish Andong jjimdak, pork-stuffed cabbage bossam, delicious galbi, or Korean barbecue. You'll never be short of tasty meals while on your trip.
With the country's mountainous terrain, there's a good chance you could end up dining with a picturesque view. But while the country offers endless options, there's something about being at the highest restaurant in the country that really makes for a deliciously memorable experience. If you're looking to wine and dine at the highest location in all of South Korea, you'll find yourself at the 123F Lounge.
People can dine at over 1,800 feet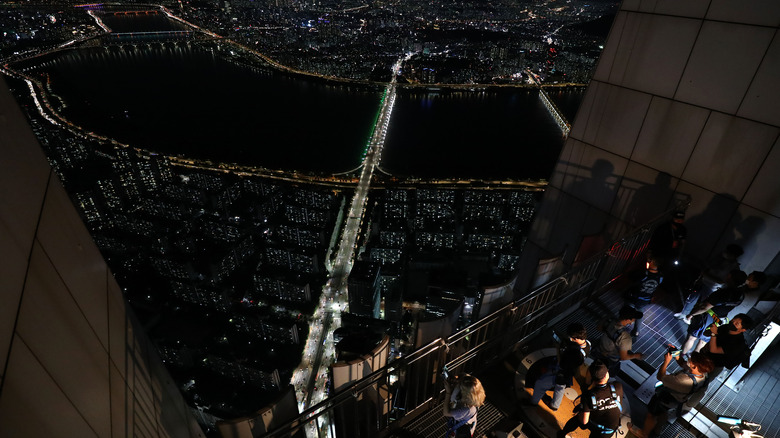 Chung Sung-jun/Getty Images
Located on the top floor of Seoul's Lotte World Tower is 123F, South Korea's highest restaurant. The restaurant sits at a shockingly high 1,820 feet above the ground, making Lotte Tower the tallest building in the country and the fifth tallest in the world (via CNN). Here, you'll be able to taste the flavors of Seoul high above the clouds and enjoy a view like no other.  
For a $20 entry fee, guests enter a waiting hall before embarking on the building's elevator to the Seoul Sky observatory, according to CNN. Here, guests can watch a video that portrays the history of Seoul and Lotte World Tower before relishing in the breathtaking 360-degree floor-to-ceiling views of the city below. Spread out across multiple floors, the observatory offers multiple attractions including a sky secret garden and geometric sky show on the 117th floor, Sky Deck on the 118th floor, Sky Terrace which serves as an outdoor balcony on the 120th floor, and a sky mapping fireworks show on the 121st floor (via Seoul Sky).
Now it's time for dinner! Once reaching the 123rd floor, 123F reflects a high-quality dining experience while showcasing the country's beautiful landscape. According to CNN, guests can order a variety of traditional Korean dishes, beef stew, spaghetti, salads, pizza, sandwiches, steak, and more. Food can be pricey with casseroles costing $28 and pasta $19, according to Newsnpr. But it's worth it for a meal high above.