What Dunkin' Workers Drink In A Day, According To TikTok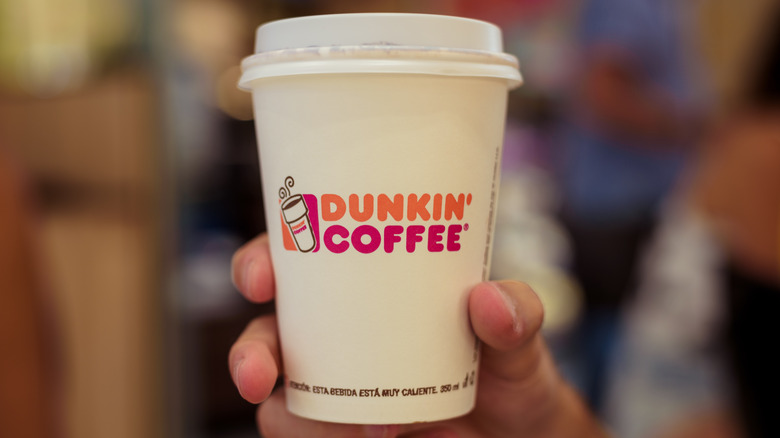 JCDH/Shutterstock
You know how the famous slogan goes: "America runs on Dunkin''." If you've ever treated yourself to a coffee or Munchkins donut hole from America's market leader in coffee, then you know what we're talking about. A staple in many diners' morning routine for the last seven decades, Dunkin' operates over 12,000 locations in 40 countries and has earned Brand Keys' number-one ranking in customer loyalty within the coffee category for 14 years in a row, per the chain's website. 
With 62% of American adults consuming coffee every day, and many of these cups being purchased from cafes and restaurants, somebody has to be awake to serve what the people want (via National Coffee Association). That's where Dunkin' employees come in. With the chain's locations opening as early as 4:30 a.m., employees of the coffee company must be on their A-game to power through the morning rush and combat the mid-day crash. So, what do Dunkin' workers drink on the job to stay hydrated and focused?
An impressive array of coffee, water, and Refreshers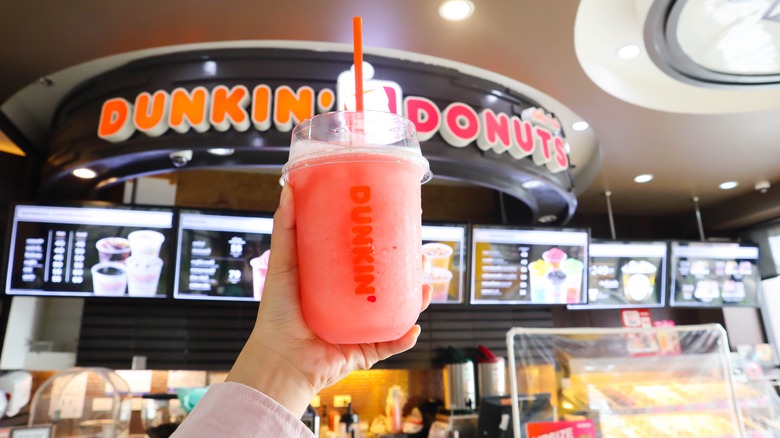 bbearlyam/Shutterstock
According to a TikTok video posted by a Dunkin' employee named Emily Caroline, workers choose a variety of drinks to quench their thirst and stay energized throughout a standard nine-hour opening shift. First, she records a full cup of ice water to jumpstart her day, followed by a second full cup of ice water and the first coffee concoction of the day: a brown sugar cream cold brew. 
Once that's finished, more ice water is consumed before the afternoon's fruity drinks start to make an appearance. A peach passion fruit Refresher, a fourth cup of ice water, iced coffee with cream and a French vanilla flavor shot, and a green tea lemonade with raspberry conclude the TikToker's drink choices of the day. That all amounts to eight drinks across a nine-hour shift, which had many commenters on the video amazed that she remembered to hydrate so often on the job. "I'm literally so impressed with the 4 waters," one user said, while a fellow Dunkin' worker said their beverage intake is similar — but also includes a Refresher for the road. This begs the question, as one commenter asked, what do Dunkin' employees eat at work? Emily was happy to answer in a follow-up video.