Spanish-Style Fish Stew Recipe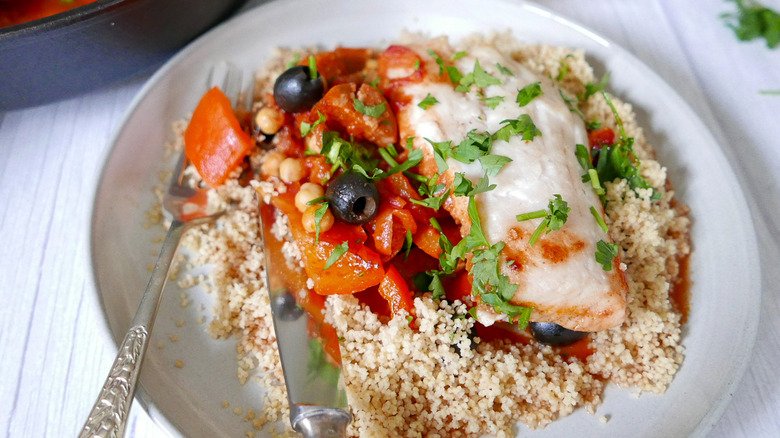 Ting Dalton/Mashed
Many different cultures have their seafood stews, and this Spanish-style stew is somewhat of a melting pot, including fish, chorizo, and even black olives. Still, the name "zarzuela" (as per Taste Atlas) means "variety show," and is meant to imply that you never really know what you're going to get in such a stew. As recipe developer Ting Dalton describes her Spanish-style fish stew, it has "an intensely rich and tasty tomato sauce with flaky white fish."
If there's any one ingredient to be singled out in this stew, Dalton credits the white wine vinegar. As she explains, it "really adds an extra tangy kick to the sauce and compliments the aromatics of the paprika and sweetness of the tomato." Another thing she likes about this recipe is that it's a one-pot meal, which not only spares you in the clean-up process, but it "also means you can let the oven do all the work."
Assemble the ingredients for the Spanish-style fish stew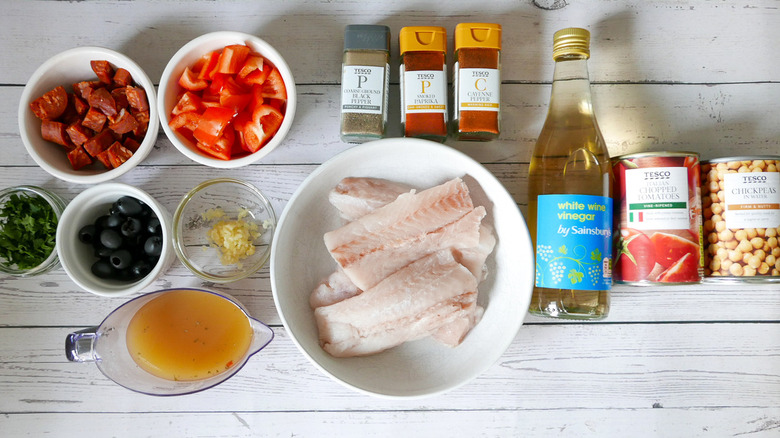 Ting Dalton/Mashed
The fish used in the stew, Dalton says, can be "any white fish — basa, hake, cod, etc," but the chorizo needs to be the hard, salami-like Spanish type as opposed to the loose-packed Mexican-style. You'll also need white wine vinegar, vegetable broth, black olives, garlic, parsley, a bell pepper (Dalton likes to use a red one), smoked paprika, black pepper, and cayenne. Dalton does say, though, "If you don't like heat, go easy on the cayenne or leave out."
There are two more things you'll need for this stew: a can of chickpeas and one of diced tomatoes. While Dalton uses 11-ounce cans of both for her stew you may not be able to find this exact size as most standard-sized cans in the U.S. seem to come in around 15 ounces instead (although diced tomatoes with chiles sometimes come in 10-ounce cans, as well). It should be okay to use the whole can's worth in each case, though, as stews are far more forgiving than souffles.
Cook the vegetables and chorizo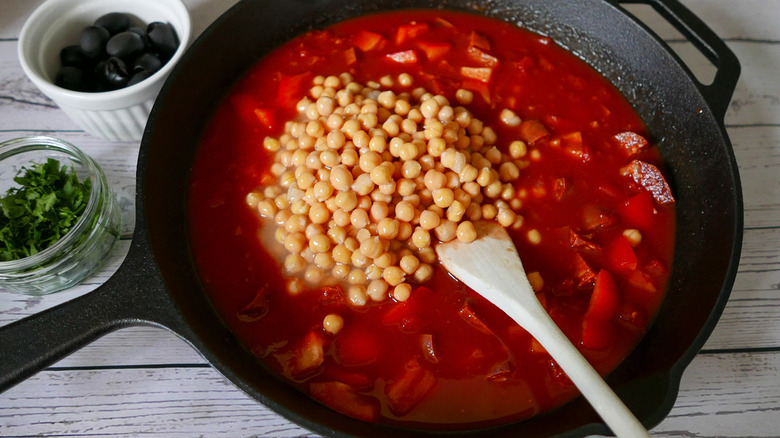 Ting Dalton/Mashed
Preheat your oven to 320 F. Mix the garlic, paprika, cayenne, and vinegar, then combine them in a baking pan with the diced chorizo, canned tomatoes and chickpeas, bell peppers, and broth. Bake the vegetables and meat for 15 minutes.
Bake the fish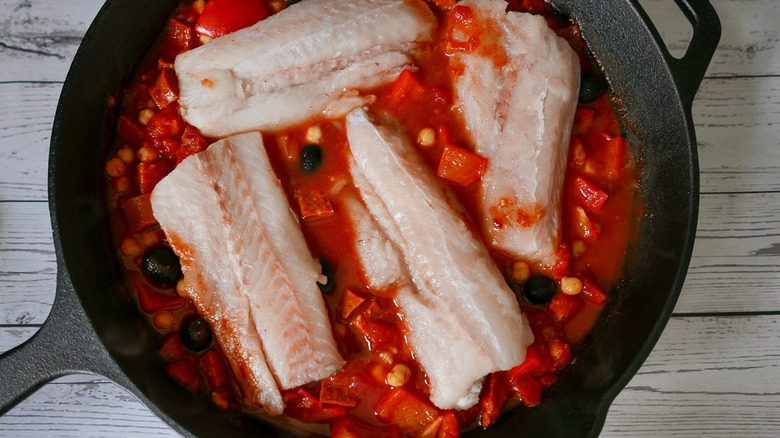 Ting Dalton/Mashed
Stir the olives into the chorizo/vegetable mixture, then lay the fish on top. Put the pan back in the oven and cook the fish for 15 minutes. Once the fish is done, it should be flaky and (of course) no longer raw or pink inside.
Finish off the stew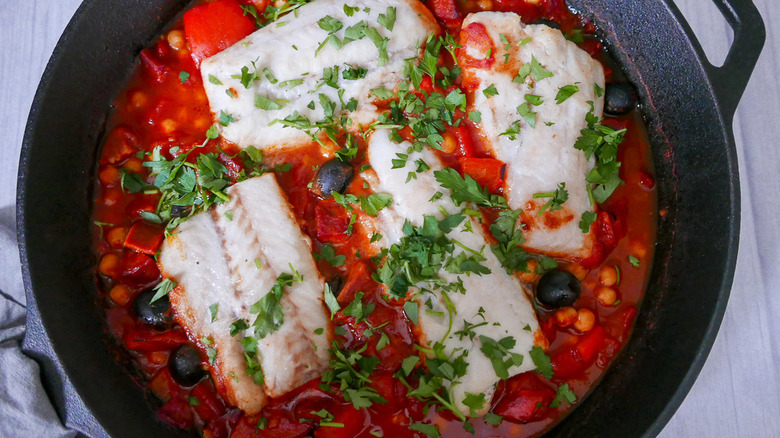 Ting Dalton/Mashed
When the stew comes out of the oven, you can sprinkle it with some chopped parsley as well as a bit of black pepper. Dalton says the dish can be accompanied with rice or couscous, but suggests, "The sauce is also great to mop up with bread." If you have leftovers, those should be okay in the fridge for a few days, but they can also be frozen if you want to eat this at a later date.
Spanish-Style Fish Stew Recipe
This Spanish-style fish stew incorporates flaky white fish, chorizo, black olives, and chickpeas — there's a lot going on, and it all tastes good.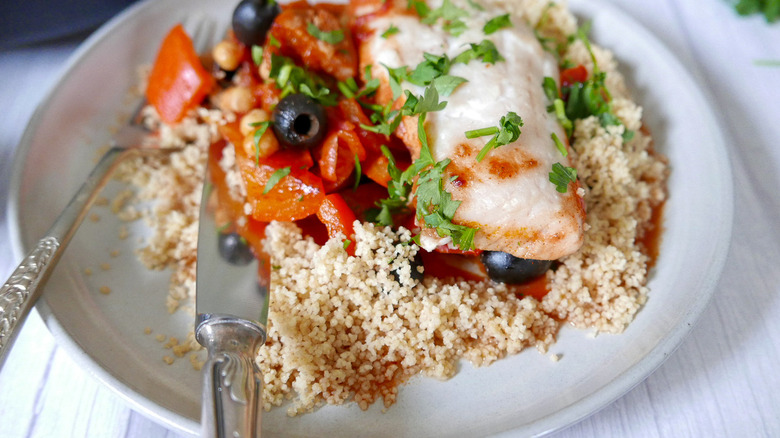 Ingredients
2 garlic cloves
1 teaspoon smoked paprika
½ teaspoon cayenne pepper
1 teaspoon white wine vinegar
1 red bell pepper, chopped
1 cup Spanish-style chorizo, diced
1 (11-ounce) can diced tomatoes
1 (11-ounce) can chickpeas, drained
1 ¼ cup vegetable broth
¾ cup black olives
4 cod fillets (or other white, flaky fish)
¼ cup chopped parsley
black pepper, to taste
Directions
Preheat the oven to 320 F.
Combine the garlic, paprika, cayenne, and vinegar in an oven-proof pan.
Stir in the bell pepper, chorizo, tomatoes, chickpeas, and broth.
Bake the chorizo and vegetables for 15 minutes.
Stir the black olives into the mixture, then top it with the fish.
Bake the fish for 15 minutes until flaky and cooked through.
Sprinkle the stew with parsley and pepper.
Nutrition
| | |
| --- | --- |
| Calories per Serving | 428 |
| Total Fat | 12.7 g |
| Saturated Fat | 3.1 g |
| Trans Fat | 0.0 g |
| Cholesterol | 112.5 mg |
| | |
| --- | --- |
| Total Carbohydrates | 26.2 g |
| Dietary Fiber | 8.8 g |
| Total Sugars | 6.5 g |
| Sodium | 710.4 mg |
| Protein | 51.9 g |