Craft-Friendly Salt Dough Recipe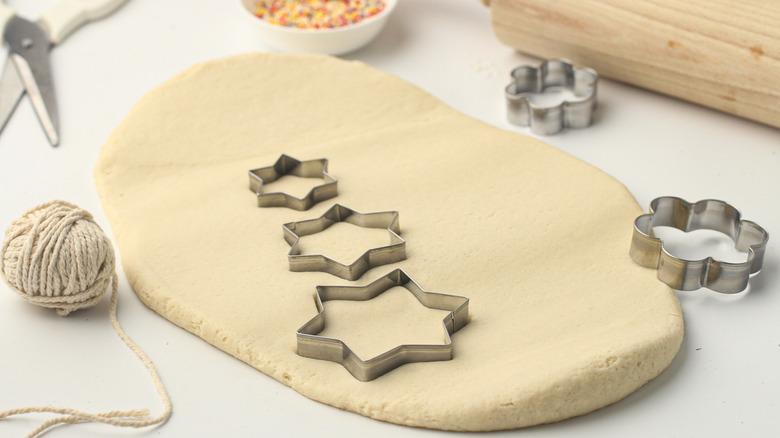 Susan Olayinka/Mashed
Before you start imagining cut-out sugar cookies piled high on a plate, we'll preface by clarifying that this recipe is not edible. Per the name, this craft-friendly salt dough recipe is meant for your artistic endeavors, not your sweet tooth. Whether you choose to use it yourself or you have kids to entertain, this is sure to satisfy any creative itch. Plus, it keeps for a couple of weeks so you'll be prepared whenever inspiration strikes.
Mashed recipe developer Susan Olayinka from The Flexible Fridge commonly made this as a child and shares, "This type of dough is very nostalgic for me." If you enjoy tactile sensations, she describes "loving the process of squishing it between my fingers." The instructions and components are straightforward, so you can focus your energy on deciding what you will make with this salt dough. As Olayinka remarks, "The sky is the limit with this versatile recipe!"
Gather up the ingredients for this craft-friendly salt dough recipe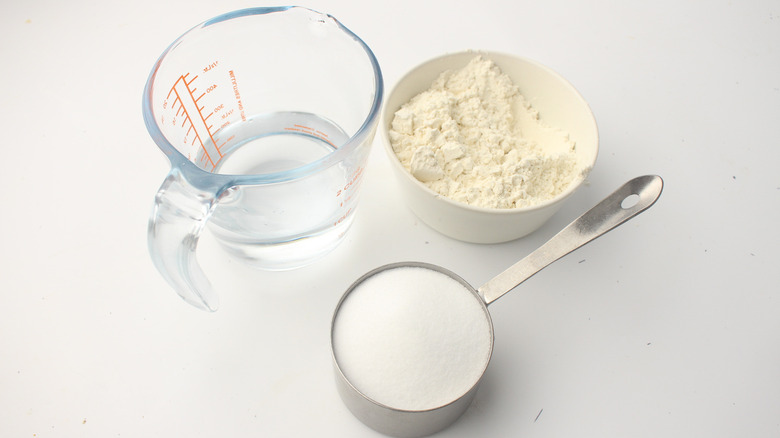 Susan Olayinka/Mashed
There's no need for any fancy ingredients here, and Olayinka affirms that "this recipe is very simple." To make a batch of dough equivalent to 3 ½ cups, you'll need to measure out 2 cups of all-purpose flour, 1 cup of fine table salt, and 1 cup of water. While the amount of salt might seem overkill, Olayinka explains that "salt helps to preserve the dough and prevent mold from growing."
If you want to have colored dough from the start, our recipe developer suggests mixing food coloring into the flour first and then combining everything with the salt and water.
Start by mixing everything together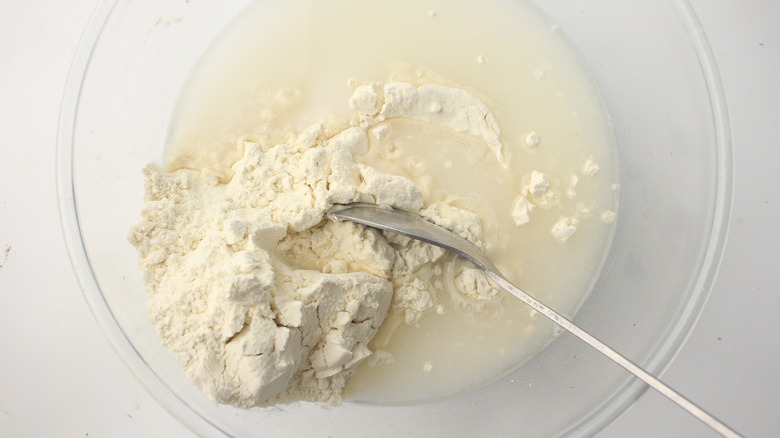 Susan Olayinka/Mashed
Set out a large bowl and add in the flour, salt, and water. Mix everything together until there are no more streaks of flour. If you're adding food coloring, remember to first add it to the flour.
Knead the dough until its smooth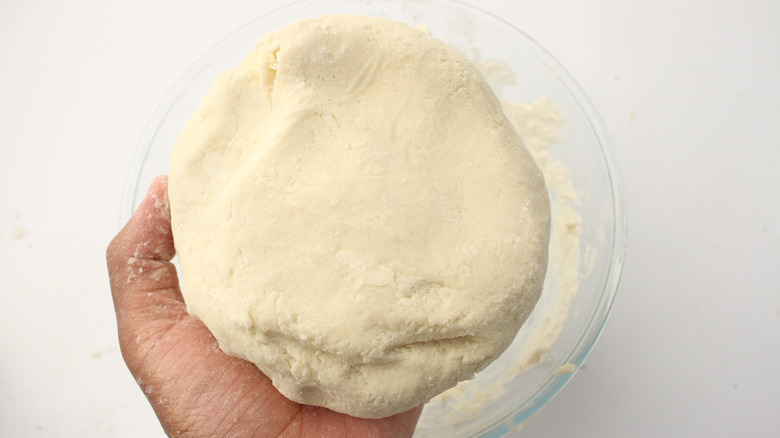 Susan Olayinka/Mashed
Olayinka notes that "the dough can be a little sticky at first." Nevertheless, she instructs to "just keep kneading it until it forms a smooth ball." Take your time until the dough is smooth or else you will have trouble rolling it out.
Roll out the dough and cut it into shapes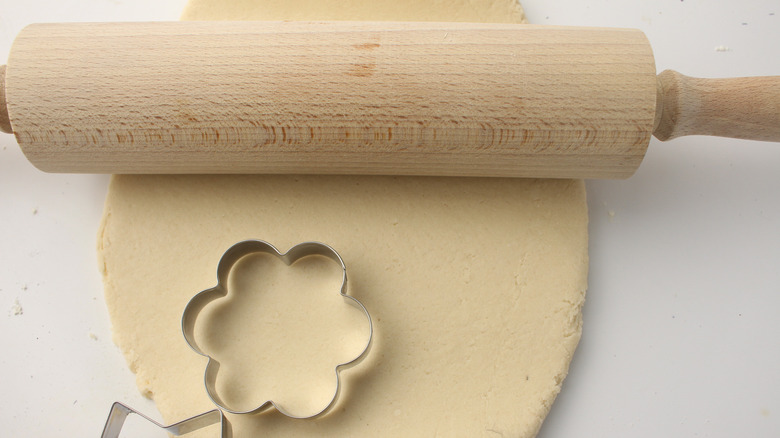 Susan Olayinka/Mashed
Once your dough reaches the right consistency, place it on a flat surface. Using a rolling pin, roll it out until it has a thickness of about ¼ inch. You can immediately cut it into your desired shapes using a cookie cutter, or you can store it directly in a sealed container at room temperature for up to two weeks.  
Olayinka notes, "This dough can be used for a variety of crafts, such as making salt dough ornaments or even jewelry! You can also use it to make handprint or footprint impressions." Meanwhile, if you're ready to add more color she suggests painting or decorating it as you please and encourages to "just let your creativity flow!"
Craft-Friendly Salt Dough Recipe
This salt dough isn't meant to be eaten — instead, it provides the perfect opportunity to play with your food!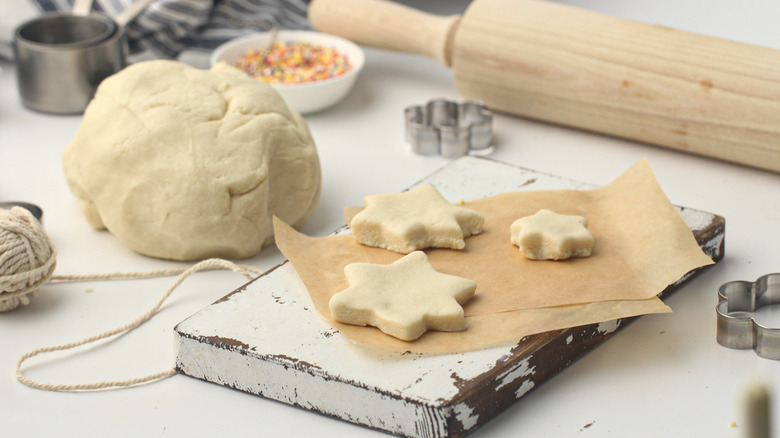 Ingredients
2 cups all-purpose flour
1 cup fine table salt
1 cup water
Directions
In a large bowl, mix together the flour, salt, and water.
The dough will start off sticky, but keep kneading it until it forms a smooth ball.
Once the dough is smooth, you can start rolling it out onto a flat surface.
Roll the dough out to ¼-inch thickness.
Use cookie cutters to cut shapes out of the dough.
Nutrition
| | |
| --- | --- |
| Calories per Serving | 228 |
| Total Fat | 0.6 g |
| Saturated Fat | 0.1 g |
| Trans Fat | 0.0 |
| Cholesterol | 0.0 mg |
| | |
| --- | --- |
| Total Carbohydrates | 47.7 g |
| Dietary Fiber | 1.7 g |
| Total Sugars | 0.2 g |
| Sodium | 283.1 mg |
| Protein | 6.5 g |