No One Seems To Know What This Year's 'Drink Of The Summer' Is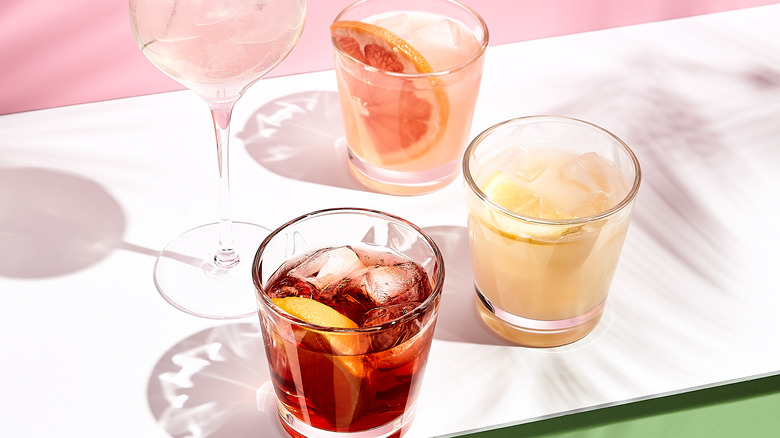 Ryzhkov Photography/Shutterstock
Summer in the time of a pandemic. In 2020, with people in lockdown, adults consumed 14% more alcohol than in the previous year, according to results published in JAMA Network Open (via RAND). The beverage of choice was apparently the Aperol spritz, which Esquire named the "Official Cocktail of Summertime Day Drinkers Everywhere" that year. The effervescent cocktail has Italian origins, per Tuscany Now&More, and requires three ingredients: Aperol, Prosecco, and soda water. Considering the difficulty of getting groceries at the time, we're guessing a recipe that required so few ingredients probably didn't hurt its appeal.
Travel was limited, so a beverage that could almost whisk you away to Italy via an aperitif couldn't hurt, especially when travel restrictions in Italy only recently lifted this past June, according to CNN. That brings us to 2021's biggest summer drink, the espresso martini. The coffee drink spiked with vodka has an Italian element although it was created in London in the 1980s (per GQ) and can be made easily too. You can swap the espresso with cold brew. HuffPost noted that some reality shows heavily featured espresso martinis, which a number of social media users pointed out. It added that, according to one theory, such exposure contributed to the drink's popularity that year.
So, what's the drink of the summer for 2022? Hold the drum roll because, well, no one seems to know.
There is no clear answer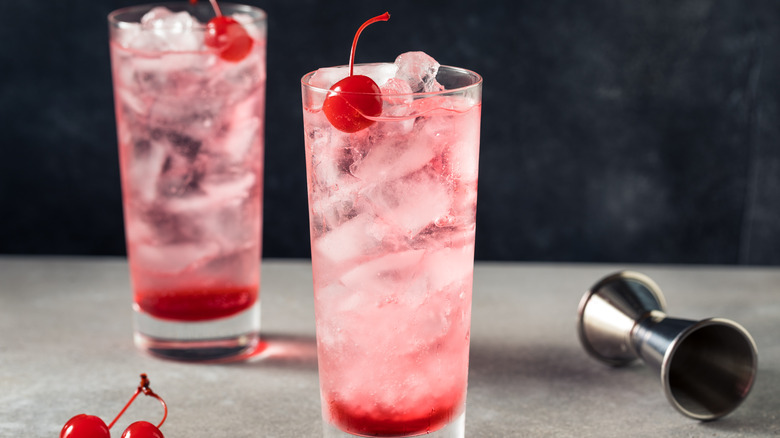 Brent Hofacker/Shutterstock
According to a Tweet from Grub Street, there is "no drink of the summer," and "people tried to make dirty shirley happen but it never caught on." Described by Food Network as a "grown-up" Shirley Temple, the Dirty Shirley contains soda and vodka as its main components. With a strong resemblance to the summer drinks of the last two years, it might sound like it should be the summer drink of 2022.
The Dirty Shirley was called the "unofficial" drink by HuffPost given its massive popularity on TikTok. Better Homes and Gardens made a similar observation. Insider also hailed it as the drink of the season, even saying that it "should be here to stay" beyond the summer. Except it's not.
The New York Times reportedly dubbed the espresso martini as the repeat winner before revoking its title (via Grub Street), freeing up a spot for the Dirty Shirley to take its place. Despite such promise, the cocktail lost steam, at least among some people. Grub Street surveyed hospitality workers, including a bartender. for insight on the summer's bestsellers. They gave varied responses, including an enthusiastic "rosé on ice!" to midori sours and natural wine. Bon Appétit with added sangrias and mint juleps to the growing list of possibilities. With no clear verdict, Bon Appétit suggested drinking "whatever the hell you want this summer" – liberating advice that's as refreshing as a summer drink.