Best Ways To Make Your Hot Chocolate Boozy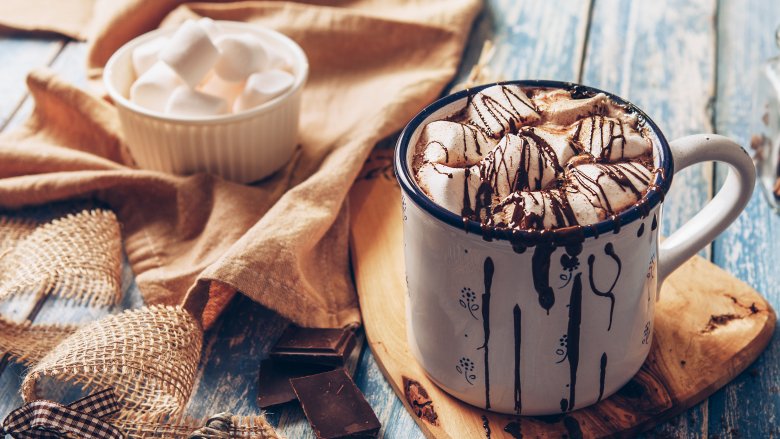 Shutterstock
There's nothing better in wintertime than curling up with a steaming mug of hot chocolate next to a blazing fire — other than making that hot chocolate delicious and boozy, of course. Here are some great ways to add that boozy kick to your hot chocolate.
Whiskey hot chocolate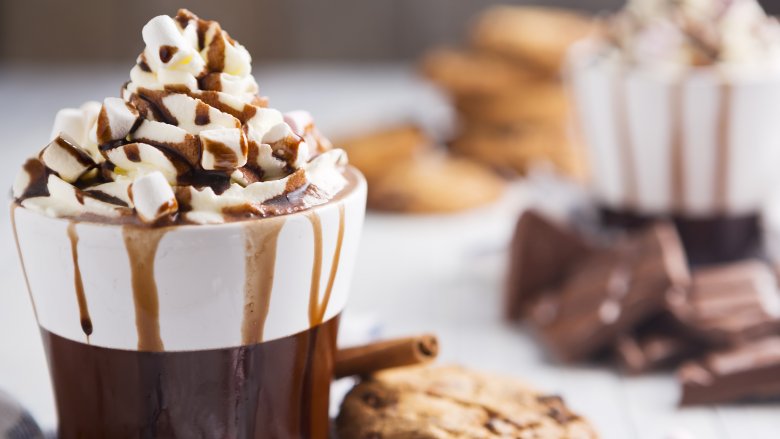 Shutterstock
If you want to be warmed from head to toe, try adding whiskey to your hot chocolate. Put cocoa, a dash of chili powder, your preferred type of milk, and chocolate chips into a saucepan. For an ultra-decadent version, try  premium chocolate chips like Ghirardelli, or break a chocolate bar into small chunks and use those instead. Whisk until smooth.
When you're done whisking, add your whiskey of choice. Sprinkle your favorite toppings, like caramel, chocolate shavings, or whipped cream on top, and enjoy.  
Nutella and bourbon hot cocoa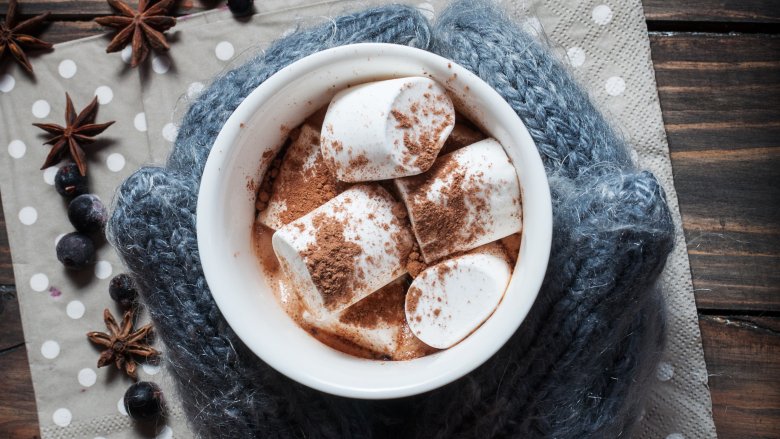 Shutterstock
Nutella is pretty much the best food product ever, so it makes sense that Nutella hot chocolate is insanely delicious. Bring a saucepan of milk to a simmer, and then add Nutella and a dash of cinnamon. Stir until smooth.
Pour your favorite bourbon into your mug, then ladle the Nutella hot chocolate over the bourbon, and add some delicious toasted marshmallows on top. Savor the creamy taste of hazelnut, chocolate and marshmallow. Yum!
Spiked pumpkin spice hot chocolate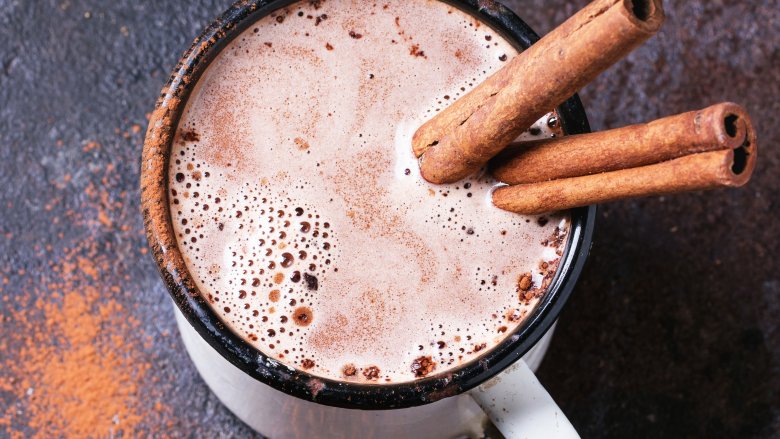 Shutterstock
One of the best things about the holiday season is pumpkin spice everything. If you love pumpkin spice lattes, you're going to swoon over this yummy hot chocolate recipe.
Combine milk, pumpkin pie spice, pumpkin puree, vanilla, and white chocolate in a saucepan, and cook over medium-low heat. Make sure you stir the whole time so the ingredients mix together and don't burn. When the mixture is smooth and the ingredients are melted together, add pumpkin pie liquor to complete your liquid pumpkin pie treat. Pour into your favorite mug and enjoy! 
Mexican-inspired hot chocolate cocktail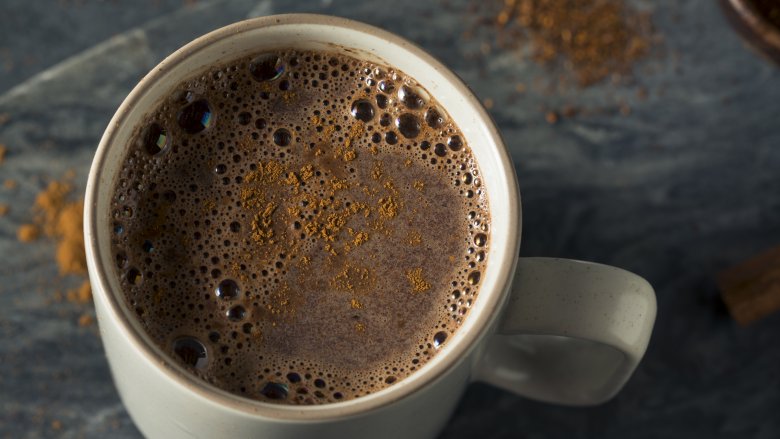 Shutterstock
If you love spicy drinks and tequila as much as I do, you'll fall head over heels for this Mexican-inspired version of boozy hot chocolate. Add tequila, mexican cocoa, milk, heavy cream, and agave nectar to a saucepan. Heat, stirring, until all of the ingredients are combined, then ladle into a mug and add fresh whipped cream on top. Que delicioso!
Hot chocolate with rum and ginger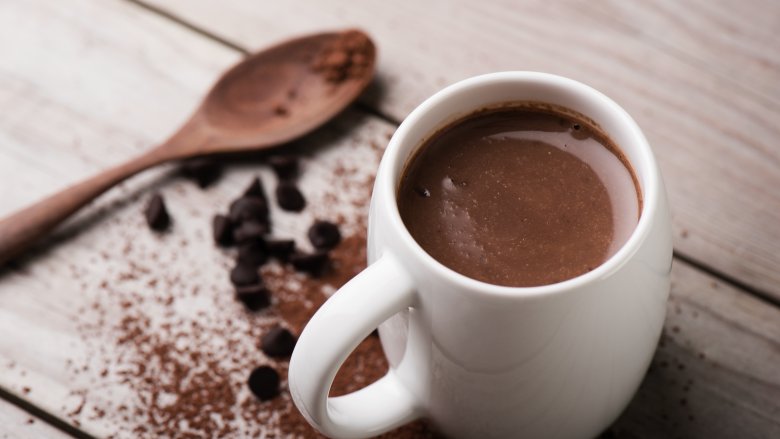 Shutterstock
Instead of a rum and coke, try out this amazing rum and hot chocolate recipe. Melt semi-sweet chocolate in a saucepan. Then add milk, vanilla, water, cocoa powder, sugar, and a pinch of ginger powder. Cook, stirring until the mixture begins to bubble. Pour it into a mug, add rum and your favorite toppings, sit back, and savor every sip.
Hot chocolate martini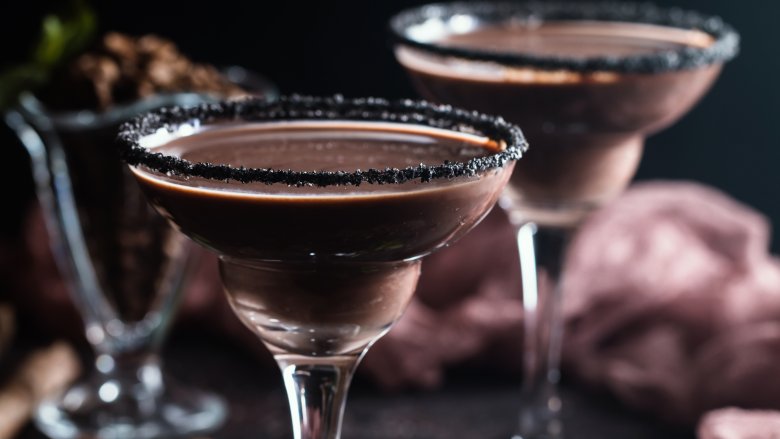 Shutterstock
If you're a martini fan, you'll be happy to learn that your favorite drink can be made into a decadent chocolaty treat. This one is chilled but has hot chocolate as a base.
First, make hot chocolate by combing cocoa powder and milk in a saucepan and stir to combine. Let that cool, then, in an ice-filled cocktail shaker, combine with Creme de Cacao, Irish cream, and vanilla vodka. Serve in a chilled martini glass.
Irish cream hot chocolate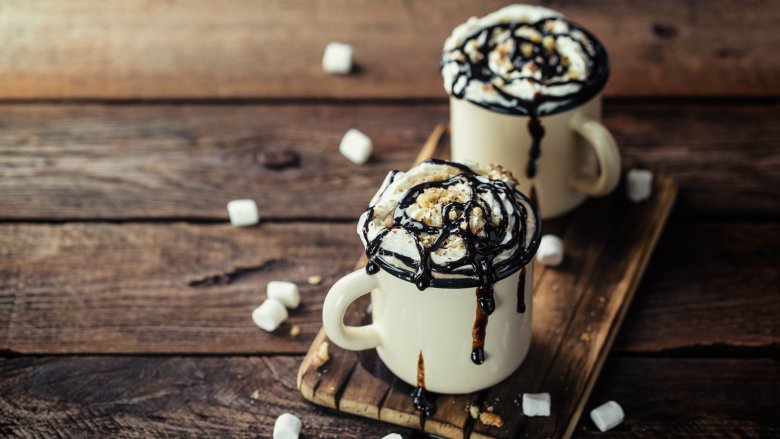 Shutterstock
Some of us love our Irish coffee, but if you're in the mood for a chocolate alternative, Irish cream hot chocolate will hit the spot. First make a stout-syrup by stirring a bottle of your favorite stout beer over medium-low heat until it becomes a thick syrup. Set that aside for later.
Next, make a mixture of cocoa powder, sugar, and salt. Add the mixture, along with milk and chopped dark chocolate, into a saucepan and cook, stirring until all of the ingredients are combined and smooth. Add Baileys Irish cream, the stout syrup, and Irish whiskey. Froth the mixture by stirring quickly or using a hand mixer. Pour into a mug and sip.
Hot mint cocoa toddy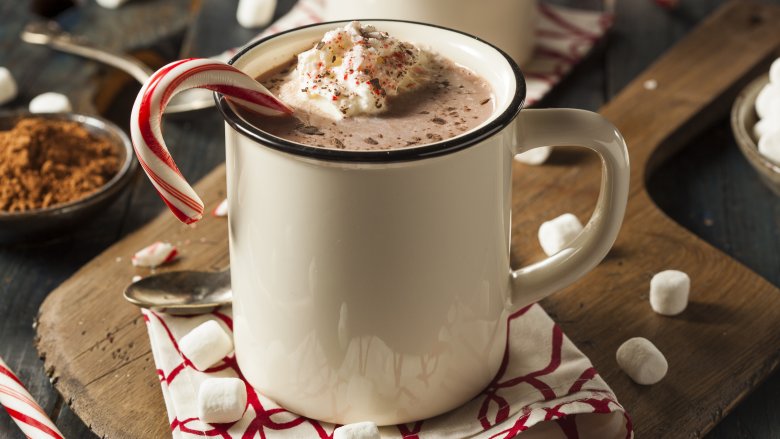 Shutterstock
As generations of Girl Scouts will attest, chocolate and mint are the perfect pair. They go together perfectly in this decadent hot mint cocoa toddy. Bring water to a simmer in a saucepan, then add cocoa powder and stir to combine. Add milk and bring back to a simmer. Drop in semi-sweet chocolate and sugar, and whisk until creamy.
Pour the mixture into a mug and then layer Kahlua and peppermint Schnapps on top. For even more seasonal flavor, add whipped cream and crushed candy canes.   
Butterscotch hot chocolate with rum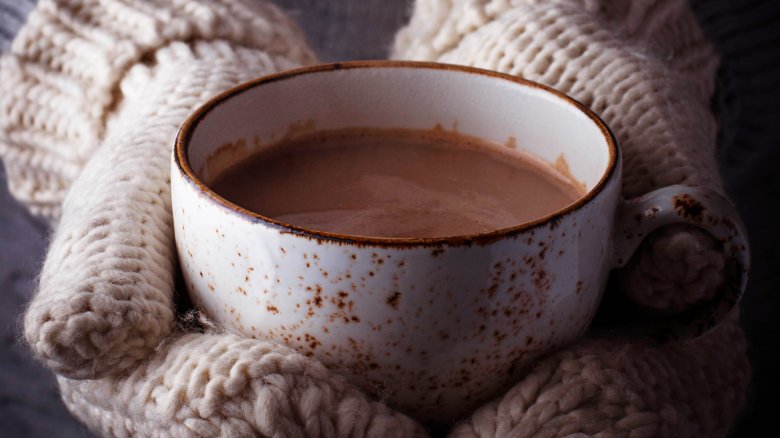 Shutterstock
What do you get when you combine butterscotch, hot chocolate, and rum? An unforgettably delicious combination! Make hot chocolate by melting your favorite dark chocolate bar in a saucepan, adding milk, cocoa powder, and sugar, and stirring until smooth. Then top it off with Butterscotch Schnapps and rum. Pour that into a mug, top with whipped cream and a cinnamon stick or candy cane, and drink with delight.  
Kahlua hot chocolate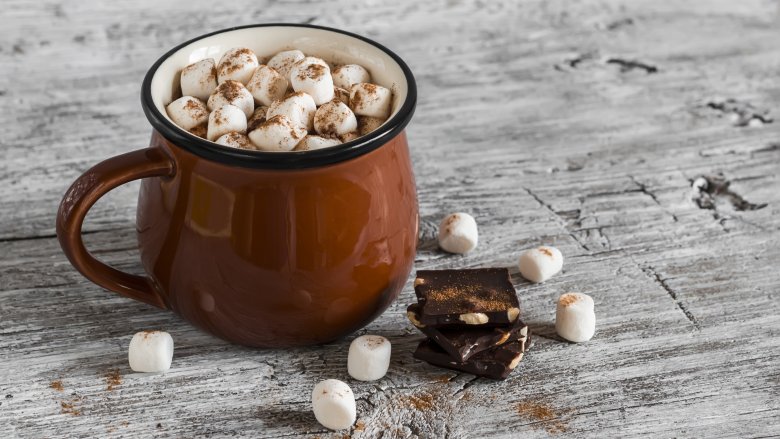 Shutterstock
This Kahlua hot chocolate takes the sweetness of traditional hot chocolate to a new level. In a saucepan, combine cinnamon, nutmeg, sugar, cocoa powder, and milk. Heat, stirring until ingredients melt together. Pour that into a mug and add Kahlua, then add extra decadence with salted caramel sauce and chocolate syrup.