TikTok Is Impressed With One McDonald's Customer's Unconventional Drive-Thru Ride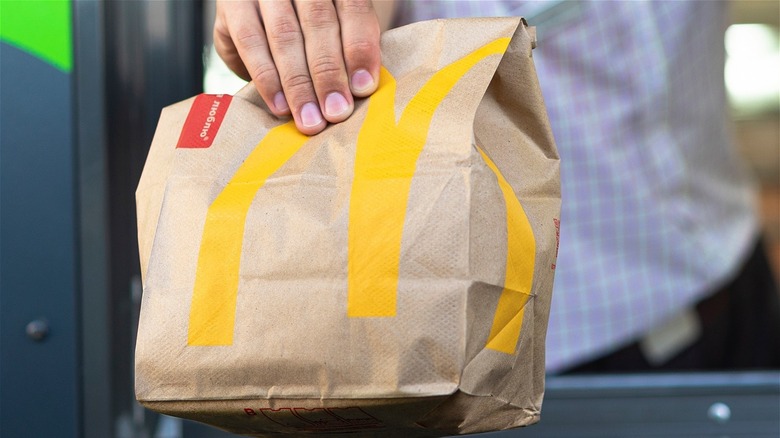 Gargantiopa/Shutterstock
Ah, the beloved drive-thru. Since its murky origins in the mid-1900s, both restaurants and customers have taken a liking to the car-based food service and have enhanced the drive-thru experience for quick food service around the world. In fact, drive-thru visits accounted for 42% of all restaurant visits during the pandemic in 2020, boosting sales significantly for fast food restaurants while limiting large gatherings and keeping customers safe (via QSR Magazine).
Throughout the years, the drive-thru experience has changed in a lot of ways, including workers being able to see you while ordering, menu designs encouraging impulse purchases, AI assistants taking orders, and the placement of touchscreen menus. As the drive-thru has evolved, we too must adapt — this includes knowingall the must-not-dos in a drive-thru.
But sometimes there's a gray line of what's acceptable and what's not. For example, what if you don't have a car but you find yourself wanting a quick bite to eat when the restaurant's dining room is closed? For some people, an unconventional drive-thru ride is all that's on the menu.
Galloping through the drive-thru
No car? No problem. One TikTok user's visit to a U.K. McDonald's has gone viral after posting a video of himself ordering while on a horse. Captioned, "After our hack we got hungry, so I went to get 100 chicken nuggets," the video shows the user dressed in true-fashioned equestrian attire as he orders 100 chicken nuggets and successfully makes it through a line of cars. He then receives a bag of freshly fried golden nuggets. "That new Porsche it's built like a horse," said another TikTok user, comparing the strong-built horse to that of the sleek sports car. "Only in Leytonstone," another commenter posted.
While others have been denied ordering food in a McDonald's drive-thru on horseback, it seems like you could be in luck if you catch McDonald's workers in a good mood. While it worked in this particular instance, if you're thinking of trying this, just be prepared for the possibility of being asked to mosey on inside to claim your food.