Classic Jam-Filled Hamantaschen Recipe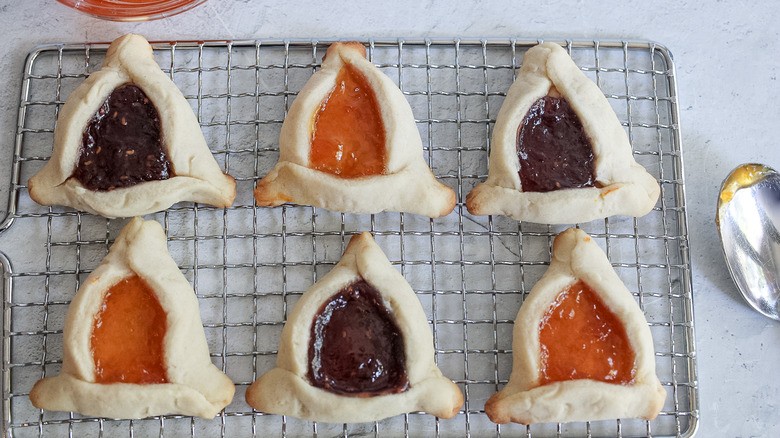 Jessica Morone/Mashed
Certain recipes are inextricably linked with one certain holiday or time of year. For example, pumpkin pie is associated with Thanksgiving, candy canes with Christmas, and trays of togetherness are a must-have for Lunar New Year. With hamantaschen, their holiday is Purim, a Jewish celebration that takes place in late winter/early spring. The reason why hamantaschen are so strongly linked with Purim is because they are meant to remind us of Haman, a biblical baddie who got his comeuppance at the hands of Queen Esther. The festival celebrates how she saved the Jews from being wiped out at Haman's instigation, so eating cookies shaped like his triangular hat is a way of dissing the man who's been dead for well over a millennium.
That being said, you don't have to wait for Purim to bake these treats. Recipe developer Jessica Morone says, "These cookies are so buttery and crisp, they are a really great treats for Purim or really anytime you are craving them." She does say that, while many recipes for these cookies are flavored with vanilla extract, "I replaced this with almond extract because it goes really well with the fruit jam."
Assemble the ingredients for these jam-filled hamantaschen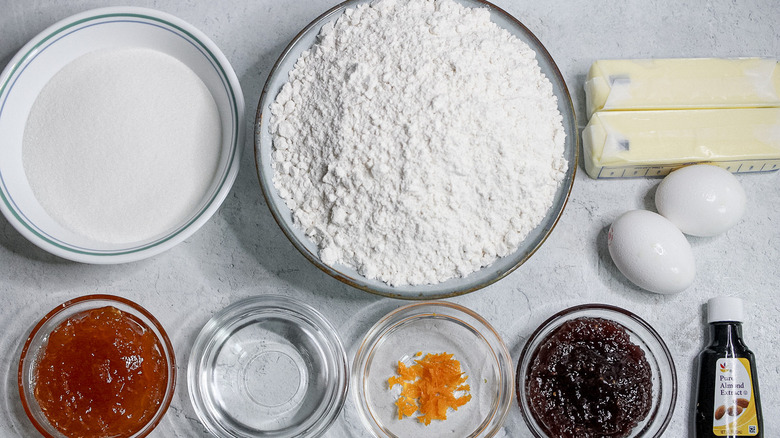 Jessica Morone/Mashed
For the cookie dough, you'll be using sugar, butter, eggs, almond extract, orange zest, and flour, while for the filling you'll be using any kind of jam (or jelly, or preserves) that you like. While Morone tells us that she "went with a very traditional version of this recipe and used apricot and raspberry jam for the filling," you need not stick to jams and jellies alone. Both prune and poppy seed fillings are traditional as well, although Morone notes that "you can fill [hamantaschen] with pretty much anything that is thick" and mentions Nutella or apple butter as possible alternatives to jam.
Make the cookie dough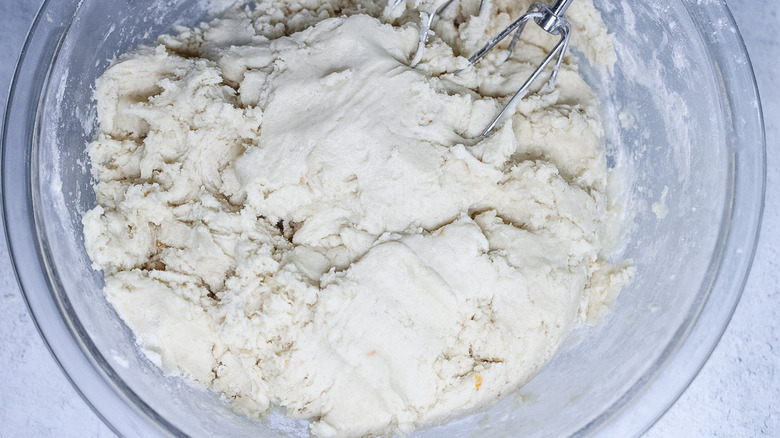 Jessica Morone/Mashed
Beat the sugar with the softened butter until it's nice and fluffy. Add in the eggs, water, almond extract, and orange zest and keep beating until everything is nicely combined. Add the flour a bit at a time, making sure it's all stirred in. Once all of the flour is added, your dough should be able to form a ball. Cover the dough with some plastic wrap and chill it in the refrigerator for at least an hour, though it's okay to leave it up to 8 hours or so.
Fill and shape the cookies
Jessica Morone/Mashed
Once you're ready to bake the cookies, preheat the oven to 350 F. Sprinkle a work surface with a light dusting of flour, then sprinkle your rolling pin with some flour, as well. Roll the dough out until it's ¼-inch thick, then use a 3-inch cookie or biscuit cutter or a drinking glass to cut out circles. When you run out of room, re-roll the dough scraps and cut more circles. Repeat the process until all of the dough is used up, even if the last few circles need to be formed by hand. Morone got 36 circles out of her dough, although there's no need to worry if your final count varies slightly.
Dollop a teaspoon of jam into the middle of each cookie circle, then pinch in the sides to form an open triangle. You should still be able to see the jam in the middle of each cookie.
Bake the cookies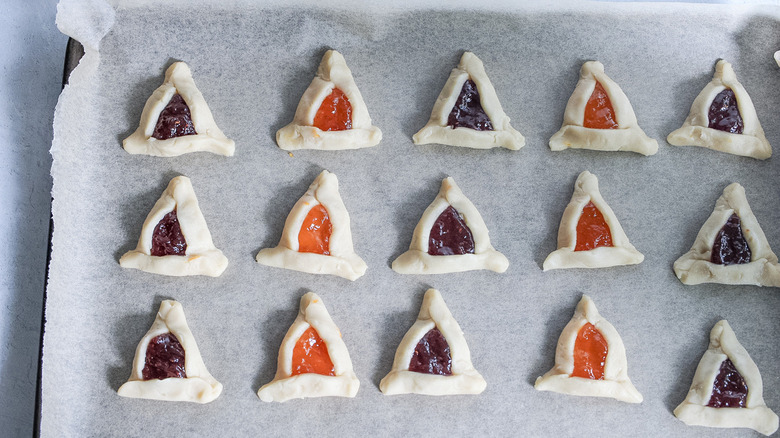 Jessica Morone/Mashed
Grease or line two or more baking sheets with parchment paper or silpats, then put the cookies on the sheets spaced out as evenly as you can. Bake them for 12 to 15 minutes, at which point they should be just barely brown. Let them cool on a wire rack, then store them in an airtight container.
Morone says they should remain relatively fresh for up to five days, although you can also freeze them if you don't think you'll polish them off so soon. She does note, however, that this recipe is a large one, so she suggests, "What you could also do is bake some of [the cookies] and freeze the rest of the dough until you want to make more."
Classic Jam-Filled Hamantaschen Recipe
This classic jam-filled hamantaschen are perfect for celebrating Purim, but you can enjoy them any time of year.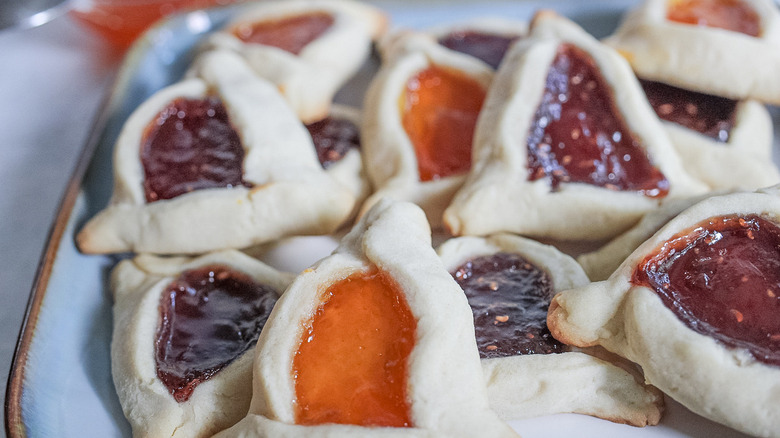 Ingredients
1 cup sugar
1 cup butter, room temperature
2 large eggs
4 tablespoons water
½ teaspoon almond extract
1 teaspoon grated orange zest
4 cups all-purpose flour
¾ cup jam
Directions
Beat the sugar and butter until fluffy.
Add the eggs, water, almond extract, and orange zest to the butter, beating until well mixed.
Slowly add the flour until it is all incorporated and the dough forms a ball.
Cover the dough with plastic wrap and refrigerate it for at least 1 hour (can leave overnight).
Preheat the oven to 350 F.
Roll the dough out to ¼-inch thickness on a lightly floured surface.
Use a 3-inch cutter or a glass to cut out as many circles as you can in the dough, then re-form the dough to make more circles until all the dough is used up.
Place a teaspoon of jam into the center of each circle and pinch the sides together to form triangles (the filling should still be visible).
Evenly space the cookies on greased or silpat/parchment-lined baking sheets.
Bake the cookies for 12 to 15 minutes, until they have just started to turn brown.
Cool the cookies on a wire rack.
Store the cookies at room temperature in a tightly-covered container.
Nutrition
| | |
| --- | --- |
| Calories per Serving | 315 |
| Total Fat | 12.4 g |
| Saturated Fat | 7.5 g |
| Trans Fat | 0.5 g |
| Cholesterol | 53.8 mg |
| | |
| --- | --- |
| Total Carbohydrates | 46.8 g |
| Dietary Fiber | 1.0 g |
| Total Sugars | 19.9 g |
| Sodium | 16.1 mg |
| Protein | 4.2 g |