What Happened To Snarky Tea After Shark Tank?
Tea is not only a beverage brewing heaps of tradition and culture, but it also touts several health benefits. Per Penn Medicine, these include — but are not limited to — protecting the body against diseases and strengthening the immune system. Tea's ease on the body is exactly what Snarky Tea capitalized on when it appeared on "Shark Tank" in 2017.
Snarky Tea is a woman-owned tea company founded by Jenni-Lyn Williams in 2016. As a mom, full-time worker, and then-graduate student, Williams was on the constant go and had formerly used loads of coffee to fuel her busy lifestyle. However, a doctor helped her realize that too much caffeine was a primary source of the unpleasant physical effects she felt. The Philadelphian, who didn't want to cut out caffeine completely, saw this as an opportunity to found her own tea business that created good-for-you teas fitting both her health needs and "loud, outspoken" personality — and those of other women.
Williams won two of the Sharks over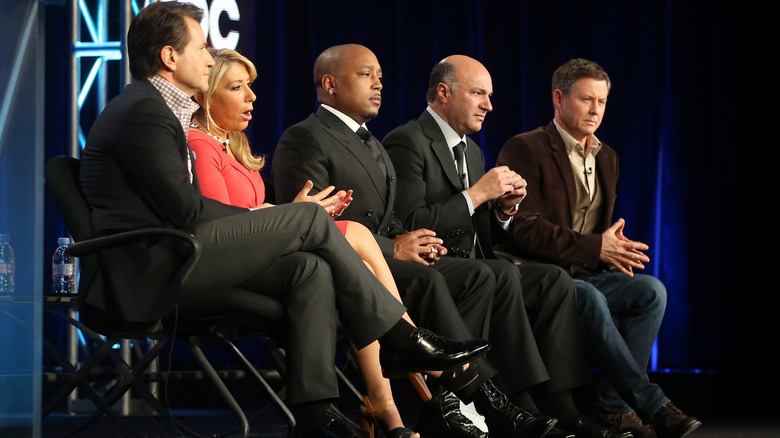 Frederick M. Brown/Getty Images
After working on her startup business for a year, Williams brought her idea to "Shark Tank" in 2017 (via Snarky Tea). She had already sold roughly $270,000 worth of product before appearing on the show, where she asked for $150,000, according to Philadelphia Magazine.
When she appeared on the show, Williams showed off her cheekily named products — such as the "Get Your A** in Bed" sleeping blend and "Fierce B***h Slay the Day" blend, prompting Mark Cuban to suggest that she wasn't really selling tea, but "attitude." Williams told the Sharks that she wanted to change the reputation of tea from a "dainty beverage" to a functional drink for busy women. The entrepreneur was also pregnant at the time, further reflecting how her brand was made to support the lives of her target audience.
Though some judges were concerned about the "niche" audience of the brand or if its popularity could continue to last, the graduate of the Villanova University School of Business ended up walking away with a deal, giving up 50% equity to Mr. Wonderful and Bethenny Frankel.
Snarky Tea added a new product range and is going strong
While Mr. Wonderful was amused by Snarky Tea's profane packaging, fellow investor Bethenny Frankel thought Williams should "tone down" the edgy messaging of her teas (via YouTube). Four years later, the brand is a compromise of both ideas. The website carries a range of Profani-teas, which include some of the drinks she pitched on "Shark Tank" in the vein of "Cheer the F*** Up" peppermint tea, but it also includes a more subdued range of teas spanning every need from gut health to skin support. 
Snarky Tea continues to launch new items, with its most recent release being fall teas like "Autumn Cider" and "Basic B***h" pumpkin spice tea (via Facebook). The brand even introduced a subscription service this past March, with a monthly, quarterly, and yearly option for those who want to be exposed to a new flavor on a rotating basis. Those aren't all the new ventures: Per Shark Tank Blog, Williams acquired another as-seen-on-"Shark Tank" business, the BRUW coffee filter, and turned it into a Snarky Tea maker. As of August, the brand is reporting $1 million in revenue and appears to have a loyal fan base, too, with nearly 50,000 followers on Instagram and five-star reviews on all its products.