What Happened To Inirv After Shark Tank?
Naturally, when Akshita Iyer heard her mother had caused a house fire after accidentally leaving the stove on, she was not only concerned but determined to prevent it from happening again, per LinkedIn. It was then she turned to her husband and fellow co-founder of Inirv, Ranjith Babu. They apparently invented a device that would turn off the stove automatically after a set amount of time or via smartphone.
The Inirv device reportedly works by using a smoke, gas, and motion detector, all of which work together to allow the stove to turn itself off. Iyer and Babu said they "aim to ... create an ecosystem that allows for easier and safer cooking" (via Shark Tank Blog). Iyer and Babu pitched their product to the Sharks asking for $800,000 for 8% equity in their company in January 2018. While at the time Inirv was still a prototype, the pair had raised $430,000 on Kickstarter to fund the endeavor.
After Shark Tank, things went south for Inirv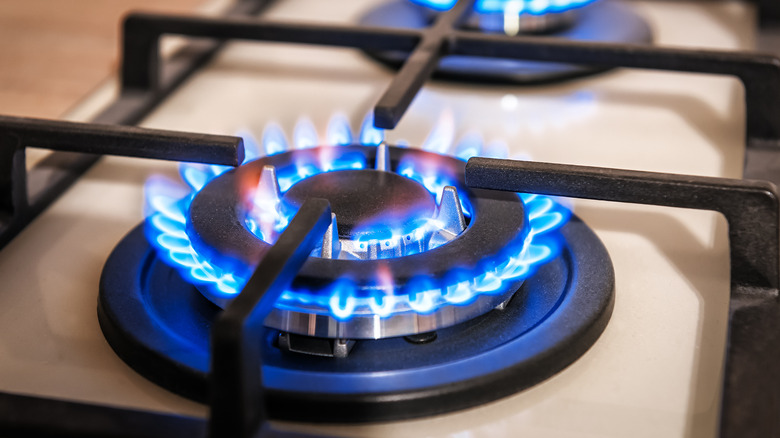 Vova Shevchuk/Shutterstock
Akshita Iyer and Ranjith Babu of Inirv left "Shark Tank" without a deal. Shark Tank Blog reports that as little as six months after the episode aired, Iyer and Babu ran into legal trouble when their manufacturer, Enventys, sued, claiming it had not been paid. The Inirv co-founders countersued claiming they had received an unfinished prototype and were therefore unsuccessful in securing funding on "Shark Tank" (via Triangle Business Journal). A settlement was eventually reached.
Apparently, the legal action was just the beginning of the trouble Iyer and Babu would face. Trouble making the knobs came with trouble shipping them to those who helped with their crowdfund for their product. "Also no updates. I would like my money back. This has been a years long process and you have taken a lot of money without producing a product. Please give me my money back," wrote one upset backer on the Kickstarter comments page while another wondered, "Does anyone know how we can report this project? They have taken a lot of people's money and not sent them a product or offered a refund. I signed up for this in 2016. 6 years later I still have nothing."
Inirv is now Ome
Inirv has now rebranded and renamed its company Ome (via Shark Tank Blog), and it seems that products might be available for order. The company's FAQs page states in part: "Any new orders will ship in the fall! If shipping timelines change, we will notify you ASAP!" Meanwhile, it claimed that any preorders received before May 20121 were slated to be shipped in the summer. We can't speak to actual availability. However, as recently as September 2022, Kickstarter backers were still complaining they had received neither a product nor a refund.
Currently, one knob will cost $179 while a four-pack will set shoppers back $649 (via Ome's website). Unfortunately, Ome's product only works with stoves with knobs, not ones with buttons. In addition to selling the smart stove knobs, Ome also runs a blog featuring various recipes, including ones for fondue, curry fettuccine, and peach preserves. On Instagram, the company has over 2,000 followers and a variety of posts including ones that show how to control the smart knobs with a smartphone.