The Bewitching New Food Collab That's All About Hocus Pocus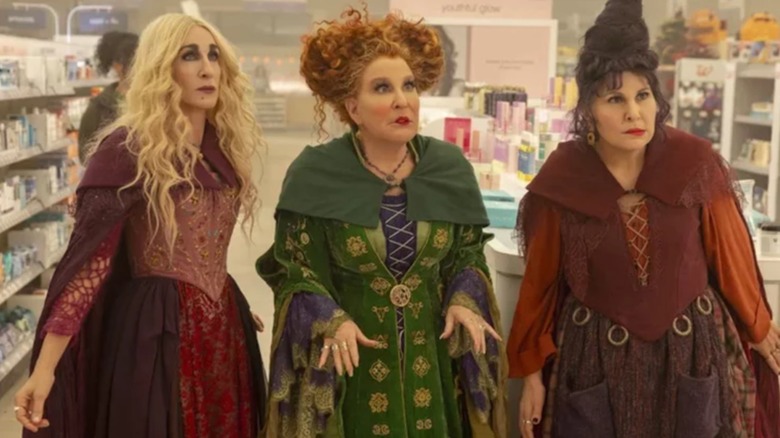 Matt Kennedy/ Disney Enterprises, Inc.
Halloween may seem like it centers around spooky stories, costumes, and haunted houses, but, according to PBS, the October holiday is actually about food. No, families typically don't gather around a table for a meal, but the food traditions of Halloween have a rich history. In fact, they stem from Celtic celebrations that marked the end of the summer harvest season. Those traditions have transformed over time, but activities like bobbing for apples, carving Jack O'Lanterns, and even trick or treating have ancient roots.
Per Speaking Human, food companies today develop Halloween marketing campaigns that generate seasonal hype around their products. Halloween candy in particular gets a creepy reboot. Reese's, for example, gets a holiday makeover when the fall season hits, The Retro Network reported. From the packaging to television ads, to the shape of the candy itself, Reese's embraces the spooky season.
This year, an unexpected but familiar brand has teamed up with a classic Halloween film franchise for a whimsical collaboration.
BabyBel honors the Sanderson Sisters
This year, your favorite wax-covered cheese snack has fully embodied the Halloween season. According to Guilty Eats, Babybel Cheese will collaborate with "Hocus Pocus" to promote the new film and bring spooky vibes to the lunch pail staple. "Hocus Pocus" has evolved into a popular choice for lighthearted Halloween movie nights, per Screen Rant, although the original "Hocus Pocus" was filmed 29 years ago.
The collab aligned with the premiere of "Hocus Pocus 2," which premiered on September 30, with Babybel's release of limited edition packaging. The moon-shaped cheese rounds that Babybel is known for have created a moon-shaped backdrop for different characters from the movie. Each wrapper features one of the film's Sanderson sisters.
These limited edition Babybels are perfect for Halloween-themed charcuterie boards, ABC News reported. Hocus-Pocus-inspired Sanderson Sister cheese by Babybel is available at Target while supplies last. You can buy them in a 14-count or a 20-count package at $7.79 and $11.69 respectively.