Reddit Wants These Aldi Breadsticks To Be Available Forever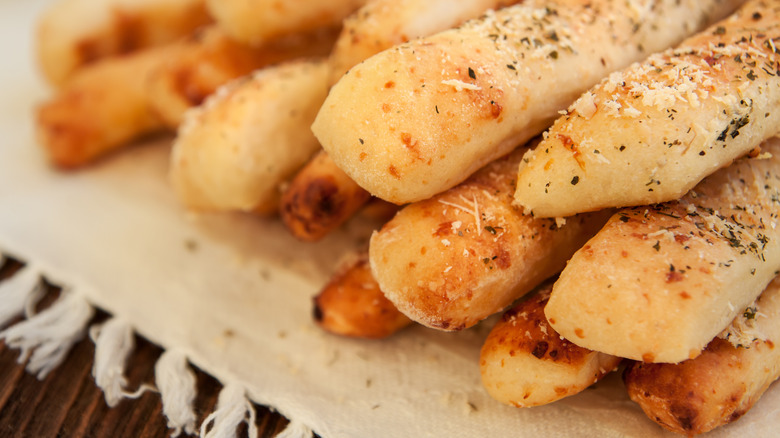 Iryna Pospikh/Shutterstock
If you're in the mood for lazy "cooking" (read: heating up frozen food) at home, there's an overwhelming number of meals and snacks to choose from. With stores' freezer sections constantly stocking the latest frozen dinners and appetizers, it's actually hard to keep up with the latest and greatest offerings. Plus, nearly 40% of American homes had an air fryer by 2020, which means crisping up frozen chicken wings, mozzarella sticks, and even vegetables at home has never been easier.
Who hasn't come home from a long day of work and craved some greasy comfort food? If you're like us, the ideal heat-and-eat dinner is an Italian American spread of cheesy frozen pizza and a side of frozen garlic bread or breadsticks — but which brand do you buy? While garlic breads from Whole Foods, Walmart, and Wegman's all have positive reviews from customers, Aldi fans suggest that even if you think you have your choice of frozen breadsticks solidified, you may want to think again.
Mama Cozzi's cheese-stuffed breadsticks forever, please
While Mama Cozzi's cheese-stuffed breadsticks aren't new kids on the block at Aldi, they sure are making a comeback statement on Reddit as of late — so much so that one customer is hoping they'll be around until the end of days. "These need to be available forever," posted u/Nerdybirdie86, explaining that they're "more seasoned" than other breadstick options and are "covered in garlic butter that melts and browns as they bake." They're not the only Aldi shoppers who know about the cheesy item. "I just ate these last night and have another box in my freezer right now lol," said one Reddit user, while another said, "Made mine in a toaster oven and they were freaking delicious."
Unfortunately for the breadstick-curious, this Mama Cozzi's item isn't always available at Aldi. While the chain is beloved for its low prices, it's also notorious for offering seasonal or limited-time-only products, like its recent edible cookie dough cups. So, these cheese-stuffed breadsticks are an Aldi Find and may not be permanent, per Aldi Reviewer, but the grocer does have another gooey Mama Cozzi's breadstick offering that you can pop right into the oven or air fryer: take-and-bake cheesy breadsticks.