The Aldi Pumpkin Bread Shoppers Are Running To Buy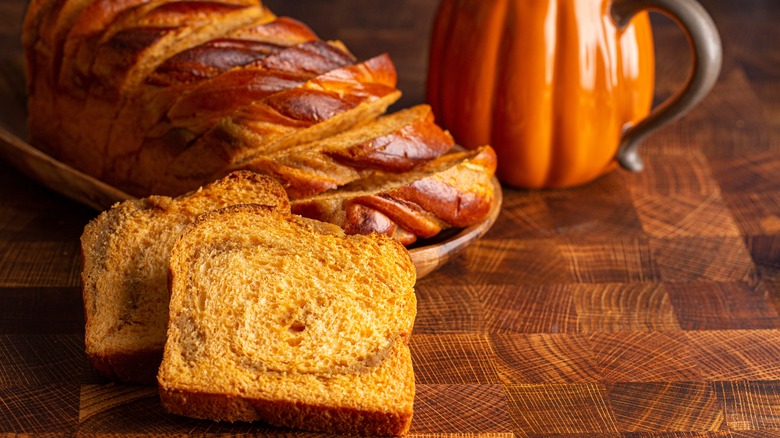 P Maxwell Photography/Shutterstock
Few things herald the arrival of fall more than the return of pumpkin-themed items on menus and grocery store shelves around the country. From the return of Starbucks' seasonal staple pumpkin spice latte to the arrival of the famous Costco Pumpkin Pie, the gourd seems to take over the culinary world just as soon as the weather starts to cool off. And it turns out, there is a good reason for pumpkin's continued domination of the fall season.
The history of our autumnal obsession with pumpkins dates all the way back to pre-colonial times. The crop, which is harvested in early fall, was cultivated by Native Americans, who used the vegetable's edible flesh and seeds for food, as well as its hollowed-out shell for containers, per The Takeout. As time went on, pumpkins became a nostalgic symbol of rural American life that became increasingly popular as more and more people moved to urban areas during the Industrial Revolution, per Smithsonian Magazine. In 1796, the first pumpkin pie recipe appeared, and the popular dessert soon became associated with Thanksgiving and later, the fall season in general.
Of course, these days pumpkin is not just limited to pie. Keeping with this tradition, the grocery chain Aldi has been releasing its own popular pumpkin products. Not to be outdone by Starbucks, the chain has released its own popular pumpkin spice product: a tasty pumpkin spice brioche bread that has been turning heads online.
Aldi fans raved about this pumpkin spice brioche bread online
The popular Instagram account @aldiforpresident called this product "to die for," telling their followers "do not skip this one!" And based on the buzz this item has been generating online, it doesn't seem like their fellow Aldi fans have any plans to miss out on this sweet treat. One satisfied shopper described the bread as "if you were to take pumpkin pie and put it in soft bread form," with a "classic fluffy texture I expect with brioche," via the Aldi Reviewer, while Instagram user @aldi.mademedoit called the seasonal release part of "Pumpkin bread heaven."
Other fans took to social media to share their favorite ways to enjoy this tasty pumpkin spice brioche bread. "That pumpkin spice brioche would make amazing French toast," recommended @bethy1981. "I make either French toast or I'll make bread pudding. Or regular toast some add cinnamon butter," u/GreenGoose1 suggested on Reddit. So based on these positive reviews, it certainly seems that fans of all things pumpkin might want to add this fan-favorite pumpkin spice brioche bread to their shopping list this fall.