What Happened To St. James Soup Kitchen After Restaurant: Impossible?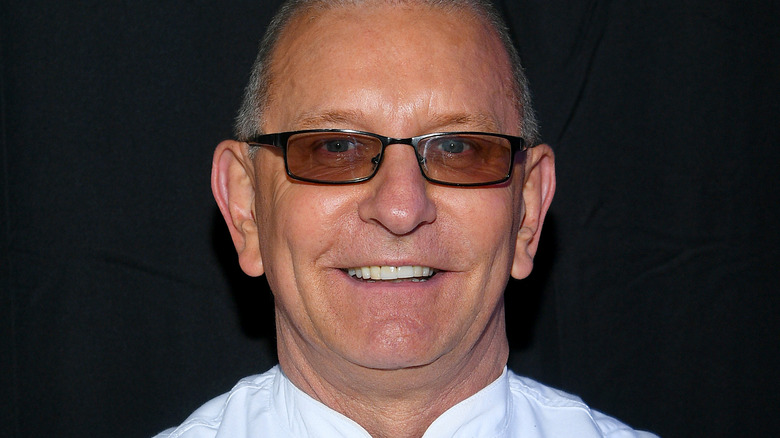 Dave Kotinsky/Getty Images
Remember when celebrity chef Robert Irvine and the "Restaurant: Impossible" crew touched down in Newark, New Jersey, to give a much-need lift and upgrade to the struggling and outdated St. James Soup Kitchen? It was season 2, episode 16 of the long-running show, and Food Network described the soup kitchen project as Irvine's "biggest challenge to date." The building had experienced a fire and related water damage, and the kitchen was in desperate need of new stoves, refrigeration, fryers, and other equipment.
Irvine and his team had two days and a budget of $10,000 to turn the kitchen around so volunteers, led by 80-year-old retiree Georgianna Loney-Wilson, could continue their mission of feeding the hungry. At the time the show aired in 2011, the kitchen served meals to about 150 people a day (per Reality TV Revisited). "I never walked into a more dire situation," Irvine said in the opening segment of the show. "I never tackled a more deserving location" (per Saint James Social Service).
Food security and hunger prevention are just one facet of the community services offered by the non-profit St. James Social Service Corporation. In addition to the soup kitchen and an emergency food pantry, the organization works to prevent homelessness in the community and supports people living with HIV/AIDS. In some circles, it's known as "the small agency that does big things" — and the soup kitchen is still nourishing those in need (per Saint James Social Service).
Beloved leader of the St. James Soup Kitchen passed away in 2018
The St. James Social Service Corporation soup kitchen has undergone a name change since its attention-getting hour on "Restaurant: Impossible." It is now referred to as the Soulfood Cafe soup kitchen and the Christian Cafe Soup Kitchen on its official website. A corps of volunteers serves lunch Monday to Friday (and some Saturdays) and supper several nights a week.
Georgianna Loney-Wilson, who Robert Irvine dubbed "a miracle worker" (per Reality TV Revisited), died on March 3, 2018 (per Facebook). Due to health issues, she had stepped down from the Christian Cafe soup kitchen and was known as chef emeritus. "We are grateful for her love and dedication to feeding the hungry," the Saint James Social Service Corporation noted on Facebook. "She not only fed them physically but spiritually. Miss Georgie led many souls to Christ from the soup kitchen. She will surely be missed but we know her spirit will continue to live on, especially at SJSSC."