Aldi's Fan-Favorite Halloween Cheese Assortment Is Officially Back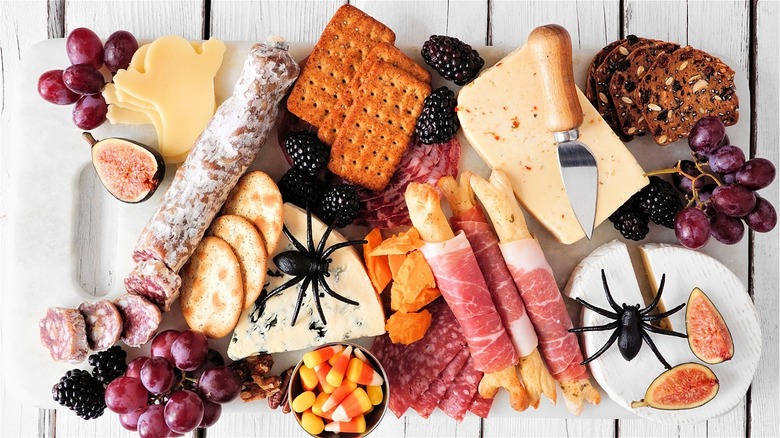 JeniFoto/Shutterstock
There are likely many things you associate with Halloween — the costumes, the decorations, the candy, cooler weather, and all things pumpkin spice — but how about cheese? If you're thinking that cheese is not remotely Halloween-related, think again: Like your favorite spooky-season ghost, one particular cheese assortment has been disappearing and reappearing at Aldi for several years now around the October holiday.
Aldi recently brought back one of its most popular Halloween cheeses: Emporium Selection's Transylvanian Hard Cheese, unique due to its aging process in Romanian salt caves. Per Reddit, it comes in two flavors, original and red wine-soaked, for $4.29 each — but these aren't the only seasonal dairy products to be aware of this month. As a post by Instagram user @Aldifavoritefinds revealed, another three spooky season snacks have recently been added to the grocer's shelves. If you thought cheeses weren't creepy-festive enough for your Halloween party, perhaps these items will change your mind. 
Aldi shoppers ain't afraid of no cheese
All five offerings in Emporium Selection's Halloween cheese range are now available at Aldi, as confirmed by @aldifavoritefinds. They cost $4.29 each, according to the Aldi website, and include the two Transylvanian cheeses plus Bat Knit Crazy Cheddar, Freaky Franken Sage Derby, and Scary Pumpkin Spice Wensleydale Cheese. Though the wrapping features Halloween-appropriate names and artwork, shoppers seem to be more excited about the cheeses inside. "The packaging is fun, but it's also genuinely really good cheese!" one Reddit user said. Another added, "My favorite cheese from Aldi. Wish they had those suckers year round."
While social media users seemed most excited about the cave-aged cheeses, which one user said has their "office addicted," others had high praise for different selections. "Sage derby is AMAZING," one Instagram commenter said. According to Aisle of Shame, this cheese "is made by combining dried sage with the cheese curd, so that the cheese has green veining and an herby flavor." 
Last year, the same blog also reported on a Wensleydale strawberry prosecco cheese in the shape of a sugar skull. However, it no longer appears to be part of Aldi's Halloween selection in 2022. Perhaps that's a good thing, as Redditors were much more impressed by the cute shape than the flavor.