Here's What Happened To Boobie Bar After Shark Tank
We may receive a commission on purchases made from links.
The Boobie Bar concept from Season 9, Episode 17 of "Shark Tank" may not have had as much universal appeal as the Scrub Daddy from Season 4 or Bantam Bagels from Season 6. Nevertheless, Wendy Colson's galactagogue venture is a memorable example of a pitch gone right.
According to The New York Times, studies show that between 10% and 15% of nursing mothers struggle to produce enough milk, though many medical experts suspect that the issue may be more common. For Colson, a nurse and lactation consultant, statistics like these indicated a niche market potential, per Bizz Bucket.
Colson confidently invested $50,000 into her idea for a lactation-supporting nutrition bar, and the resulting market adoption was proof that many others also believed in her mission. But to get her business to the next level, Colson needed sturdier financial backing. That's why she turned to "Shark Tank" in 2018.
Boobie Bar got a deal with Daymond John
Wendy Colson's original "Shark Tank" ask was $150,000 for a 10% stake in her herbal, all-natural Boobie Bar venture that would supposedly help lactating mothers produce milk. With $770,000 in revenue over two years, 3.8 million new customers annually, and at least half of her customers coming back for more bars, per Shark Tank Success, she seemed unlikely to walk away without a deal.
Billionaire Mark Cuban sat this product out, in part due to the iffy moral implications of marketing the product to "desperate mothers." Lori Greiner and Sarah Blakely based their unwillingness to invest on the fact that the product's only testing was done by Colson on her clients. The only two Sharks interested were Daymond John and Kevin O'Leary, but they each wanted a 10% bigger slice of the healthy food venture than Colson originally offered, according to Shark Tank Blog.
John, a father of an infant at the time, offered to have the product licensed and make Colson the face of the company. It came last but was the best deal available, so Colson took it.
Boobie Bar is still at it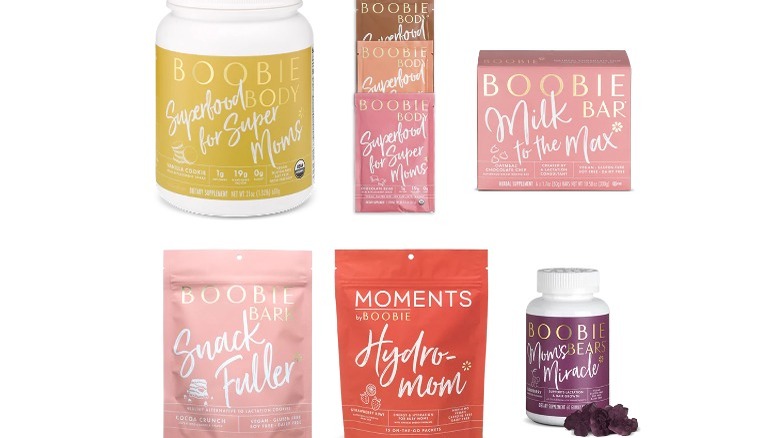 Boobie Bar
Boobie Bar more than just exists today: According to the brand's website, it was not only the first company to market the galactagogue bar, but it is also the number-one seller of such a product.
Despite some of the Sharks' misgivings, as well as public criticism that Boobie Bar is a "science-free gimmick" that guilts parents into spending money, there seems to be overall positive consumer feedback on the product. "Because of YOU, I nursed my second child until she was 16 months! Thank you for giving us that time," says one grateful review on the website. While it is rare that one breastfeeding solution works for everybody, even the least positive feedback about Boobie Bar on Amazon cited the galactagogue's effectiveness, albeit with digestive side effects: "They work," professed the review. "But there are problems."
Since its appearance on "Shark Tank," the brand has also added the Boobie Bark crunchy chocolate snack, the Hydromom electrolyte drink, the Boobie Body plant-based protein, and the galactagogue Boobie Bears to its collection. According to Forbes (via Talk), the Boobie Bar business valuation was worth about $1 million before its "Shark Tank" chapter. Thanks to ensuing growth, Colson's venture is worth $2.6 million four years later.