Jimmy John's Just Released A New Beef Sandwich That Packs An Unexpected Crunch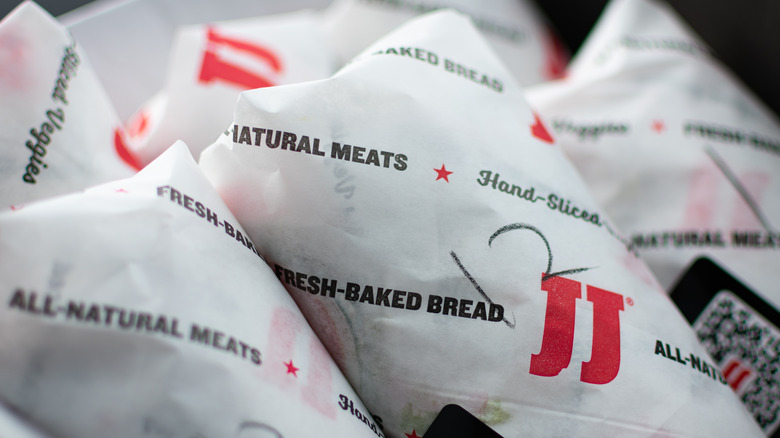 Subitus/Shutterstock
There are fast food chains, and then there are fast-growing fast food chains. Jimmy John's recently landed at spot 16 on a list of the latter in QSR Magazine. According to the publication, the sandwich chain added an impressive 48 locations between 2020 and 2021. Jimmy John's doesn't seem to show any signs of slowing, especially in San Diego where Sandiegoville reports plans are in the works to bring 20-plus locations of Jimmy John's to the area.
While residents of America's Finest City will likely have to wait until 2023 to dine at a local location (via Sandiegoville), customers at any of the existing restaurants have access to various popular items on Jimmy John's menu, including the Cuban sandwich-inspired Jimmy Cubano and the Gargantuan, a five-meats-and-a-cheese heavy hitter (via Jimmy John's website). Now Jimmy John's customers will have one more sandwich option and with this one, the chain is reminding some people of another fast food restaurant altogether.
Did Jimmy John's take a cue from burger joints?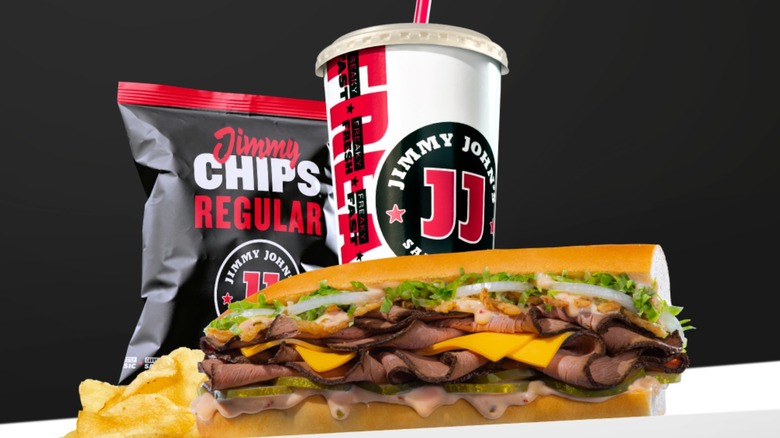 Jimmy John's
Perhaps trying to meet the need of hungry folks who are fiending for burgers but wind up at a sandwich shop, the patriotically named All-American Beefy Crunch is now on the menu at Jimmy John's for a limited time. According to the chain's website, the new sandwich is made with beef, American cheese, Thousand Island sauce, "crispy onion strings," pickles, lettuce, and raw onions. Over on YouTube, user Papi Eats had a chance to try the new sandwich, remarking, "This is really good. It tastes like a Big Mac, but a sub." He also noted, "I like the crunch from the crispy onion straws."
When Brand Eating posted an article about the All-American Beefy Crunch, one commenter revealed their own experience with the sandwich, writing, "Had this for lunch today and as far as a mashup between a roast beef sandwich and a Big Mac goes it was pretty good." The follower also added a word of caution, "although the amount of thousand island on there made it a very messy sandwich." The All-American Beefy Crunch is slated to stay on Jimmy John's menu until the end of December, according to the chain's press release. From the sound of things, with all the sauce, customers may need to ask for extra napkins.