Reddit Is Blowing Up Over Aldi's Chilling Halloween Pumpkin Pie Dessert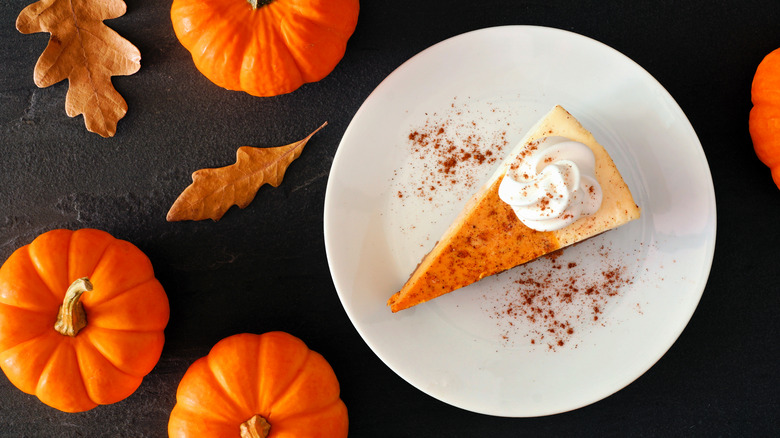 JeniFoto/Shutterstock
Once fall begins and the weather starts to cool off, most of us probably start to reach for our favorite warm treats to ring in the season. After all, what could be a better autumn pick-me-up than a mug of warm cider, a hot pumpkin spice latte, or even a baked apple pie fresh from the oven? But while hot beverages and warm desserts might take over menus this time of year, Aldi's new pumpkin pie dessert shows that just because the weather is getting cold, that doesn't mean you have to put away all your frozen treats. While frozen popsicles are traditionally thought of as a summer food, Jonny Pop's pumpkin pie with fresh cream popsicle proves that this classic fall dessert doesn't have to be warm to be delicious.
These yummy treats are made with simple, authentic ingredients, like real pumpkin, fresh heavy cream, cane sugar, and spices, and contain no artificial additives, according to Jonny Pop. These popular pumpkin-flavored pops are returning to Aldi's shelves as part of their seasonal Aldi Finds, and fans couldn't contain their excitement over the item's arrival. One delighted fan even praised the return of this limited edition dessert in a Reddit post, posting a photo of the pops captioned, "These are great!"
Aldi fans raved about this pumpkin pie popsicle
Fellow Aldi fans were quick to agree that this pumpkin pie popsicle was definitely worth the purchase. On the Reddit post, one person said "These are really good," while another user agreed "Definitely a fan of all the Jonny Pop flavors I have tried." A third shopper joked, "I'm on the case. The freezer case, to find these tomorrow when Aldi opens." It seems the only downside of these pops is that they are not available all year long. However, although Aldi Finds are seasonal items that are only sold for a limited time (per Aldi), Jonny Pop fans can still satisfy their craving even after the holiday has passed. 
The popsicle brand also carries a number of other tasty flavors, including peppermint frozen hot chocolate, chocolate fudge with fresh cream, and chocolate fudge & oat milk, and they can even be found at other stores, including Walmart, Target, and Amazon (via Jonny Pop). In fact, many Reddit users had just as many good things to say about the other Jonny Pop flavors on the post. "I got the hot cocoa ones and they're stupid delicious," raved one user. Another shared, "I love the Chocolate Fudge Oat Milk ones!" So although the pumpkin pie with fresh cream popsicles might only be available for a limited time, Johnny Pop fans can still enjoy their favorite frozen treats even after the holiday ends.