The Cooking Championship You Forgot Robbie Coltrane Dominated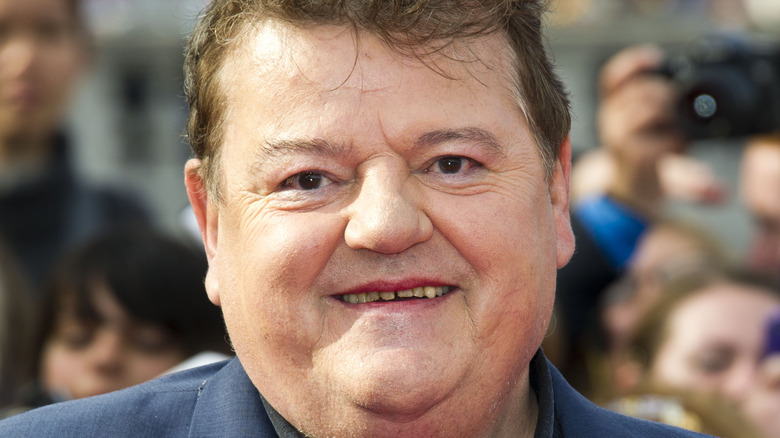 Featureflash Photo Agency/Shutterstock
Members of the "Harry Potter" film world shared happy memories and feelings of sadness after the passing of Robbie Coltrane (via CNN). Coltrane was beloved and known by many for his role as Hagrid in the popular film franchise. His character was a dear friend to protagonists Harry, Ron, and Hermione, often having tea with them and even giving the young wizards important information (via The Atlantic). Food and drink were a theme for the character — heck, he gifted Harry with a homemade birthday cake. And he was known to be a bit of a drinker.
Coltrane appeared to have some similarities to Hagrid and was remembered by castmate Tom Felton (Draco Malfoy) as being "a friendly giant on screen but even more so In real life." What many people may not remember about Coltrane is that he participated in a food competition. And no, this is not about his association with "Great British Bake-off" co-presenter Noel Fielding, which involved a Kate Bush music video. Coltrane actually took part in a contest involving Dock Pudding.
What the Dock?
According to Forager, Dock Pudding is a British dish that has apparently existed in some form since at least the 1840s. Visit Calderdale says it is made primarily with the leaves from the Polygonum Bistorta or Persicaria Bistorta plant. An 1845 book described it as a "weed." When mixed with nettles and a few other kitchen staples like salt, pepper, and butter, along with some oatmeal, they create a rare dish that is familiar mostly to residents of the Calder Valley. And Robbie Coltrane was apparently a pro at making it.
In a YouTube video from years ago, Coltrane was featured cooking and serving a breakfast platter for the World Dock Pudding Championship. Held in Mytholmroyd, Yorkshire, the yearly competition was born in 1971. Along with the Dock Pudding, the actor made sausages, bacon, and black pudding. Coltrane cooked in front of an audience of villagers and seemed to feel he was making a fool of himself. But the judges' taste test said otherwise. One praised the dish for its "taste, texture, and presentation." Eventually, he was awarded second place. As Coltrane noted, many don't even know the competition is "going on," but he was excited about the outcome nonetheless.