We Tried Taco Bell's New Loaded Truff Nacho Fries. Here's How It Went
Molly Delmore/Mashed
Taco Bell teased an exciting announcement last week on its social channels, and on October 13th, we received the confirmation we were looking for: Nacho Fries are back. While fry lovers rejoice, the American fast-food chain partnered with Truff hot sauce. Truff also hinted on Instagram that a collaboration between the two powerhouses might be near. For a limited time, you can try Taco Bell's New Loaded Truff Nacho Fries.
After a successful test last year, Taco Bell and Truff are bringing their spicy collab to the masses. The brands have created an exclusive take on Truff's Hotter Hot Sauce available only at Taco Bell. For a limited time, you can add the black truffle-infused hot sauce to any menu item for just $1.
Truff's making your favorite loaded Nacho Fries that much hotter this month. Can you handle the heat? We tried Taco Bell's New Loaded Truff Nacho Fries. Here's how it went.
What's in the Taco Bell's New Loaded Truff Nacho Fries?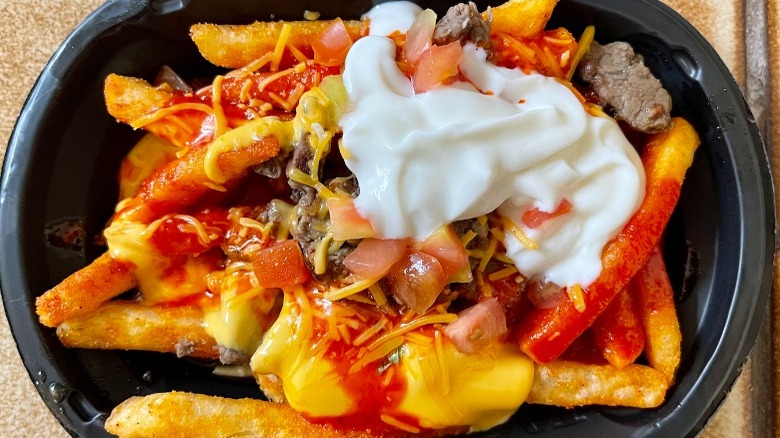 Molly Delmore/Mashed
Taco Bell's fan-favorite Nacho Fries contain boldly seasoned, crisp, golden fries with warm nacho cheese sauce. But the new Loaded Truff Nacho Fries start with a bed of fries topped with grilled marinated steak, shredded cheddar cheese, diced tomatoes, nacho cheese sauce, sour cream, and of course, the main event: Truff's Hotter Hot Sauce.
We want to provide an honest review as we consider ourselves fry connoisseurs. While the description suggests a bed of crispy golden fries, we received a less-than-crisp plate. Immediately upon opening the bag, we smelled an overwhelming amount of truffle.
For this review, to add context, we ordered our fries before lunchtime, around 10 a.m. The fries themselves disappointed us because the toppings overpowered the base due to their lack of crispiness. Our hope for all of our fry lovers is that you receive a new batch of fries for your Loaded Nacho Fries. How can you enjoy all the toppings with soggy fries beneath them?
How much does the order cost?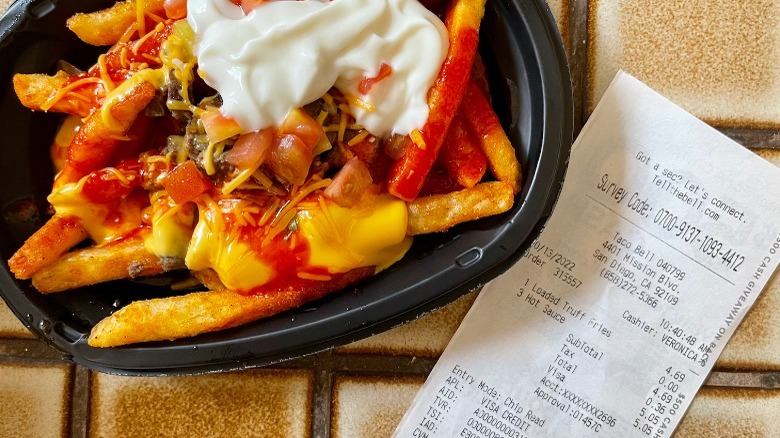 Molly Delmore/Mashed
Taco Bell never disappoints with the price point; it's one of the main reasons it's our late-night or road trip-to-go spot. The Loaded Truff Nacho Fries are no different and reminded us how affordable it is to eat at Taco Bell. You can purchase the regular Nacho Fries a la carte for $1.79 or $5.49 for the Nacho Fries Box. On average, the Loaded Truff Nacho Fries cost $4.49, but prices vary by location.
We tried these fries in Southern California, and the subtotal came to $4.69 or $5.05 with tax. As you can see on our receipt, hot sauce is free, so we graciously accepted a few of those packets.
This price fits the amount of food received — small price, small food. If you're coming hungry or with a group, we suggest buying a few orders as a side to your main Crunchwrap Supreme or quesadilla entree. The size of the nachos underwhelmed us. It's significantly smaller than what's shown in the marketing materials.
How long and where will it be available?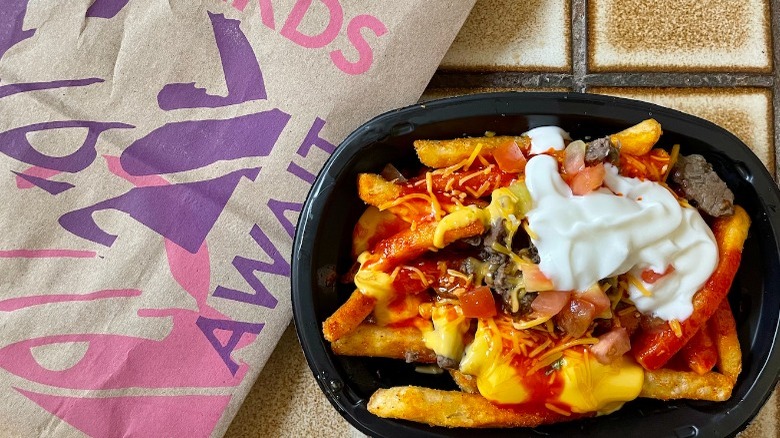 Molly Delmore/Mashed
Blink and this special will be gone. The New Loaded Truff Nacho Fries are available at all American Taco Bell locations while supplies last, starting October 13th through October 27th. Taco Bell is launching a Truff Tracker in the Taco Bell app, a first-of-its-kind digital innovation that allows fans to monitor the supply status of Truff at their local Taco Bell restaurants.
Social media played a massive role in the announcement of this collaboration. "Through thoughtful social media content, the TRUFF x Taco Bell partnership has fueled the passion behind both brand's audiences by merging pop culture with culinary in an unexpected way," wrote Nick Guillen, co-founder and co-CEO at Truff (via PR Newswire).
With many promotions, we will be interested to see if this special extends or if Truff does another partnership with Taco Bell. We love the Truff sauce but feel like the Loaded Nacho Fries didn't do it justice. We tasted lots of truffles but felt the nachos didn't pack enough heat.
What's the nutrition information for this plate?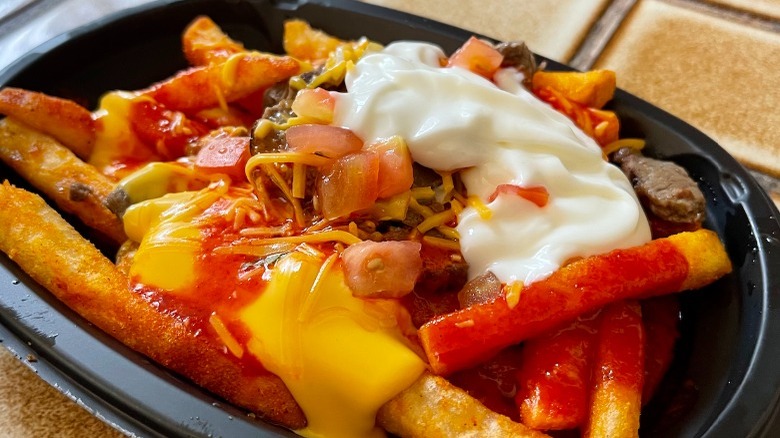 Molly Delmore/Mashed
The New Loaded Truff Nacho Fries may not be the healthiest Taco Bell menu item, but this order won't set you back as much as you might think.
As mentioned, the portion is tiny, so while it could suffice for a meal, you might need an added side or dessert. According to Taco Bell's numbers, the Loaded Nacho Fries contain 500 calories. Truff Sauce alone only has 10 calories per serving, so the sauce isn't contributing much to the caloric load of this dish.
If you're watching your sodium intake, stay away from these fries, as the small order contains 1250 milligrams (54% of your day's worth) of sodium. We recommend the Loaded Truff Nacho Fries as a plate to split with friends or as a special treat. We're not going to be scared away by the salt if we want something unhealthy and plan to indulge in Taco Bell.
How does it compare to other Taco Bell Nacho Fries?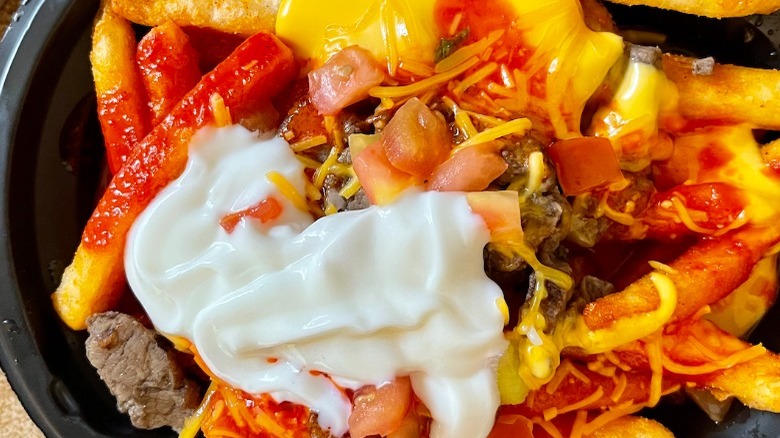 Molly Delmore/Mashed
The Truff Sauce adds considerable spice and flavor to the bland Loaded Nacho Fries. Immediately upon receiving our Nacho Fries, we could smell the intense and overwhelming scent of truffle. Truff doesn't mess around when it comes to its sauce's flavor. We expected this as all Truff sauces, in our experience, contain deep flavor.
While the smell remained pungent, the sauce on the fries did not taste as spicy as we expected. Either we have become more tolerant of spice, or Taco Bell could spare some additional sauce per order. We think this order could use some guacamole in addition to the other toppings.
Overall, Taco Bell needed something like Truff to add some flavor to its food. Truff fans don't mess around. Even after this collaboration, we can assume that Truff fans will take their meals to-go and add their own stash of sauce to their Taco Bell items at home.
The verdict: it's not worth the hype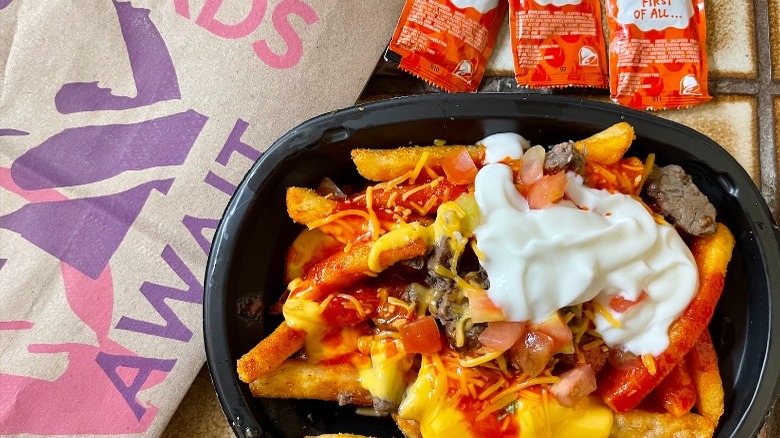 Molly Delmore/Mashed
Did Taco Bell's New Loaded Truff Nacho Fries pass our taste test? We have mixed feelings.
While we love hot sauce, Truff could not revive the soggy nacho fry box we received. It's disappointing because the combination of ingredients offered incredible potential. We felt like the melted cheese and sour cream overpowered the delicious Truff hot sauce instead of complementing it. And we feel like this plate did not offer enough grilled marinated steak. We know Taco Bell is not a five-star restaurant, so we should lower our expectations, but we set them higher for this collaboration.
We will likely keep a bottle of Truff on deck next time we get a Crunchwrap Supreme to go or add it for $1 during this special period. The verdict is that Taco Bell's New Loaded Truff Nacho Fries did not live up to the hype.